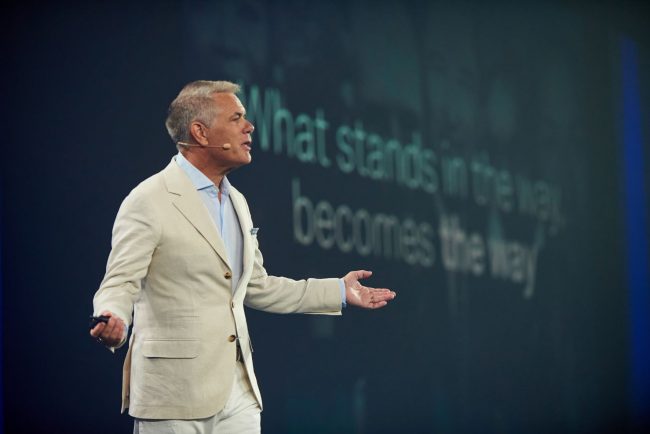 Last week in Las Vegas, Hexagon AB held its first flagship HxGN LIVE conference since 2019, where it brought together customers, partners, and colleagues from around the world to discuss challenges and solutions to technology challenges.
The conference opened with the keynote, "What Stands in the Way Becomes the Way," from Hexagon's President and CEO, Ola Rollén. His keynote set the scene for the conference with a message of resilience, responsibility, and thought leadership, focusing on moving forward in a world radically changed by the COVID-19 pandemic.
Megatrends
The first full day of the conference began with a breakfast briefing by Rollén, where he discussed far-ranging topics on key trends facing global industries and answered questions from about 100 registered media and analysts.
The first trend he highlighted is the move from purchase to subscription. Rollén says that his company's airborne sensors are a good example of this, where a hardware-traditional sales business is being converted into a digital subscription business.
"We typically don't sell that many sensors anymore, but we sell an awful lot of data that the sensors are capturing through our partnership network for companies flying around the globe," he said.
The shift from digital twins to smart digital realities is another trend, with many Hexagon executives elaborating upon during the week.
Rollén says that a digital twin is "really just a digital representation of something…, but when we enter into smart digital realities, we need [data in} real time. We need constant updates. It's a very different level of sophistication."
Another trend is the shift from the automation of the past half-century to autonomy.
"Autonomy is something completely different, where we cut the human dimension out of a technological system executing something, which means that it's self-sustaining, it's communicating with other computers," he said. "Automation actually needs human input, but these [autonomy] systems are completely autonomous. And sometimes they are self-healing when things go wrong."
The push to create a renewable and fossil-free society is the fourth big trend.
"That is super important for Hexagon, where we see that we can build a niche, which is gonna be very profitable and very powerful," said Rollén.
One example of this is the first investment by R-evolution, Hexagon's business venture led by CEO Erik Josefsson focused on profitably reinventing how industry can address complex environmental challenges. It's first venture was the acquisition of a 40-ha site in Archidona, Spain, to digitalize its solar energy production.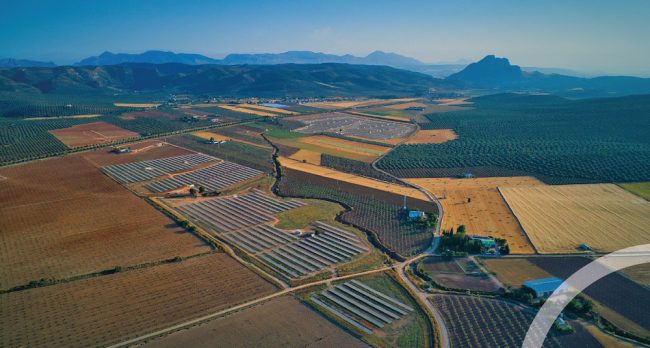 "What we use it for, apart from producing electricity, is to test new equipment," said Rollén.
That equipment includes the Leica BLK2FLY autonomous UAV (unmanned aerial vehicle) laser scanner and Leica BLK ARC ground-oriented autonomous laser scanning module.
"The ARC is actually patrolling that area," he said. "And the BK2FLY is monitoring the solar panels. It's one of the most important things when you run the solar park is to have your panels dust free, and the BLK2fly can measure the dust. It's a simple thing, but it actually could reduce the yield in the solar park by up to 20%."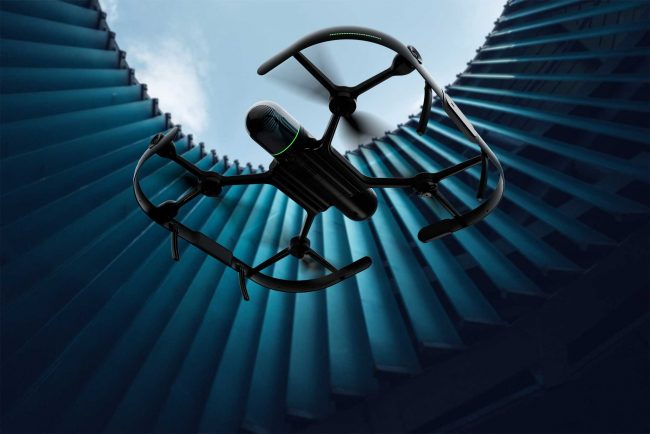 A two-speed world
At a higher strategic level, the Hexagon team is tracking what it calls "a two-speed world," looking at capitalizing on segments in the global economy that will grow fast and focusing less on old industries that eventually are going to die out. The rate of change in growth between the two will be impacted by socio-economic impacts around the globe.
"We have a very peculiar situation in the global economy," said Rollén. "When we lifted all the restrictions from the pandemic, we first had a surge in demand, which caused a lot of bottlenecks in the industrial system. As that was subsiding, we have the war in Ukraine, where we now see the food and energy crisis."
Contrary to the believes of some economic experts, Rollén doesn't think that the COVID crisis showed that supply chains are weak.
"The supply chains were robust going into COVID," he said. "What happened was that we stayed at home. We started watching TV, we played games. We did a lot of stuff online that drew the demand for semiconductors. And that just happened to coincide with one of the largest semiconductor factories burning. So, what happens when supply is reduced and demand is increased? You get shortages. and that's what the global economy has suffered ever since."
In the short term, he looks for the global economy to be volatile, "but for the longer term, we believe that we might return to a low inflationary environment. And then the things that are really going to grow is new technologies."
However, he believes new technology deployment has been a challenge for global industries.
"We are so poor in the deployment of our technologies today as a society that we should really shape up and make sure that the yield rates in anything that we do become better," said Rollén. "And it goes for anything from food to oil or whatever we use on this planet. That's the answer."
He believes that technology can be a facilitator to release supply-chain bottlenecks. He cited autonomy applied to the transportation industry.
"I believe that autonomous cars and autonomous trucks could make an immense difference in the way we move goods across countries and so on," he said. "That's going to be a game changer."
However, he thinks one of the biggest challenges on the path from automation to more autonomous vehicles and the associated powertrain-electrification path that most companies are pursuing is battery life.
"We have more or less all the navigation we need to make a [vehicle] navigate in a shopping mall or to your letterbox," he said. "I think [the challenge is] battery power in combination with the system engineering. We need robust robots that can handle things like rain, snow, sleet, and so on. Weather is going to be a challenge, to create technologies that will function even when the weather is bad."
Profitable tech pursuits
In its yearly strategy meetings, Hexagon is now looking at what it will be launching in seven and eight years. He promises that there will be "significant development in technology in the next five years" from Hexagon, hinting that there will be more innovations like the collaboration with Boston Dynamics on Spot and the new flying laser scanner drone. But he is not convinced that the future is all about software.
"I don't think the future is software driven," said Rollén. "I think this is the peak of the software era. The world is becoming increasingly complicated. It's going to be true high tech to evolve in a situation where we automate the chores that we do in our everyday lives. That's going to require hardware, sensors, and software fused into a solution."
He is bullish that much of the new technology pursuits can also be profitable, and he is looking for Hexagon's new R-evolution growth and venture focused unit to prove it. The unit's first venture, the Spanish solar project, is generating around a 20% return on capital deployed.
"It's one of the more profitable businesses we bought," he said. "The whole idea with R-evolution is it should be self-funding. It should be a profitable business to go into ventures to save the world."
R-evolution's next significant venture involves efforts to map the threatened seagrass meadows of the Caribbean islands, beginning with the coastal waters of the Bahamas. In collaboration with Beneath The Waves, a non-profit organization dedicated to protecting marine environments, the project leverages Hexagon's airborne bathymetric LiDAR technologies to detect, map, and capture critical details about the vital habitat, including its extent and composition.
While the projects of R-evolution so far have a clear green focus, Rollén says Hexagon is looking to help any new and existing customers from any industry—including those labeled by some as "bad environmentally"—become more sustainable.
"Our view is it's not about being good or bad," said Rollén, referring to industry labels. "Are you going to use oil 50 years from now? Yeah, of course we are. How are you going to get plastics? How do you take an oil tanker or a big cargo ship from Hong Kong to Europe? Do you build a big battery and load that onto the ship? I mean, you wouldn't be able to carry any cargo in it."
He says that certain areas of the global economy are always going to be oil-dependent.
"We just have to figure out a way to not waste that oil, because…it's not about whether we use oil or not use oil, it's about how we use it," Rollén concluded.