The Future Tactical UAS (FTUAS) program—the U.S. Army's initiative to replace the RQ-7 Shadow with a far more nimble and flexible expeditionary vehicle—is preparing for its next decisions.

Asked a series of in-person questions about the Future Tactical Unmanned Aircraft System (FTUAS) program's current state, one executive responded with a Cheshire-cat grin, folded arms—and stony silence. Several others adopted the same posture, virtually.
Similarly, a spokesperson for the Army's PEO (program executive office) Aviation answered five consecutive emailed questions with a mantra of confidentiality: "We cannot discuss specific vendors and their participation or non-participation on ongoing efforts."
Frustrating perhaps, but also understandable. The Army's FTUAS program, scheduled for exactment in fiscal year 2025, will put hundreds of millions of dollars into a primary, next-generation tactical surveillance and target acquisition vehicle that can be highly effective while protecting the warfighters who use it. Even with interoperability and open sourcing, some technologies will be proprietary and/or classified.
Procedural history offers another reason for being reticent. A previous FTUAS downselect was reopened and expanded, and the Army vows that its final choice won't necessarily be limited to already- identified vehicles.
Even vendors agreed with what might be called The Caution. "This is a very important program for the Army, and it's important to not spill too many details," said Hannan Parvizian, co-founder and CEO of Increment 2-selected Volansi. Jim Pryor, senior director of advanced systems at L3Harris Technologies Agile Development Group, mirrored that discretion: "I want to make sure that you know I'm not speaking for the Army."
As it turns out, the Army representative and at least some program participants proved willing to engage—as long as they didn't cross a line and speak to the other's concerns or technical specifications.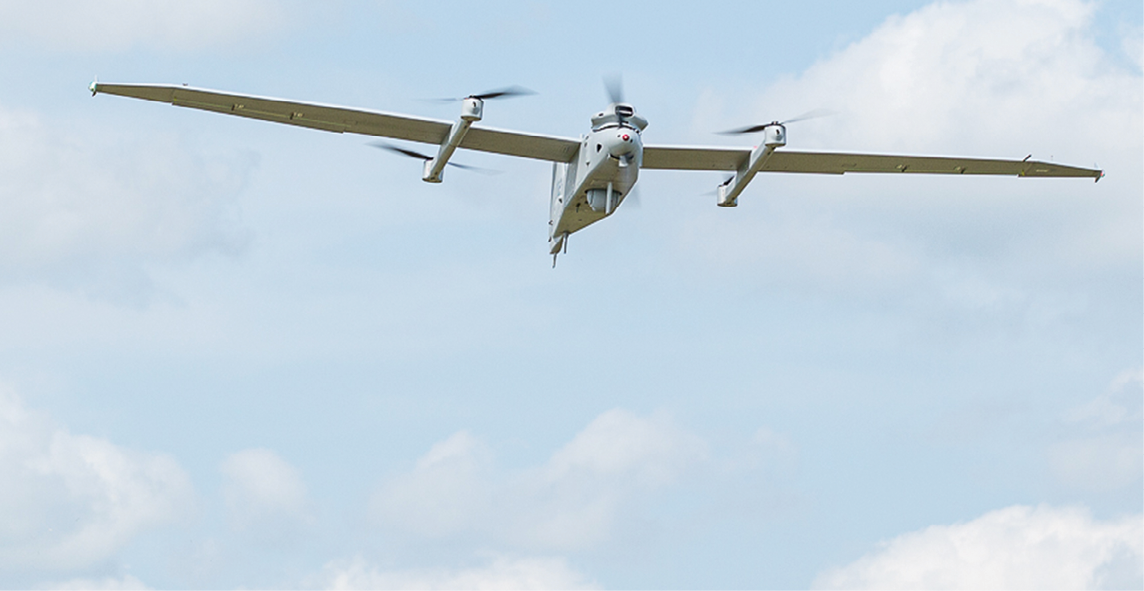 PROGRAM RUN-UPS
Circumspection aside, the FTUAS program has been gaining definition since 2017-18, when three operational needs statements called for a system that, among other things, could be easily set up, rapidly deployed and capable of surveilling defended spaces with little chance of detection.
The need was to replace the RQ-7 Shadow as the Army's UAS battlefield warhorse. For two decades, the Shadow has provided stalwart services to multiple militaries. But even with updates, the Shadow is loud, cumbersome and inflexible compared to solutions that benefit from revolutions in size, sensors, payloads, runway independence and interoperability.
Vehicles were developed and, after a year of demonstration at the brigade level, four downselected candidates for the FTUAS program gathered at Fort Benning in March 2021 for summary evaluation. That weeklong "rodeo" tested vehicles from tail-sitters to quadcopters—the Martin (now Shield AI) V-BAT, Textron's Aerosonde HQ, the Arcturus (now AeroVironment) Jump 20 and L3Harris' FVR-90—with the Army gaining significant feedback for each competitor.
In September 2021, the Army honed a dual procurement approach to further the FTUAS program. It announced a Request for Prototype for Increment 1, designed to deliver vehicles with an initial capability for evaluation by a limited number of brigade combat teams in fiscal year 2023. It quickly followed up with an Objective Requirement Document that reiterated and expanded on requirements for these vehicles, from VTOL to ruggedness, low acoustic signature to MOSA. That modular open systems approach is the DOD's preferred method for interface between major platforms and components, and is required by law.
Almost simultaneously, an Increment 2 Request for White Papers was released. Learning from Increment 1's and other experiences, Increment 2 will use "rapid prototyping" to field three or four vendors in future competitive events, leading to the selection of one as the program's vehicle of record. "Rapid prototyping," the Army explained to Inside Unmanned Systems, "requires the use of innovative technologies to develop prototypes to demonstrate or evaluate new capabilities, operational concepts or meeting emerging military needs." Increment 2 candidates do not have to be involved in Increment 1, and opinions vary on the advantage selection for Increment 1 testing will provide.
Wahid Nawabi, president, CEO and chairman of AeroVironment, whose JUMP® 20 remains in contention, summarized the process in lay language: "They want to fund for a few million dollars each, develop some level of maturity [through brigade-level testing] and then downselect to a smaller list, and then go to a final award with a backup."
The Army, in our May 2022 correspondence, did provide milestones for the current paradigm. "Increment 1 OTA is completing vendor discussions. Increment 2 OTA vendor discussions are ongoing." By definition, Other Transaction Authority processes, while legally binding, "are generally not subject to the federal laws and regulations that apply to government contracts." This allows for speeded-up, more flexible prototyping.

Meanwhile, FTUAS decision-makers are absorbing real-life lessons. First, there's actual warfare. "The world continues to witness the profound impact they are having in Ukraine," the Army spokesperson said. "Their ability to be a watchful eye in the sky while limiting soldiers' exposure is an invaluable combat multiplier to the Ground Force Commander."
PEO AVN also "has received operation feedback" from a series of less dramatic but valuable events. These include Project Convergence 2021, the just-concluded Experimental Demonstration Gateway Event 2022 (EDGE22), and feedback from units supporting European Defense Initiative (EDI) and ALE (air-launched effects) Middle Tier of Acquistion (MTA).
"After-action reviews and data analysis continue to not only quantify the effectiveness of the current development but also inform modernization requirements for our system requirements," the Army said.
Parallel to this, companies continue to develop their solutions. For example, Textron, the producer of the incumbent Shadow, was downselected in October to submit an Increment 1 proposal, and is increasing weight and payload capabilities for its Aerosonde® HQ. AeroVironment notes that its JUMP®20 submission can carry two Switchblade® 300s 150 kilometers out for 13-plus hours of operation. Shield AI's V-BAT 128 is interacting with multiple service branches.
To get to fielding a program of record, the Army "continues to utilize the buy, try and inform strategy to provide risk reduction through user inputs to refine development attributes." The decision also is subject to the influence of both "rapid prototyping" and MTA review.
The PEO spokesperson explained: "ASAALT [the Assistant Secretary of the Army for Acquisition, Logistics and Technology] is currently reviewing the Acquisition Decision Memorandum that will initiate Increment 2. Increment 2 will select up to eight vendors for competitive rapid prototyping evaluations." Also, "the use of non-traditional vendor participants provides additional competition and innovative solutions, which significantly benefit the U.S. Army." Some in the industry are frustrated with the length of deliberation; many feel the Increment 2 evaluation will be crucial to selecting the program of record.
MTA also will keep the selection forward-facing. "Utilizing Middle Tier Acquisition allows FTUAS to embrace rapid prototyping legislation to develop and field critical technology to the warfighter faster than traditional acquisition processes." This MTA would influence an Army Decision Point in FY24 and 2025 fielding of one vehicle.
"The world marches on," L3Harris' Pryor said, "and technology changes for everyone. And there are a lot of details that are popping out of the market today."
A CONTINUING CONTENDER
L3Harris operates one of the four vehicles downselected for FTUAS evaluation in 2021. The Melbourne, Florida, company entered the FTUAS fray after its 2018 acquisition of Latitude Engineering and that company's Hybrid Quadrotor™ technology. Since then, it has refined its FVR-90 to maximize interchangeable payloads. Capable of both land and sea operations, the fixed-wing, twin-boom craft can carry a nose payload of 22 pounds for up to 810 nautical miles and 16 hours.
In October, L3Harris announced it was bidding for both increments of the FTUAS program. "Our goal is to be 'the trusted disruptor,'" said L3Harris' Jim Pryor from Texas during an interview, quoting company vice chair and CEO Chris Kubasik.
Pryor is head of strategic pursuits at the company's Agile Development Group, which was announced in January 2022 and brought engineers, program managers, technicians and operations professions together with a mission "to address emerging threats and solve our customers' most vexing problems"—or, as one executive puts it, "to cut through all the noise." Pryor's experience includes being a squadron commander in both Afghanistan and Iraq, and at one time he was responsible for the oversight and development of the USAF's electronic warfare and survivability operational capabilities. "I see things through a warfighter's eye," the former B-1 wizzo [weapons systems officer] said.
Pryor talked about how the FVR-90 dovetails with the Army's focus on expeditionary excellence. "That expeditionary capability, the fact that you can lift it with two men, you can set it up in around 30 minutes and get it flying easily. It doesn't take a C-5, a prepared airfield and trucking it in."
Pryor noted the program's extensive [smaller] size and [lighter] weight requirements. "That's a challenge, right? And that ties back into being purpose-built. I don't have to build a whole huge vehicle."
He again invoked The Caution: "I don't think I want to comment directly because I think it can be misconstrued that I'm speaking for the Army. But I think we have a strong competitive advantage.'" He summarized some of the FVR-90's perceived advantages, which collectively offer "whatever's best for the mission."
Latitude Engineering's hybrid quadrotor technology "was kind of the leader in that area. The real integration of the pusher motor system with the VTOL motors—that's where you start to gain the efficiencies of the vehicle. That's where the performance margin comes. We try and maximize the performance of a VTOL along with the pusher system to get more duration and a higher payload-to-gross-takeoff weight ratio."
Payloads can live in multiple locations: a nose bay and two boom rails. "It basically comes out to 45 to 50 pounds of usable payload [including a bit less than 20 pounds of fuel]. Flight time has been extended to between 12 and 18 hours.
Then there's modularity-based systems engineering: "The open system approach and our ability to rapidly integrate new capabilities and be agile with our customers in the field," Pryor said. "We've already integrated 40 payloads and counting."
Pryor hopes for news about the OTAs before the end of the summer. "There are additional things we've seen in the requirement for Increment 2 that obviously aren't in Increment 1; the focus on, say, modular open systems architecture. In my mind, that's one of the big differentiators between the two. And that's also one of our strengths as well—our models-based systems engineering approach as well as the open systems architecture."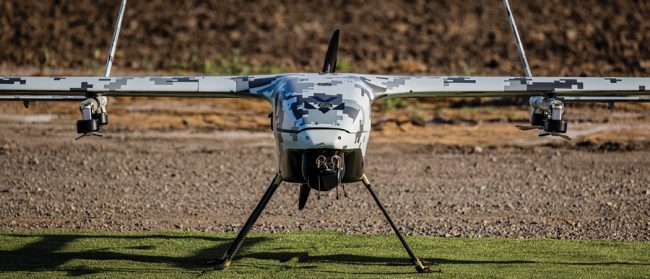 A NEW ENTRANT
In December, Volansi co-founder Hannan Parvizian recounted, the company received "an Army notification to us, basically, that we were selected to participate in Increment 2 of the FTUAS program."
Headquartered in the San Francisco Bay Area with a production facility in Bend, Oregon, Volansi has demonstrated an ability to deliver supplies in environments that include moving vessels at sea. Its newest deployed VTOL is the multirole Voly 50. But Parvizian said the FTUAS vehicle will be different. "It's going to look something similar to what we have out there right now…but the solution offered for the Army is a custom solution."
Parvizian, who is on his second stint as Volansi's CEO, again invoked The Caution. "We haven't publicly talked about that solution," he said. As for Increment 2, "I think we were selected as far as meeting and beating those requirements." He cited payload capacity, range and multiple-mission capability as competitive advantages. "I think we have a very compelling offering.
"From the ground up, we've developed an organic VTOL solution," he continued, calling it "a multi-mission platform that gives the customers a lot of key differentiators in terms of what they can do." The entry combines Volansi's vehicle and Sierra Nevada Corporation's (SNC) turnkey ISR platform. Honeywell also is a partner, and Parvizian praised the triad. "Each partner has its unique competencies" he said. "I think I can talk about Volansi's competencies; we are a leader in designing, developing and operating VTOL aircraft for various applications, especially ones that have long range and significant payload." And when it comes to Sierra Nevada and Honeywell, "we're lucky to be working on this program with an amazing group of partners and systems integrators."
Allowing for current and future integration is vital, Parvizian noted. "That's why it's important to have a modular open architecture, trying to have a solution for the Army customer that doesn't create vendor lock for them. Sensors have evolved as autonomy has evolved as software architecture has evolved."
Parvizian closed on an upbeat note. "I'm happy to talk more about this in the future as the Army starts talking about it," he concluded. "But, yes, we're excited to be helping our warfighters. If we can scale this and see it deployed everywhere, that will be the highest satisfaction for us."
The path forward may be a bit stealthy, and the Army will need to bridge any gaps between incorporating the latest technologies and timely enactment of its program of record. But FTUAS maintains its flight path toward the next generation of nimble yet highly capable UAS