The DIU's Blue UAS initiative is developing trusted sUAS for the DOD and beyond.
In military lingo, "blue" denotes friendly forces and assets. For unmanned aircraft systems, the term has become synonymous with the Defense Innovation Unit (DIU) Blue UAS initiative, and with the five companies' drones initially stamped as legal and policy compliant as well as cybersecure. That project, a response to policy and legal prohibitions on the Department of Defense's purchase and operation of Chinese drones, includes a series of dynamic subprojects. The latest: DIU Blue sUAS 2.0.
Let's dive into the history, evolution and the way ahead of Blue.
LAYING DOWN THE LAW
Until 2017, when the U.S. Army first banned Chinese drones, their use was ubiquitous across the federal government. Based on similar cybersecurity concerns, the other military services and several federal agencies followed suit with their own policy prohibitions. Some precluded the use of federal grant funding by external entities to operate and/or purchase Chinese drones. Around the same time, additional parallel acquisition policies precluded the DOD from purchasing any commercial off-the-shelf (COTS) drones.
In 2020, Section 848 of the Fiscal Year 2020 National Defense Authorization Act (FY20 NDAA)—"Prohibition on Operation or Procurement of Foreign-Made Unmanned Aircraft Systems"—codified the DOD ban into law. It prohibited the secretary of defense from operating or procuring UAS and any related services and equipment from China, including ones manufactured in or by an entity domiciled in that country. It also barred using: flight controllers, radios, data transmission, devices, cameras or gimbals manufactured in the PRC or by an entity domiciled in the PRC; a ground control system (GCS) or operating software developed in China or by an entity domiciled in China; and net- work connectivity or data storage located in or administered by an entity domiciled in China. It also prohibited the DOD from using a system manufactured in China or by an entity domiciled in China for the detection or identification of UAS and any related services and equipment.
On January 18, 2021, just days before departing the White House, former President Donald Trump signed Executive Order (EO) 13981—Protecting the United States from Certain Unmanned Aircraft Systems—which prevented "the use of taxpayer dollars to procure UAS that present unacceptable risks and are manufactured by, or contain software or critical electronic components from, foreign adversaries, and to encourage the use of domestically produced UAS." The EO defined "adversary country" as inclusive of North Korea, Iran and Russia, as well as China, and left the door open for the secretary of commerce to add more countries to the list. It required all federal agencies to account for such UAS within their fleets and cease using them. It directed the Office of Management and Budget to work with agency heads to find funding to replace them.
The Biden administration has thus far toed the line on Chinese drones. On September 8, 2021, according to a DOD news release, Deputy Secretary of Defense Kathleen Hicks signed into effect updated guidance (marked as "CUI," or controlled unclassified information) for the procurement and operation of its UAS. The release specifically called out Da Jiang Innovations (DJI) and stated that the policy allowed the department "…to take advantage of rapid techno- logical advancements of the commercial market while concurrently reaffirming the department's recognition that certain foreign-made commercial UAS pose a clear and present threat to U.S. national security. It enables the department to more freely use commercially developed UAS by better de- fining a process for clearing trusted systems and ensures the department's continued compliance with Section 848 of the National Defense Authorization Act for Fiscal Year 2020 and Executive Order 13981…"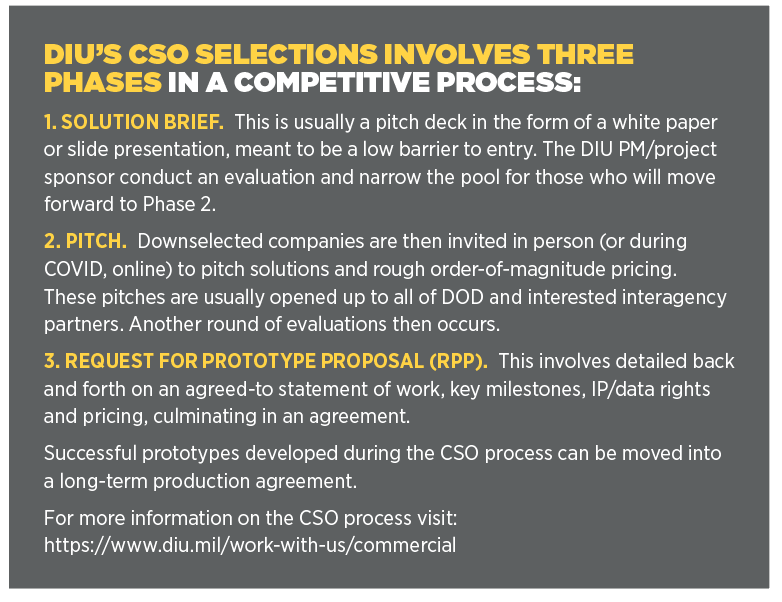 MEANWHILE BACK AT THE (B)RANCH
In fall 2018, as the initial Chinese drone policy bans were falling into place, the Army was already engaged in selecting a single solution for a cybersecure, rucksack- packable UAS for its formal program of record (POR), Short Range Reconnaissance (SRR). It had already selected the five companies' UAS that we now know as Blue sUAS (FLIR ION M440, Parrot ANAFI- USA-Gov/mil, Skydio XD2, Teal Golden Eagle and Vantage Robotics) to provide specially prototyped/noncommercially available drones for this purpose.
In the midst of this process, Congress promulgated Section 848. The draft EO also started circulating around the Pentagon. The vendors had to adapt to ensure their drones were NDAA-compliant, as well as cybersafe.
As legal and executive policy bans became realities, DIU, the only DOD organization focused exclusively on fielding and scaling commercial technology across the U.S. military to help solve critical problems, engaged with the five companies already working with the Army's SRR POR to explore their interest in getting approved to be on the General Services Administration (GSA) Schedule as a cleared procurement option.
They all said yes. By September 2020, Blue was born.
And then came the Blue UAS Framework.
BLUE PIECES AND PARTS
The Blue sUAS project was just the beginning of a larger effort for DIU. Next came the little-known Blue UAS Framework, which sought commercially available and legally compliant prototyped UAS components, such as data links, hardware, software, software sensors and gimbals.
When American and allied manufacturers went to the well to create NDAA- compliant UAS, the well was dry because adversary countries had cornered the market for some necessary materials and components. Capt. Shelby Ochs, USMC, co-program manager of Blue sUAS 2.0, explained: "We needed the Lego® bricks, the components, to make these drones available. So DIU put out the call. Industry answered."
More than 60% of Blue sUAS incorporated compliant and interoperable "widgets" created under this Blue UAS framework from 2019 to 2020. ModalAI's flight processor, VOXL, is one example of this tech, which is now also commercially available. Auterion's Skynav hand controller and Skynode flight computer are others.

THE NEXT ITERATION: BLUE 2.0
The Blue Framework and sUAS project have been successful. As one example, in support of the Afghanistan evacuation effort, at the request of security forces at Ramstein Air Force Base, Germany, Redwood City, California-based Skydio sent a solutions engineer and six systems for security and refugee protection operations. According to Ochs, "Just two days after the request came in, from flash to bang, Skydio deployed, trained and had our forces operational."
Building on that success, DIU now focuses on Blue sUAS, version 2.0, at the request of the office of the under- secretary of defense for acquisition and sustainment—OUSD(A&S).
Unlike the original project, which leveraged specially prototyped UAS, this iteration involves COTS UAS, the policy of which OUSD(A&S) owns for the DOD. OUSD(A&S) sought to expand opportunities to bring a greater variety of UAS to the fight, including larger ones, with a wide range of modalities and capabilities and at different price points. A secondary part of the project involves an effort to define a common standard across the DOD for UAS vendor onboarding, the means to communicate that standard and a uniform process to assist vendors.
Using its 10 U.S. Code 2371(b) Other Transaction Authority (OTA), DIU pushed out a Commercial Solutions Opening (CSO) and Area of Interest (AOI) request in March 2021 on its website, sam.gov, on social media and to its distribution list, seeking industry proposals. In the 14 days it was listed, DIU received more than 100 responses.
From this group, DIU and its customers selected 11 companies, with 14 drones, for Blue sUAS 2.0 RPPs, including:
Ascent AeroSystems
BlueHalo
Easy Aerial
FlightWave Aerospace Systems
Freefly
Harris Aerial
Inspired Flight
senseFly
Skydio
Vision Aerial
Wingtra
From July to September 2021, all vendors signed OTA agreements. From Sept. 14 to 16, several of these companies demonstrated their aircraft at the U.S. Air Force Academy in Colorado.
"We picked the Academy because it was the highest altitude we could find for our needs," noted Sean Anderson, a support contractor for the project and USAFA '09 grad. "Equally important, USAFA had established procedures for UAS flight that we could leverage on short notice."
From its perspective, USAFA was happy to assist DIU. Kevin Kenney, USAFA's small UAS project manager, explained: "We have six academic departments, significant dedicated research, as well as integrated remotely piloted aircraft operations here to inspire cadets to become leaders of character and RPA pilots. Hosting these demos was consistent with both DIU's needs and our mission." DIU provided cadets and faculty an opportunity to engage with demo vendors and see static drone displays in the academic building the day before flights occurred.
Michael O'Sullivan, head of global marketing and product management at senseFly, a Swiss-based company with 10 years of experience in making fixed-wing lightweight drones, talked about his excitement in having this opportunity to work with the U.S. military. "Partnering with DIU has been a collaborative and streamlined process to help list senseFly's commercial eBee TAC UAV in Blue sUAS 2.0 and provide a secure, trusted medium-range drone mapping solution and capabilities to the U.S. government." He continued: "The passion shown by DIU for using proven solutions is outstanding. Their way of working, entrepreneurial spirit, drive for excellence and guidance has made these demonstrations a real team effort."
Adam Bilmes, director of sales and cofounder at Inspired Flight, spoke about the value of the Blue sUAS 2.0 project. "This process has been a fantastic opportunity for Inspired Flight to further break into the defense ecosystem and generate a stamp of authority from the government spectrum." San Luis Obispo, California-based Inspired Flight is a UAV manufacturing startup with two drones—the IF1200 and the IF750—in the running for Blue sUAS 2.0. "The collaborative process that the DIU designed to shepherd our systems through Blue sUAS 2.0 also enabled us to maintain focus on growing our core commercial business around heavy lift, rugged and secure multirotors, accomplishing a wide range of mission sets."
The demos successfully proved the consistency and general flight performance of these dual-use drones on a military installation and in front of military and government sUAS reps across setup and prep, mission planning, launch and recovery, flight performance, safety of flight (e.g., autonomy, geofencing, obstacle avoidance). and validation of spec sheet accuracy.
THE FUTURE REMAINS BRIGHT… AND BLUE
Next steps for these almost-Blue companies will involve navigating the DIU and OUSD(A&S) administrative approval processes. Once past those hurdles, they will officially become part of the DIU- cleared list of cybersecure and NDAA/ EO-compliant sUAS for government.
DIU projects that the approval timeline for this next tranche of Blue sUAS will allow them to be available to the DOD and IA partners that leverage this project no later than the end of the first quarter 2022.
Will there be a Blue sUAS 3.0? The answer will depend on agency demands and budgets. Meanwhile, the future looks bright—and blue—for DOD UAS.