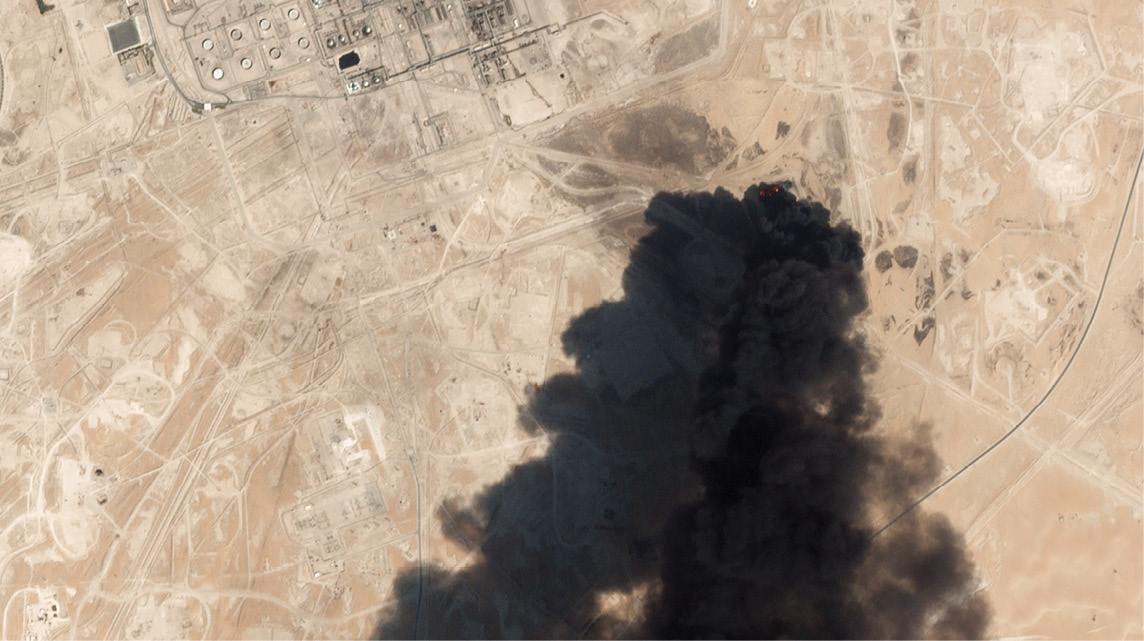 Why is everyone so surprised about Iran's surprise drone attack on Saudi Arabia's oil production? Everything about the drone war with Iran has been completely predictable, yet the U.S. and its allies are still unprepared for each Iranian move. Anyone who has read anything about Middle East politics should have known that Iran would threaten the Persian Gulf oil supply the moment President Trump tore up the Agreed Framework on Iran's nuclear program. Anyone should have known that Iran would attack using "plausibly deniable" methods—drones shot at Saudi oil facilities, drone assassinations of Yemeni generals and attack drones provided to proxies in Yemen. Anyone should have known that a policy that threatens Iran's economy but steers clear of military action, will just encourage Iran to keep stepping up its attacks until it achieves its goals. Anyone should have known the current policy gives Iran a "free punch" and, unsurprisingly, Iran chose oil for its punches because it's yet another free punch for them.
As the West learned during the Tanker Wars in the 1980s, it can't act against Iranian oil because too many allies rely on Iran's production. Iran, however, can act with impunity against the other Gulf oil producers because they won't attack Iran without American backing. Every gallon of Saudi production lost is a potential gain for Iranian oil.
WHY DRONES?
It is no surprise that the Iranians chose drones for their attack on Saudi's Abqaiq oil facilities. Drones are accurate, plausibly deniable weapons. The press is making a big deal about Iranian cruise missiles that could have hit Saudi Arabia's Abqaiq oil facilities from Iran, but the cruise missiles didn't do the most damage. The Iranians only targeted easily-repaired oil storage tanks with cruise missiles. It was the short-ranged Qasef, Samed 3 and delta wing drones that did the most damage. They hit the expensive "cracking towers" that turn crude oil into gasoline and other products—and can take months to repair. The Qasef is basically a loitering mortar shell with a very short range. The Samed 3 would barely have enough range to strike from Iran and the unnamed delta wing drone appears to be another short-ranged vehicle. All of these were probably launched from Saudi territory, possibly inside the range of Saudi air defenses.
DigitalGlobe imagery after the strike reinforces the contention that Iran used a mix of long-range cruise missiles and short-range drones. The image on page 12 shows a classic cruise missile attack against oil storage tanks—all the holes are in about the same location on each tank and each missile was on the same heading when it struck. The holes also indicate that the missiles were diving from a greater altitude when they hit, signaling that they were executing a terminal maneuver to ensure they avoided vertical obstructions (fences, towers, building). Hence, the missiles probably flew a pre-programed route without human intervention after launch.
The damage to the cracking towers indicates that the Iranians used small drones flying a completely different attack profile from the cruise missiles. The damage suggests that remote pilots flew the drones into the towers because the drones hit at the correct point in three dimensions and impacted horizontally. Horizontal impact signals that a remote pilot was in control because, as noted, the drones had to dodge vertical obstructions along the attack route to hit their targets horizontally.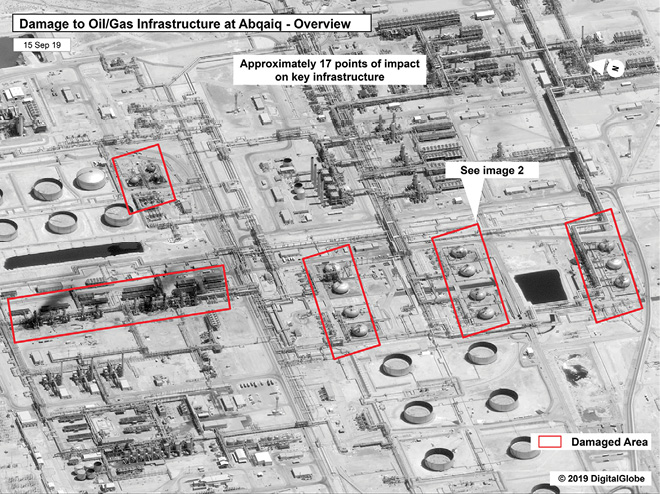 COMING HOME?
I wouldn't be surprised if this drone war expands beyond the Persian Gulf, and neither should the U.S. be. We also shouldn't be surprised if Iranian forces or a proxy launch lethal precision strikes from within our territory. The danger for us of this approach is that, rather than dealing with something U.S. air defenses are designed to counter—bombers, subs or ships launching precision attacks from across an ocean—America would have to defend against precision attacks from across the street. And that's something the U.S. can't yet defend against.
The first problem with American unmanned aerial systems (UAS) defenses is that Congress restricts authority to counter-domestic drones to just the Department of Defense (DOD), Department of Energy, Department of Homeland Security (DHS) and the Federal Aviation Administration (FAA). This means that although the New York Police Department can stop a 5,000-pound suicide truck from driving down Wall Street, it would have to dial the Feds to stop a five-pound drone. DHS has the responsibility for defending Wall Street, but it only has a handful of counter-UAS systems. Figure the odds of having one near Wall Street. Figure the odds of having a system near every baseball stadium, concert hall, oil refinery, factory or power plant in the nation. Nearly every one of these facilities has defenses against suicide drivers paid for by the facility owners, but those same owners currently can't buy defenses against suicide drones.
If it were up to me, I'd delegate counter-drone authority down to the nation's governors and let them sub-delegate as they see fit—even to commercial entities. For example, I could see Texas, Louisiana and Alaska asking oil companies to pay for their own drone defenses. Every state would use its own funds to buy counter-UAS systems for its prisons, capitols, courtrooms and large stadiums. Other types of installations, such as power and sewage plants, would get drone defenses via a mixture of local and private funding. It will be years before the Feds get around to protecting these types of installations—if ever.
Unfortunately, neither Congress nor the Executive Branch are willing to allow even states to defend against drones, let alone commercial entities. However, I think America can still have viable domestic drone defenses by using state and commercial resources to buy the equipment for the National Guard to operate. Few realize that the Air National Guard already handles 100% of the defense against manned aircraft in the lower 48 states. The Guard has a unique arrangement with the DOD that allows Guardsmen to stay under state orders right up to the moment they launch to intercept an aircraft. Wheels down = Governor pays their wages. Wheels up = President pays. This arrangement allows the Guard to use Federal authority to shoot down aircraft while still keeping authority under its governors. The Guard is equally able to work under DHS authorities.
Why wouldn't this arrangement work for unmanned aircraft? Why can't states or even commercial entities buy drone defense equipment but allow Guardsmen to operate it? Why can't those Guardsmen stay under state orders until the moment they need Federal authority to counter a drone? States wouldn't even have to station Guardsmen at each defended site. They could remote active drone defense systems into a central location and have Guardsmen authorize engagement without having to be at every defended location.
DE-FENSE
Luckily, America already has an effective defense against the most threatening weapons used in the Saudi attack—remotely piloted drones. Drone data link manipulation systems are widely available and could be defending key installations within months using the public/private partnership outlined above. These systems work by give false commands to a rogue drone, telling it to go home, land or just hover. Using Guardsmen to operate these systems would allow the DOD to provide the classified data link signatures of Iranian and terrorist systems.
Physical engagement of autonomous small drones that don't need a data link to attack is a much tougher problem. Autonomous drones must be shot down and the technology isn't there yet for domestic defense. The DOD had success with rapid-firing guns and (extremely expensive) missiles, but they won't work for domestic defense. Directed energy weapons like laser and high-powered microwave will be effective once the DOD works all the bugs out, but they will be costly for domestic defense.
Passive defenses must suffice until someone invents a cheap, effective weapon against autonomous drones. Just like barrage balloons defended against dive bombers in World War II, large net structures, fences and cables could defend against small autonomous drones. Obviously, the U.S. can't put nets around everything a small drone could hit, but DHS has already analyzed America's critical infrastructure against suicide truck drivers and manned aircraft. It would be easy to figure out what specific parts of each critical facility is vulnerable to small drone attack. For example, the Saudis wouldn't have needed nets around everything in Abqaiq. The oil storage tanks were designed to rupture and already had revetments around them to stop burning oil from spreading. Exploding oil tanks look scary on TV, but they're easy to fix. A simple vertical chain link fence or cable net would have protected the truly critical infrastructure at Abqaiq—the cracking towers.
Just like defenses against suicide drivers, drone defenses could get stronger over time. Existing vulnerable infrastructure might get transportable nets, just like Federal buildings got movable concrete barriers after Oklahoma City. New infrastructure would have drone defense designed in—like stadiums with retractable nets over their skylights or prisons with fences over their exercise yards and not just the sides, just as new Federal buildings must have truck-stopping structures designed in from the beginning.
I don't know the final solution to small drone defenses, but I do know we shouldn't be surprised if armed drones attack again. It's the 21st century and everyone has access to precision attack aircraft. Time to stop being surprised and do something about it.