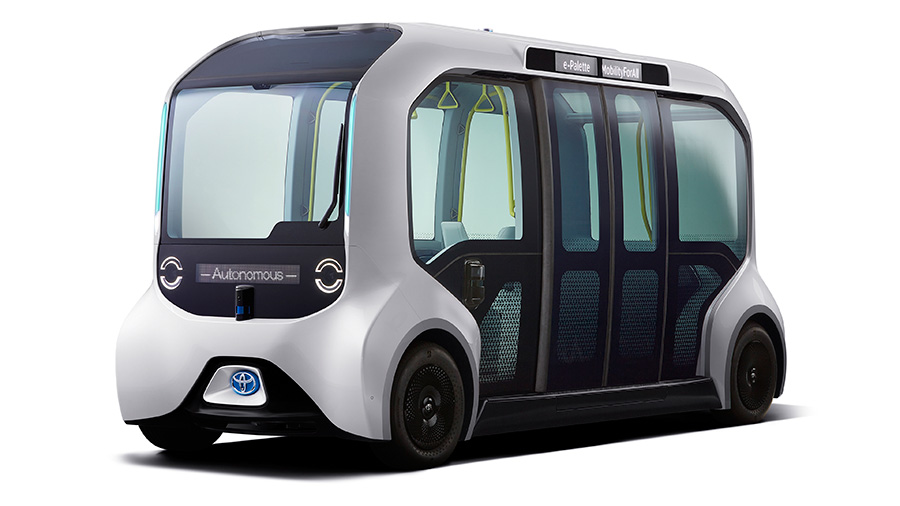 During the 2020 Olympics in Tokyo, athletes will travel throughout the Olympic and Paralympic villages on low-speed SAE level 4 automated shuttles from Toyota. 
"Tokyo 2020 Version" e-Palettes are specially designed for use during the Olympics games, according to a news release. Toyota will supply up to 20 of these shuttles, which feature large doors and electric ramps to make it easy for large groups of athletes to board quickly and easily. An automated driving system capable of operating up to 20 kilometers per hour at SAE level 4 will control the vehicle, and will be supported by an on-board safety operator.
"Olympic and Paralympic athletes work tirelessly to achieve the impossible, and we wanted to provide them with a vehicle specifically designed and calibrated to fit their mobility needs during Tokyo 2020," said Takahiro Muta, development leader for the "Tokyo 2020 Version" e-Palette, according to the release. "Throughout the development process, athletes, especially Paralympians, helped us to better understand how we could adapt and upgrade the e-Palette to better meet the need for simple, convenient and comfortable mobility."
The vehicle's automated driving system includes control hardware, software and a variety of cameras and sensors, such as LiDAR. High-accuracy 3D mapping and an operation management system enables the e-Palette to reach low-speed automated driving at SAE level 4. Its external human-machine interface makes it possible for people, including pedestrians, to communicate with the vehicle, improving safety. 
The e-Palette is Toyota's first vehicle developed for autonomous mobility as a service. Toyota will use knowledge gained from this experience to continue developing the e-Palette to support future Mobility-as-a-Service applications.