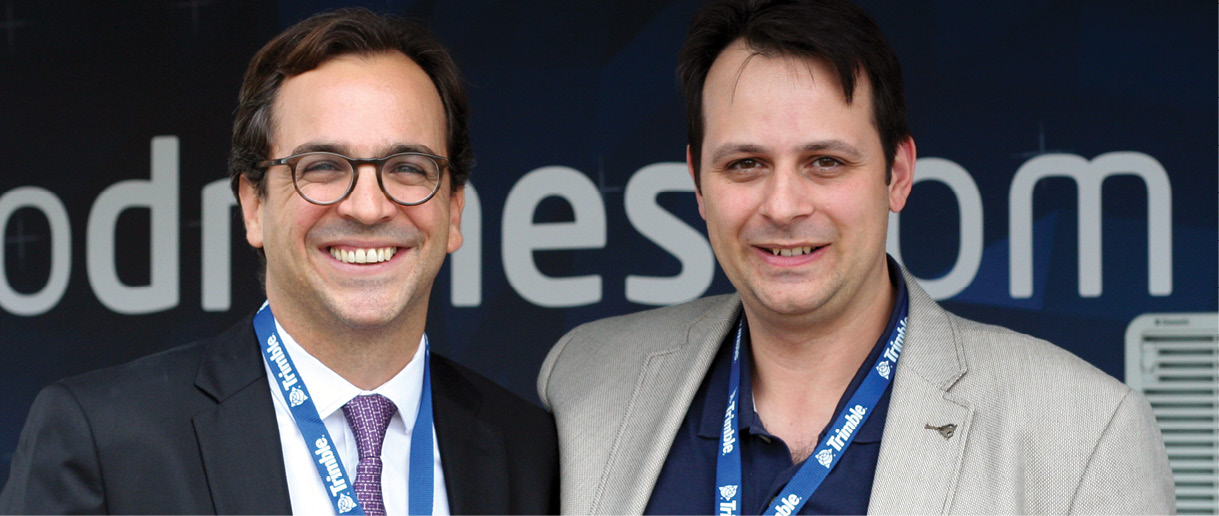 Trimble Navigation has sold its UAV manufacturing entity Gatewing to France's Delair-Tech, and has allied with Delair-Tech and Germany's microdrones to offer a broader and more complete range of UAV solutions.
Todd Steiner, Marketing Director for Trimble's Imaging Business told Inside
Unmanned Systems, "Trimble is not leaving the UAS business. We've struck up a strategic alliance with microdrones and Delair-Tech to provide a broader array of UAV solutions to our distribution channel.
"This is a really fast and crazy market, moving really quickly on an innovation and development level, and we wanted to make sure that people with that focus on hardware were iterating and generating these new products and platforms, so that our customers have access to them. We believe that Delair-Tech and microdrones are well-suited to do that."
That will leave Trimble open to focus on its legacy strengths—photogrammetry and sensor technology, and software workflows—which it will bring together with microdrones and Delair-Tech as a complete solution to its core customers.
Crucially, the two smaller companies will get access to Trimble's customer base. "They get to work with Trimble," Steiner said. "We are experts in what we do, so I think together we can build a more powerful solution for the customer. They have client bases outside of Trimble's core geospatial construction, mapping and surveying types of applications, so they'll continue to serve those and we'll work together to serve our vertical markets."
microdrones Gets its Due
Last May we reported on microdrones' merger with Avyon, the North American UAS solutions provider that brought microdrones products to North America. When we met microdrones President Vivien Heriard Dubreuil in Hamburg, he said "In North America we have been more focused on solutions. We have been about creating the perfect tool for a particular application; not selling drones but selling a specific solution for a specific job.
And, he said, the company is now ready to bring this kind of real added value to Trimble: "We now think that we have the best mapping tool to offer the Trimble network."
The new range of microdrones mapping packages just announced includes an entry packagecalled mdMapper200, the mdMapper1000, with a bigger platform and the ability to cover a larger area, and the mdMapper1000DG package with direct georeferencing technology.
"Right now on the market you have some pretty good fixed-wings for mapping," Dubrueil said, "but no vertical-take-off-and-landing [VTOL], and that has been missed. We are bringing a VTOL solution to Trimble, and we think we have one of the best on today's market."
The idea, Dubreuil said, is that Trimble now has a complete assortment of UAS solutions: "They were selling Gatewing drones, the small fixed-wings, and the ZX5 multicopter. So we are essentially replacing and expanding the existing Trimble portfolio. With our three full packages from microdrones they now have the right VTOLs for aerial mapping, with a good inspection feature." And they are also expanding on the other side with a bigger and better fixed-wing UAV from Delair-Tech.
In return, Dubreuil said, microdrones gets access to Trimble dealer and distribution channels globally. "We will keep the microdrones brand, it will be a microdrones product, but approved by Trimble."
The Goods Inside
While some microdrones are already equipped with Trimble's Applanix APX-15 navigation boards, Dubreuil said future onboard solutions remain open. "The idea is to design a solution together," he said. "For now we will start with the Applanix board, but we will look at other options, like Trimble's GPS product range, but also the software. This is still in development; we are not required to use Trimble boards. It's better to say we are making microdrone products and we will continue to look for the best solutions on our side."
Dubreuil said technical quality was a primary draw when they decided to go all in with Trimble: "It's funny; we decided to integrate the Applanix board before we made the Trimble deal, because we thought it was the best technology. And it was exactly the same for Delair-Tech; they were working with Applanix before this deal. So we really do think there is a great technology inside Trimble, and we are only just beginning to realize the potential."
So with Trimble's Applanix already on board, further cooperative R&D, integration and fusion would seem to be a logical next step, and that could lead to some exciting and important developments. "I think it's key," Dubreuil said. "If we want to make it a success, we will have to do that."
For the microdrones customer, Dubreuil said the new deal with Trimble means they'll have access to a network of dealers—closer to them, around the world, than microdrones has ever been before. His message to Trimble customers: "We really think we have the best package. We have better mission preparation software, better flying platforms, better integration of sensors and payload, and in the end that means better results for you and your business.
"MD was founded in 2005; we are 11 years old. We are here for the long run. When you buy a microdrone you are not investing in a drone that won't work or in a company that will disappear next year. Our platforms are built to be upgraded, they are future-proof, and the same goes for our software and payloads."
Finding Delair-Tech
For the Delair-Tech perspective, we caught up with Delair-Tech's President Michaël de Lagarde, he started by explaining, "We are a B2B UAV company. Our end users are big industrial groups; we provide end-to-end solutions to help them make informed decisions in their business.
"We have two main capacities; we produce our own hardware and we are also specialists in image processing and processing of the other data that we capture with these UAVs. We provide our customers with tools that are dedicated to their activities. Our main sectors are power and utilities, mines and quarries, oil and gas, and agriculture."
Delair-Tech is a true groundbreaker, as the first company to fly beyond-visual-line-of-sight (BVLOS) in France. "Our UAVs are known in the market for their long endurance and their ability to fly BVLOS," de Lagarde said, "so in 2012 we got from the French government the authorization to fly our BVLOS missions. We are experts in this technology; it's kind of rare in the world, because you know France was one of the first to issue such a regulation. Right now, everything we do is capitalizing on the experience we've acquired over these past five years."
When de Lagarde talked about the Trimble deal, we were impressed by just how on-message he was. Trimble, microdrones and Delair-Tech are clearly on the same page as far as strategic goals are concerned.
"We want to keep our business going at a steady pace," de Lagarde said. "Yes, we will continue producing the UX5, but then of course the point is to take advantage of the Trimble network of dealers and resellers, to be able to distribute our own hardware, meaning our own Delair-Tech products."
"We purchased Gatewing, so Gatewing is now part of Delair-Tech," he said. "We have joined both production teams and facilities and the R&D capacities, so it's one and only one company now, but then around this deal we have a strategic agreement with Trimble to be their privileged UAV providers." Meaning that instantaneous, global, well-established, dealer and distribution network.
With respect to the global UAS market, Delair-Tech is every bit as motivated as its new brother-in-arms, microdrones. Just as microdrones was making its move into North America last May, Delair-Tech was setting up a new branch of its own in sunny California, anticipating the new opportunities that could and would be opened up by new FAA legislation, especially Part 107, which lays out UAS ground rules.
"We installed a subsidiary in Los Angeles already in May, looking forward to this new progressive set of laws that came out in June," de Lagarde said. "So, yes we were aware and we thought, and we still think, that the market is going to get a kick-start as a consequence of the legislation, and we are there to be positioned on that market."
"And when you look at it, Gatewing is the pioneer of photogrammetry with UAVs, microdrones is a historic player in the multi-rotor field and Delair-Tech is a specialist in BVLOS and data processing, so together it will make sense. We've got the broadest range of products on the market and we meet almost all the needs or potentially all the needs of our end customers."
Ultimately, de Lagarde said, it's about expansion: "We want to take a significant position in this market. And we all share the same interest and passion for UAVs, so it's a great common ground and I'm very sure the transition will go very smoothly."
When a Team Makes Sense
Certainly there will be a transition. All three entities cite their own data processing expertise, all offering 'end-to-end' solutions, so it may make sense at some point to engage in some harmonization.
What's certain now is that Trimble dealers will have more tools to offer, enabling their customers to fly a broader range of missions and opening up new business opportunities.
microdrones' Dubreuil agrees that's a big deal. He points to the exploding precision agriculture sector as an example where having a range of UAS types at one's disposal, like the range represented by the new Trimble pact, makes perfect sense.
"We already have a package for precision ag," Dubreuil said. "It's really the same idea, it's mapping, but you add other frequency bands to see different things like crop health and so on. We really have a range of end-users in precision ag. This is an area with a complex organization and multiple potential end users. Precision ag is really a number of niche markets, with VTOL as a shorter-range tool, for small areas, small and high-value crops, as opposed to larger fixed-wing UAVs which can cover larger areas."
Most people now recognize that one drone doesn't solve all the problems. Different drones and different sensor packages are needed for different missions. Dubreuil said the microdrones 200 and 1000 are right for smaller-range missions. "But you really need both; you need a fixed-wing, BVLOS UAV, with long-range capacity and endurance—the Delair-Tech solution—for getting your broad coverage of fields and crops. Then, for example, let's say you identify a problem with your wider scan, you can then send in a visual-range VTOL—the microdrones solution—for more detailed analysis.
"This is the trend you start to see, although we are still only at the beginning," Dubreuil said. And the Trimble/microdrones/Delair-Tech alliance now embodies that trend and it is indeed just the beginning.