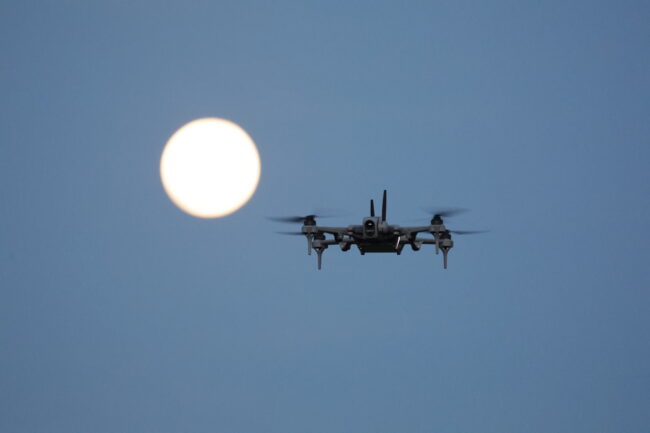 An innovative defense strategy and support for smaller domestic drone manufacturers: It's always good when two desirable outcomes can derive from one effort. That's what the Pentagon hopes to do with the Replicator Initiative announced by Deputy Secretary of Defense Kathleen Hicks recently in Washington, D.C.
Replicator is primarily aimed at China, and intends to launch thousands of autonomous systems of various sorts into the Pacific region. Replicator will "galvanize progress" with systems that are "small, smart, cheap and many," Hicks said.
The point is to meet China's brute strength with innovation. "Replicator is aimed at [China's] biggest advantage—mass," she said. However, "America's war-winning strategies have seldom relied on matching an adversary ship for ship and shot for shot. Instead, we out-think and out-strategize and out-maneuver them," she said. "Our real comparative advantage is the innovation and spirit of our people."
So, in addition to existing types of massive ships and equipment such as destroyers and carriers, the future will "leverage attritable [lower cost, reusable, low maintenance], autonomous systems in all domains, which are less expensive, put fewer people in the line of fire and can be changed, updated or improved with substantially shorter lead times," she said.
Hicks pointed out that while the Department of Defense has already invested in smaller systems, Replicator ups the ante with a goal of scaling to multiple thousands of systems in multiple domains within the next 18 to 24 months. In addition DOD intends to "replicate and inculcate" methods developed to get the job done, so DOD can scale what's relevant "again and again," she said.
Smaller Companies will Benefit
Salt Lake City-based Teal Drones Inc., a unit of San Juan, Puerto Rico-based Red Cat Holdings, is one of the manufacturers that stand to benefit from Replicator. Originally a consumer-based company, Teal switched to enterprise and defense in 2018 and soon started working with the Defense Improvement Unit (DIU), a DOD initiative meant to bring small companies and leading edge technology into government. Teal first began work with a program called Short Range Reconnaissance, which aimed to provide every platoon in the army with a small drone to use on the front lines.
"DOD has been trying to not fall behind," said Teal CEO George Matus. "The first big thing they did was form the DIU. And most recently, they announced Replicator. I think the goal here is to create a domestic capability that is so asymmetric to what China has that we deter any conflict. We want them to think it's not worth going to war."
Earlier this year, Teal introduced Teal 2, a short-range reconnaissance drone with night vision, which can occupy one niche in the Replicator arsenal.
"It weighs about two and a half pounds, has a flight time of 30 minutes, and can fly about 10 kilometers away," said Matus. "It fits easily in a backpack, and if you think about the Indo-Pacific, Teal 2 can provide eyes over the 10 kilometers around you, and carry some amount of payload, such as a grenade."
DIU Provides Pipeline
Teal's connection to Replicator comes through their involvement with DIU, which, Matus said, is where most of the vendors are likely to be. To meet the timeline of the next 18-24 months, selected companies must already have a product that's designed and scaled for manufacturing, which is a pretty small list of companies, he said.
Matus also said the Army mandates that products be National Defense Authorization Act compliant, which means every critical component must come from the United States or its allies.
Funding
Specific funding plans for Replicator have not been announced. Some sources have pointed to a potential billion dollar DIU-managed hedge portfolio that House appropriators have placed in their 2025 spending bill or other possibilities. In response to a question at a session during the conference where Replicator was announced, Hicks said details would be spelled out in the coming weeks, but "we're going to be cagey because DOD doesn't want to reveal its cards to China," she said.