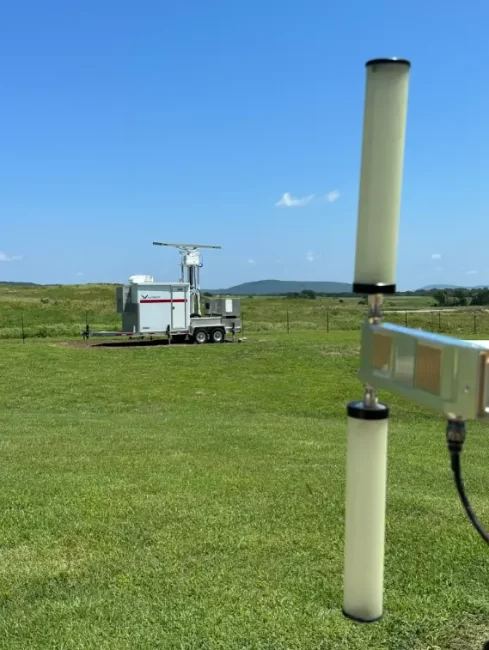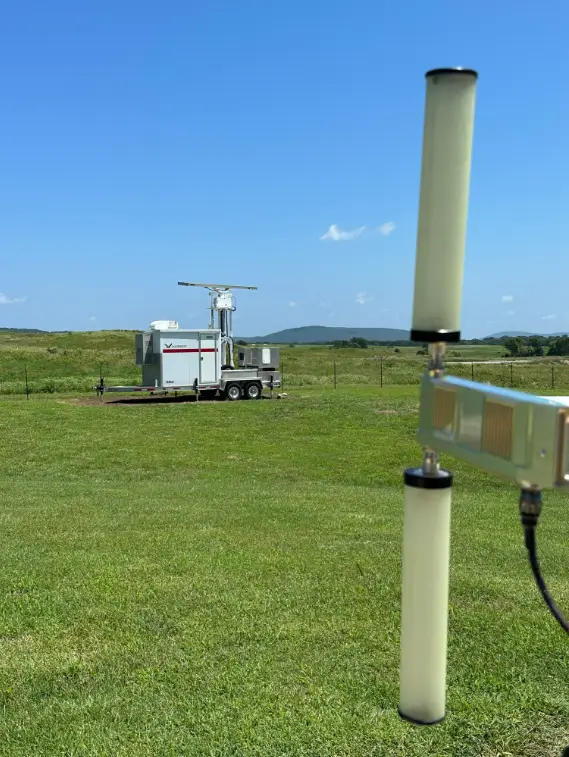 CHOCTAW NATION OF OKLAHOMA—UAvionix, operating at the Choctaw Nation of Oklahoma Emerging Aviation Technology Center, completed the first true beyond visual line of sight flight in non-segregated airspace using aviation protected C-Band in the United States.
Serving as the command-and-control communications service provider (C2CSP), uAvionix completed the historic flights for the Choctaw Nation, FAA and industry leaders.
The effort used waivers from the FAA and the FCC to combine the company's ground-based command and control infrastructure and detect and avoid system, SkyLine, with use of the C-band for command and control.
"Together, combined, that gives you a very long-range capability for beyond visual line of sight," Christian Ramsey, president of uAvionix, told Inside Unmanned Systems.
The company combined the waivers to execute the flight using the C-band range, 5030 to 5091 Mhz, allocated for command and control. It operates at a high power, giving one of the company's radios a range of about 100-miles.
The flight, a culmination of a multi-year effort involving engineering, operations teams and regulatory review, heralds a significant advancement for UAS operators and businesses seeking to commercialize scalable UAS operations such as medical and package delivery, linear utility inspection, and emergency management, uAvionix said.
"The SkyLine software provides link management and detect and avoid services across multiple frequencies and data inputs to form the cornerstone of an FCC and two FAA BVLOS waivers," Paul Beard, founder and CTO of uAvionix, said in a statement. "It is the only C2CSP service designed to RTCA DO-377A and DO-362A standards for aviation, and enables us to fly without chase vehicles, visual observers, or requiring other nearby aircraft to have their own detect and avoid sensors on board. It is truly a brilliant piece of engineering and operations by the uAvionix team."
UAvionix recently received FCC approval, coordinated with the FAA, to operate its airborne and ground radio stations on C-Band for command and control during BVLOS flights. Managed by the SkyLine cloud-based software service, the SkyLink airborne and SkyStation ground-based radios assured uninterrupted and optimized communication with the aircraft across the largely unimproved terrain of the Choctaw Nation of Oklahoma UAS test site, which is similar to conditions often found by businesses performing utility inspections or long range medical and cargo delivery.
Ramsey said the Choctaw Nation of Oklahoma Range is "a great range, we've got infrastructure installed there. They've been great partners. We've got several towers with radios installed throughout their range, and it enables flight across the entire reach."
The C2CSP system for the Super Volo aircraft used in the flight included the uAvionix muLTELink5060 airborne radio and four SkyLink5060 ground radios deployed across the 44,500-plus acre UAS test site. The SkyLine system continuously monitored each link between the ground stations and aircraft to optimally determine the best link for reliable command and control. When needed, the system proactively completed make-before-break connections to switch between available ground stations, while detect and avoid data from terrestrial sensors deployed in the UAS test range delivered situational awareness to the remote pilot in command.
"The forethought, innovation, and technical knowledge of uAvionix are evident throughout this historic operation," said James Grimley, executive director for the Choctaw Nation Oklahoma Emerging Aviation Technologies Center. "Our purpose at the test site is to derive value for the CNO by enabling businesses to see and evaluate UAS technologies that will meet their operational needs for BVLOS flights.
"With uAvionix, we are able to demonstrate a complete system for C2 and DAA that is aviation-grade, approved by regulators, easy to deploy, doesn't rely on third-party communication networks, and infinitely scalable."