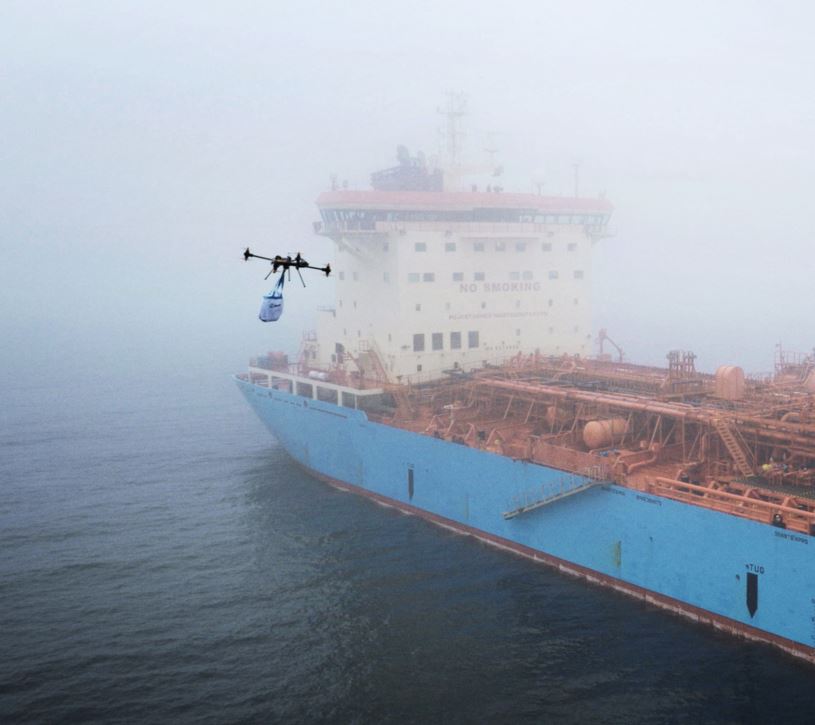 An unmanned aerial system recently delivered a box of cookies to the Maersk Edgar vessel—marking the first time a drone has completed a delivery on board a vessel.
The octocopter that successfully delivered the cookies on Danish waters is ATEX zone 2 approved for use in potentially explosive environments and is made by the French company Xamen Technologies, according to the Maersk website. The test was performed by Xamen and Maersk Tankers.
Drones have the potential to save tanker companies both time and money. It can be difficult to predict which port will be called next, according to the website, and when in port it can be complicated and expensive to deliver items to vessels because they are not alongside the quay.
On average, barges cost $1,000 USD and up. UAS could bring savings of USD 3,000-9,000 per vessel per year, according to Maersk Tankers estimates.
"Drones can make savings in both costs and time," said Markus Kuhn, Supply Chain Manager at Maersk Tankers and part of Maersk Group Procurement Marine, according to the website. "There are high costs for on-board delivery of small parcels, filled with urgent spare parts or mail, because of the need for a barge."
And Maersk isn't just interested in using drones for this type of application. The Maersk Group is testing drones across the company for a variety of inspections. Maersk Oil uses drones for installations in the North Sea and APM Terminals for cranes in its ports. A small group of experts are identifying common business unit interests and listing potential suppliers.
Once a suitable ATEX approved UAS is available, Maersk Tankers could use it during cargo tank inspections, saving the costs and time associated with washing, gas-freeing and re-inerting during these inspections. The high-quality images UAS collect would also help the company identify cracks faster and discover small problems before they become large problems.
They originally planned to launch the drone from land, but because of heavy fog the day of the test the team launched the UAS from a barge. When it arrived at the moving vessel, it hovered 5 meters above the deck and then dropped the cookies onto a designated landing spot, according to the website.
Maersk Tankers and the Maersk Group will now evaluate the test findings.
"It's a totally new step in delivery to vessels," Captain Peder Georg Kastrup Christensen said, according to the website. "Today it's cookies. Another time it might be medicine which we need to treat someone on board."