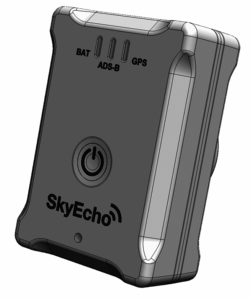 uAvionix Corporation recently announced the release of a newer, less expensive, and extensible version of its popular CAP1391 SkyEcho Electronic Conspicuity (EC) ADS-B IN and OUT solution for United Kingdom (UK) VFR aircraft.
SkyEcho 2 provides the existing capabilities of existing SkyEcho plus additional functionality at a lower price point, according to the company. However, SkyEcho 2 also includes additional optional functionality available as either a software unlock, or with the addition of extensible hardware that interfaces to SkyEcho 2 either via Bluetooth connection or through the USB-C data port.
SkyEcho 2 base capabilities include:
1090MHz ADS-B OUT per UK CAP1391
1090MHz and 978MHz ADS-B IN for traffic and weather display on Electronic • • Flight Bag (EFB) apps
Dual internal antennas tuned to maximize ADS-B performance
Internal uAvionix TSO certified FYX GPS capable of SIL=1 upon update of CAP1391, ensuring visibility by ground and airborne receivers
Internal barometric altimeter for reporting pressure altitude
DroneAware™ receiver for detection and tracking of drones equipped with uAvionix DroneAware™ technology
Mode C/S transponder proximity detection for detection of aircraft not equipped with ADS-B OUT
Additional optional functionality available for purchase:
Internal AHRS available via GDL 90 for synthetic vision and attitude indicator capabilities on EFB apps.
External receivers for additional traffic types such as PilotAware™ and FLARM™
LCD traffic warning display
Flight Data Recorder
uAvionix will begin deliveries beginning in June 2018. The additional external hardware expansion capabilities will begin to become available during the fall of 2018.
Christian Ramsey, President uAvionix, said "We love the progressive stance that the UK CAA have taken regarding portable ADS-B systems for Electronic Conspicuity, and we want to see it have every chance of being successful. With SkyEcho 2, we've designed a future-proof system that is both affordable and expandable to protect pilots' investments in flying more safely."