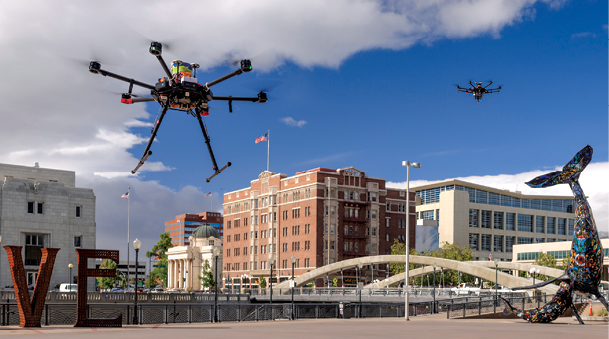 Both the FAA (Federal Aviation Administration) and NASA (National Aeronautics and Space Administration) have turned their attention to unmanned aircraft system traffic management (UTM). They've done this in the context of what the FAA calls urban air mobility (UAM) and what NASA calls advanced air mobility (AAM). NASA recently kicked off an AAM National Campaign and related workshops. FAA's NextGen Office also recently published its UTM CONOPS version 2.0, which addresses increasingly complex operations within both controlled and uncontrolled air environments. Both agencies are taking a "crawl, walk, run" approach.
What milestones need to be met before we can fly? We explore the Top 10 here.
1
DETECT AND AVOID
The ability to "see and avoid" other aircraft is the lynchpin of aviation safety and traffic management (14 CFR § 91.113(b)). With no pilot onboard an AAM vehicle, tech must enable detection and avoidance. NASA has been exploring small unmanned aircraft systems (sUAS) sense and avoid tech for years at its Langley Research Center in Hampton, Virginia. While R&D for small UAS continues, R&D for AAM has just begun.
Regulatory changes are also required. Recently, UAS regulations were updated to use the term "sense and avoid." But, according to Ali Bahrami, the FAA's associate administrator for aviation safety, AAM aircraft "are not scaled-up drones. …Regulations and infrastructure must be commensurate with the paradigm. Carrying people and property are higher standards. Putting new tech in the same regulatory box may not work."
2
SURVEILLANCE
Air traffic control (ATC) operators also need the ability to see aircraft. UTM is a parallel system to complement ATM, consisting of, as the FAA's CONOPS 2.0 puts it, a "cooperative management of operations between UAS Operators, facilitated by third-party support providers through networked information exchanges." How will ATC professionals and UAM service suppliers (USS) obtain a comprehensive air picture?
Perhaps the key lies in a combination of solutions. Ray Adams, executive director of the Urban Low Altitude Transport Association (ULTRA), brings 30 years in air traffic management in the New York City metro area to bear on this issue. His suggested capabilities to achieve this include: multi-layered surveillance, coordination with ATC, and well-conceived policy and regulation enforcement.
3
INTEGRATION THROUGH SEPARATION
The national airspace system (NAS) consists of fluid highways of aircraft traveling in various directions at various speeds and altitudes. "Given urban clutter," Adams stated, "establishing airspace segregation through route structures will be critical. Ideally, we would have corridors where UAS would fly as primary aircraft, below a certain altitude, restricted from manned flight paths."
Adams pointed to the small UAS (sUAS) Low Altitude Authorization and Notification Capability (LAANC) system and related operational areas as building blocks for this approach. Regulators also could allow AAM vehicles to operate within set distances from launch platforms with pre-positioned way points, providing right and left limits of an ops box while allowing freedom of movement within it.
Elizabeth McQueen is a senior project manager and aviation practice builder at Kimley-Horn, a multi-office premier planning and design engineering consultant firm active in current discussions about capability modeling and simulation. "There is no one-size-fits-all solution," McQueen said. "Every metropolitan area will be different depending on a whole host of factors, including human, physical, environmental, policy, visual, operational and regulatory, among others. It is still very early in the conversation about how airspace will need to be planned, utilized, integrated and ultimately managed in a future that accommodates many more aircraft of various types."
4
IDENTIFICATION
Integration and segregation assume the ability to identify aircraft. For the FAA, UTM is symbiotic with remote identification (RID). UTM CONOPS 2.0 discusses UTM as providing the architecture, infrastructure and services through which operators transmit RID information and the services with which authorized persons may obtain particulars relevant to public safety concerns. Yet even the proposed RID rule for sUAS remains a work in progress that has gathered tens of thousands of comments. While the rule will likely take years to finalize and implement, publishing a similar rule applicable to AAM may be a lesser task if it tracks existing regulations.
5
COMMUNICATION
Communication for UTM is key, especially in the event of a flight path incursion or emergency situation. Manned aircraft use Traffic Collision Avoidance Systems (TCAS)/Automatic Dependent Surveillance-Broadcast (ADS-B) to broadcast positions to other aircraft with similar systems on board, allowing operators to engage, coordinate and resolve conflicts. However, the proposed RID rule prohibits use of ADS-B for sUAS. Will that prohibition also apply to AAM? What about TCAS? If not, will a similar capability use the 5G network?
The reliability of RID networks worries Adams and his colleagues at ULTRA. "RID will be based on GPS, which may not work in urban areas because of tall buildings and related satellite interference," Adams said. "To achieve basic triangulation of aircraft," he continued, "the more satellites you have, the more accurate the position. If satellites are masked, the aircraft can't receive accurate GPS information and won't know where it is. A robust sensor network can supplement for lost satellite comms, but what does that look like?"
On the flipside, Adams also worries about system, information and spectrum overload. Taking lessons learned from the recently deployed FAA DataComm system, Adams believes UTM will require a stand-alone system—one not shared with all cellular users—that can be, essentially, infinitely scalable. "As traffic density increases and the system matures, it's likely that the volume and message set of data will expand, requiring greater bandwidth. Layering this onto a shared network may not be feasible," he said.
Ron Leach, ULTRA's vice chairman, suggested that a dedicated radio frequency may be required for UTM, similar to FIRSTNET. A 23-year law enforcement veteran, Leach sees such a system as being reserved for public safety and used for priority permissions in emergencies and disasters.
Potential overload of the humans reviewing the data also requires resolution. For example, around New York City ATC has to monitor four major airports, in addition to transitional and general aviation traffic. When AAM aircraft are added to the mix, how do you provide relevant information to ATC but not so much information as to overwhelm? This filtering, Adams believes, must occur before it hits an ATC display.
The ULTRA experts suggest these issues must be resolved to avoid FAA limitations on the number of AAM aircraft allowed in the air at any one time.
6
CYBERSECURITY
With regard to sUAS, in Section 376 of the 2018 FAA Reauthorization Act Congress directed the FAA to assess potential cyber vulnerabilities for UTM. The UTM CONOPS refers to a collaboration with the International Civil Aviation Administration (ICAO) to define a cybersecurity network and identity policies for an International Aviation Trust Framework (IATF). In turn, this would create an international operational network and identity policy framework, the Global Resilient Aviation Information Network (GRAIN). "GRAIN is a network of networks interconnecting aviation stakeholders for all information exchanges" (page 42 of the CONOPS document). We'll need to increase the amount of granularity there is in the GRAIN thus far.
7
PRIVACY
"Any time a system collects data on individuals or their patterns," ULTRA's Leach said, "privacy has to be part of the conversation." For sUAS, Congress has made it part of the law: several provisions in the 2018 FAA Reauthorization Act address privacy and may be harbingers of what is to come in the UTM and AAM arena. Sec 357 (UAS Privacy Policy) simply states that U.S. operations shall "respect & protect personal privacy consistent w/ Federal Constitution, and Federal, state, and local law." Sec 358 (UAS Privacy Review) requires commercial UAS users (except the media) to have a written privacy policy governing the collection, use, retention, dissemination and deletion of data; violations are punishable under the Federal Trade Commission's Act as an unfair and deceptive practice. It's reasonable to assume similar requirements will apply to AAM and UTM operations.
8
INFRASTRUCTURE
Infrastructure for UTM will involve vertiports, charging infrastructures, grid management and possibly integration with existing metro transportation systems. Whereas most of the concerns addressed to this point involve things in the air or individual rights, infrastructure is literally where the rubber (or metal) meets the road—it involves the investment and regulation of real property, During a March 2020 webinar, Yolanka Wulff, co-executive director of the Community Air Mobility Initiative (CAMI), a non-profit based in Bambridge Island, Washington, that educates and supports local decision makers about AAM, indicated that transportation planning typically looks out 10 to 20 years. But cities, she said, need to begin incorporating AAM and UTM into their plans and regulatory frameworks now. (For more on CAMI's activities, see the "Five Good Questions" interview with Wulff's co-director, Anna Dietrich, that appears on page 66.)
9
NOISE MITIGATION
Nothing gets the neighbors out in the streets with their proverbial pitchforks like aircraft noise (having been a legal advisor to Air Force bases across the country for almost 25 years, I can personally attest to this!).
According to the FAA's Alliance of System Safety of UAS through Research Excellence (ASSURE), which is looking at this problem, the acoustic signature of aircraft can have negative effects on people, such as fatigue, stress, aggression, hormonal imbalance and in some instances hearing impairment. Additive to this list are potential impacts to animal reproductive health. AAM design can contribute to or mitigate the generation and radiation of noise from propellers. While ASSURE and other programs continue to conduct R&D into the noise problem, noise is about perception as well as decibels. As CAMI's Wulff stated, "The perceived value of the thing making the noise impacts whether or not the public perceives it is 'too loud.'" (For more on this, see www.youtube.com/watch?v=G_g2fd0XQoM.)
Which leads to Number 10.
10
PUBLIC ACCEPTANCE
According to a 2017 Pew Research Center poll on how Americans view drones, about 50% of respondents reported they would feel nervous, angry or scared if they saw a drone near their home. No polls yet exist for AAM. Autonomous aircraft flying people around urban centers, according to CAMI, will necessarily involve three factors: safety, perceived public benefit and limited adverse impact. Both the FAA and NASA acknowledge this, which is why their AAM Workshop Kickoff was open to the public. There, FAA's Bahrami said, "Without public acceptance, UAM will not fly." For this reason, regulators, industry and community members must engage with the public for AAM to succeed.
But fly we must. And so we will, crawling, walking and running toward these 10 milestones.