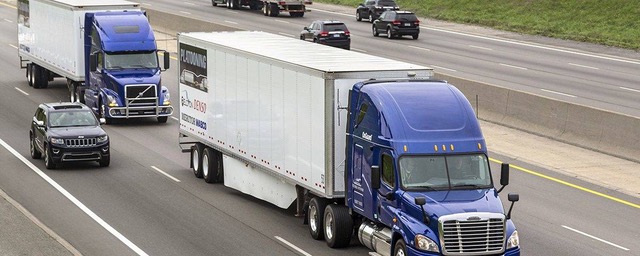 The recent announcement that Omnitracs Partners plans to work with Peloton Technology signals the intent of large companies to gain a foothold in autonomous trucking technology and markets.  Omnitracs and Peloton will bring truck platooning technology, a precursor to automated trucking, to Omnitracs' customers, the companies said.
"Platooning is a good example of a solution that uses emerging technologies to help trucking fleets save fuel. It incorporates technologies that will play a major role in the evolution of autonomous vehicles," said Clem Driscoll, CJ Driscoll Associates president. "It will be interesting to see how an alliance between Omnitracs and Peleton, two leaders in connected fleets solutions, can impact the pace of this evolution for trucking fleets."
Peloton, which develops connected and automated vehicle systems, will provide its truck platooning technology that incorporates synchronized braking, acceleration, vehicle-to-vehicle communications (V2V) with radar-based collision avoidance systems. With this technology, trucks can travel safely at aerodynamic following distances, the companies say.
The Peloton-Omnitracs deal will include joint products that enable fleet management safety—and cost-savings for trucking companies, said Joshua Switkes, Peloton founder and CEO.
Peloton, which will be rolling out its platooning product for Class 8 trucks this year, says its system generates 4.5 percent fuel savings for the lead truck and 10 percent for the follow truck in a two-truck platoon. For the driver of the follow truck, the Peloton system works similarly to adaptive cruise control with the added safety feature of V2V communications to enable automated braking within 0.1 second of braking by the lead truck, the company said.
The driver of each truck controls steering while the platooning system coordinates speed and distance between the trucks– meeting the definition of [Society of Automotive Engineers] Level 1 automated driving, the company said.  Initially, the companies say the product will be for a two-truck platoon.
Whether it be for two trucks or more, platoons are managed by a cloud-based Network Operations Center that connects to trucks through cellular and Wi-Fi communications.
The trucking market is an ideal one for unmanned systems research and development. Industry observers say that national truck driver shortage is acute because of many factors that include job danger, regulations and pay.
The deal with Omnitracs, which has a large long-haul trucking segment customer base, is a huge one for Peloton. Omnitracs, one of the first companies to offer GPS-based fleet management systems more than 25 years ago, now has 1,000 employees and 50,000 private and for-hire fleet customers.
Based in Silicon Valley, Peloton's investors include Volvo Group, DENSO International America, UPS, Nokia Growth Partners, Intel Capital, Magna, Lockheed Martin, Castrol InnoVentures, Lytx, Sand Hill Angels, Birchmere Ventures and Band of Angels.
Peloton investor Lockheed Martin is developing autonomous vehicles and drones from a growing facility in Colorado.  The company's Autonomous Systems unit, with 50 employees, is the technology giant's focal point for testing self-driving vehicles and other unmanned systems.
The Autonomous Systems unit's activities include military, industrial and commercial customers, said Jamie Adams, Lockheed Martin Autonomous Systems general manager and site lead.
Image courtesy Peloton.