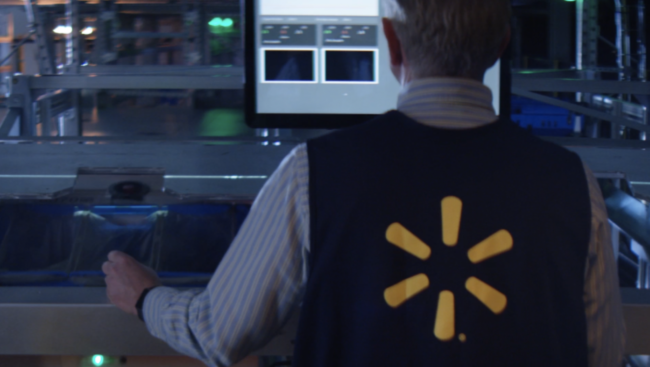 Walmart is working to make it quicker and easier for employees to fill pickup orders through its new automated system, known as Alphabot.
Walmart is collaborating with startup Alert Innovation to develop the system, which will automatically bring items ordered for customer pickup from storage to the associates who are filling the orders, according to the company website. With this system, employees will no longer have to walk the store aisles searching for products. Alphabot will do that for them, enabling associates to focus on selling and service.
The system, developed just for Walmart, is being installed at the supercenter in Salem, New Hampshire, as part of the store's re-grand opening. A 20,000-square-foot warehouse-like extension that connects to the store was added to house the system. The extension also will serve as a dedicated grocery store pickup point with drive-thru lanes.
Once they're ready for prime time, automated mobile carts will locate ordered items that are stored in the new space. They'll then deliver the items to one of four pick stations where personal shoppers will pick, assemble and deliver the order to customers.
Most of the products ordered for pickup will be retrieved through this system, except for produce and other fresh items.
Alphabot should be online and running by the end of the year. The system will be launched at the Salem store on Oct. 1.