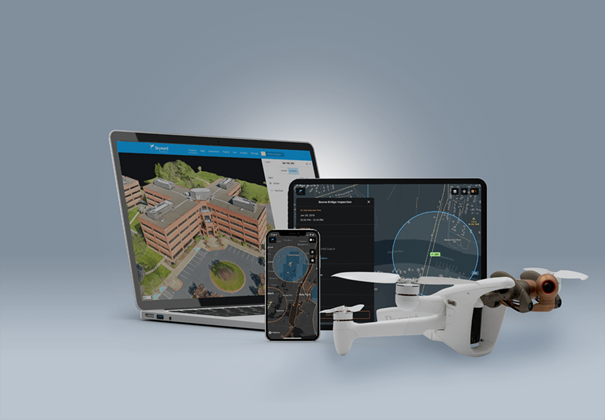 Verizon, the venerable company that began life as a regional bell operating company (RBOC) after the 1980s breakup of AT&T, has continued to grow and expand, most recently into a range of connected technologies and now even UAVs.
Verizon's Robotics Business Technology includes Skyward, incubed IT, a leading developer of software for autonomous mobile robots recently acquired by Verizon, and a team focused on automating command and control of robots on Verizon's 5G Ultra Wideband network.
The most recent announcement by the company involves Skyward and Verizon establishing an exclusive partnership with Parrot, a Paris-based wireless products manufacturer company, that also has a drone product line, to bring what they say is the first "out-of-the-box 4G LTE connected drone solution" to the US market.
Parrot ANAFI Ai is described as a compact professional drone that has an open source app for developers to work with as well as a system of autonomous "one click" photogrammetry and additional levels of cybersecurity. Users can activate Verizon's 4G LTE network through the Skyward InFlight mobile app, potentially supporting near-real-time data transfer, remote deployment and beyond visual line of sight flight operations.
"Enterprise drone programs are pushing the limits of technology available today and advanced operators are ready for a connected, trusted, and capable drone to take their drone programs to the next level," Mariah Scott, head of the Verizon Robotics Business Technology organization, said in a release.  She positioned Parrot ANAFI Ai combined with Verizon 4G LTE as providing a milestone on the path toward distributed, remote, persistent operations that give users the ability to "fly" to anywhere from anywhere while maintaining near-real-time data transfer.
"Cellular connectivity is the new communications standard for the professional drone industry," added Henri Seydoux, Founder and CEO of Parrot.
The Skyward Connected Drone Solution with Parrot ANAFI Ai on Verizon 4G LTE will be available through Skyward.
This is all part of a new business incubation program at Verizon focusing on creating integrated solutions that incorporate Verizon's 5G and mobile edge compute capabilities. They products are aimed at serving enterprise customers that need to deploy, manage and scale fleets of both aerial and ground robotics—currently a patchwork process for most organizations.
The full mission of the Robotics Business Technology unit is to provide connected robotics solutions to companies in the manufacturing and logistics, commercial construction, oil and gas, energy and utilities, public sector and media. That includes both indoor and outdoor applications, according to the company.