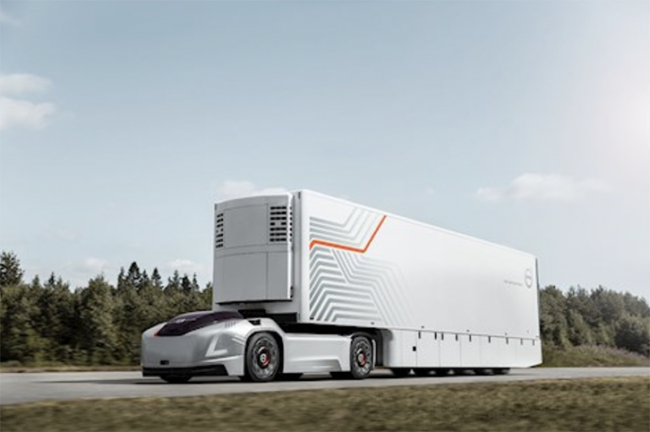 In an effort to provide safer, cleaner and more efficient transportation, Volvo Trucks is developing a transport solution that will include autonomous, connected, electric vehicles and a transport control center.
The solution will be designed for repetitive transport, according to a news release. It will involve high precision between fixed hubs and will serve as a complement to today's solutions.
"The full potential of the transport industry is yet to be seen. Everything suggests that the global need for transportation will continue to significantly increase in the coming decade," Volvo Trucks President Claes Nilsson said, according to the release. "If we are to meet this demand in a sustainable and efficient way, we must find new solutions. In order to secure a smoothly functioning goods flow system we also need to exploit existing infrastructure better than currently. The transport system we are developing can be an important complement to today's solutions and can help meet many of the challenges faced by society, transport companies and transport buyers."
The solution will be used for regular and repetitive tasks that are relatively short distances, have large volumes of goods and high delivery precision. Transports between logistic hubs are examples, but there may be other use cases as well.
"Our system can be seen as an extension of the advanced logistics solutions that many industries already apply today," said Mikael Karlsson, the company's Vice President Autonomous Solutions. "Since we use autonomous vehicles with no exhaust emissions and low noise, their operation can take place at any time of day or night. The solution utilizes existing road infrastructure and load carriers, making it easier to recoup costs and allowing for integration with existing operations."
The autonomous electric vehicles will be linked to a cloud service and transport control center. They'll be equipped with sophisticated systems and designed to locate their position to within centimeters as well as to monitor and analyze what is happening around them so they can respond accordingly.
The control center will continuously monitor vehicle progress and keep an accurate account of position, battery charge, load content and service requirements. Vehicles that operate on the same route will cooperate to create optimal flow.
Volvo Trucks will work with selected customers in prioritized applications to further develop this solution.