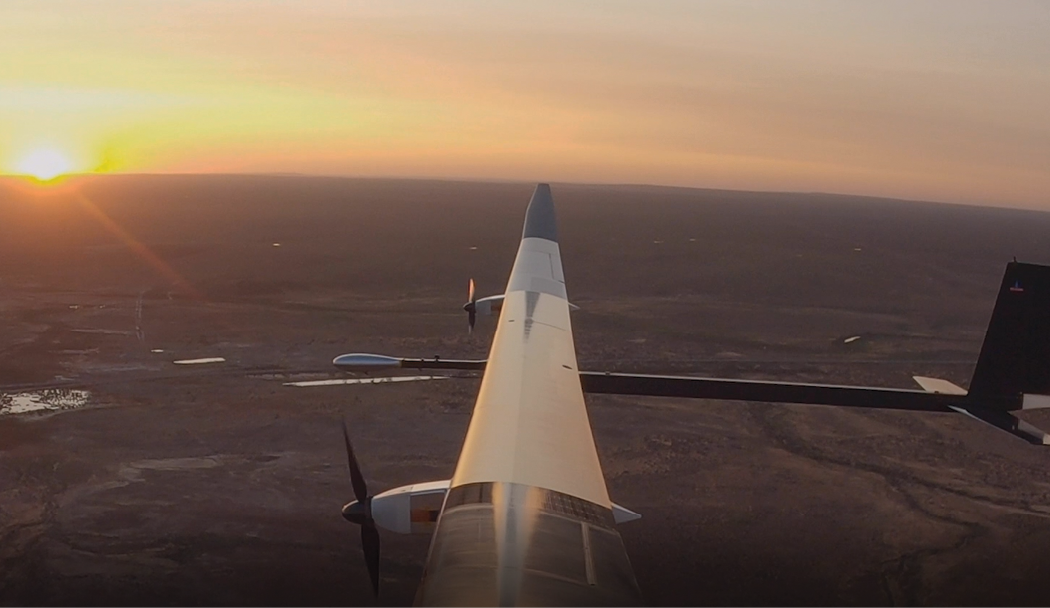 High-altitude, long-endurance (HALE) UAVs and high-altitude pseudo-satellites (HAPS) represent an exciting new area of UAV development, providing both military and commercial customers with capabilities not currently available in conventional air and space platforms.
At the same time, the performance requirements for these vehicles and their components can be severe. In 2017, BAE, parent company of Prismatic Ltd, which makes the 35-meter wingspan, solar-electric PHASA-35™, was looking for specialized servo actuators that could work in the extreme cold of the upper atmosphere. Germany's Volz Servos GmbH & Co. provided the required parts, and in doing so became a standing partner of BAE and Prismatic. Volz CEO Phillipp Volz told Inside Unmanned Systems, "The initial requirement was a servo system that could operate efficiently and reliably at low temperature, -70° C and below."
Volz actuators come in many shapes and sizes, and feature an impressive range of capabilities. "In general, all our standard servos, can be used in low temperature conditions, -80° C," Volz said. For its smaller servos, including the DA 15-N, Volz has added firmware enabling a heating function for temperatures below -40° C. 
Also, the company has recently introduced carbon fiber plastic housings to reduce the weight of the PHASA-35 servos while maintaining the same level of reliability. "It's a 30 percent carbon-filled material," Volz said, "with a density of 1.38 g/cm3. Carbon fiber reinforcement lends the material a high level of rigidity and creep strength. And we have also reduced the weight of other components, in total reducing by 40 percent the weight of our DA 22 BLDC, from 140 g down to 85 g, and of our DA 26, now down from 270 g to 160 g, without any degradation of lifetime."
Conor Crowe, mechanical design engineer at Prismatic, said, "The reliable nature of Volz products when exposed to the extreme conditions high altitude flight presents make them ideal for integration into the PHASA-35."
The Offenbach am Main, Germany-based company could serve as a case study of how to be successful in a rapidly evolving technology area. "My father founded the company nearly 40 years ago," Volz said. "We came from the hobby market but we shifted to industrial projects, mainly focusing on UAVs for the past 15 years. We are supporting extremely demanding platforms like the Schiebel Camcopter with our smaller servos, but for a couple of years we have been doing much bigger servos for OPVs, HALE drones with very large wingspans, helicopters and so forth."
In a little more than two years, the company has doubled in size, now counting more than 50 staff, and has moved into a new production facility. Volz has invested significantly in its engineering capacity, creating an impressive portfolio of advanced servos that feature redundancy, electromagnetic clutches and external position sensors. "Our largest servo is the DA 58-D," Volz said. "That's 58 mm in width, weighing 5.6 kilos and having a peak torque of 250 Newton meters. So it's really a heavy duty truck."
The company works with a number of partners in the defense industry, in the U.S. and Israel, and in other NATO countries. It is active in commercial projects, especially in the area of UAV-based delivery services (UAM), as well as in the research and academic arenas.
Aside from its technical prowess, the Volz company boasts a competition-killing customer service policy. Again, Prismatic's Crowe: "Prismatic has worked with Volz for over three years on a number of projects, during which time the support received has always been to an exceptionally high standard."
Volz said, "We work very closely with our customers in order to understand their needs, what they see as the ideal servo. Then we start internal discussions along with feasibility studies, which we present to our customers. After that, we start the design and get the customer's confirmation. We do a lot of adaptations for our clients. A big portion of our sales are customized. Our aim is to be flexible, dynamic and reliable, and to deliver highest quality in small as well as huge quantities. We have great engineering capabilities and offer great customer support."
Volz said he expects continuing success for his company in the defense sector, but, "The civil sector, particularly the cargo delivery/UAM sector, is growing, and this is keeping our development department busy. We have various ongoing projects in the field of mobility, including with flying taxi companies, where we could expect high volumes in five to 10 years." Interestingly, he said, the safety requirements in the civil sector are starting to surpass those in the military sector: "It's a different thing if you lose a military vehicle in the middle of nowhere or a civil vehicle operating over a populated area. Three years ago, nobody was asking about certification for civil airspace, and now it's a big topic everywhere."