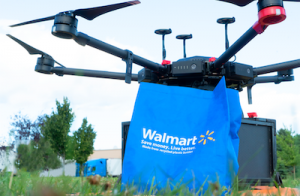 Walmart is now offering drone delivery for customers in Fayetteville, North Carolina.
Walmart partnered with Flytrex, an end-to-end drone delivery company, for this pilot program, according to the Walmart website. The company's automated drones, which are controlled through a smart and easy dashboard, are delivering select grocery and household items to customers on-demand.
Through the pilot, Walmart hopes to better understand the customer and associate experience during different stages of the process, including picking, packing, takeoff and delivery. The goal is to use the technology to better serve customers, delivering orders in a way that's convenient, safe and fast.
"We know that it will be some time before we see millions of packages delivered via drone,"  wrote Tom Ward, Walmart's senior vice president, customer product. "That still feels like a bit of science fiction, but we're at a point where we're learning more and more about the technology that is available and how we can use it to make our customers' lives easier."
Walmart also has partnered with companies like Gatik, Ford and Nuro for pilots to gain insight into how delivery via autonomous vehicles might fit into the business and ultimately benefit customers.