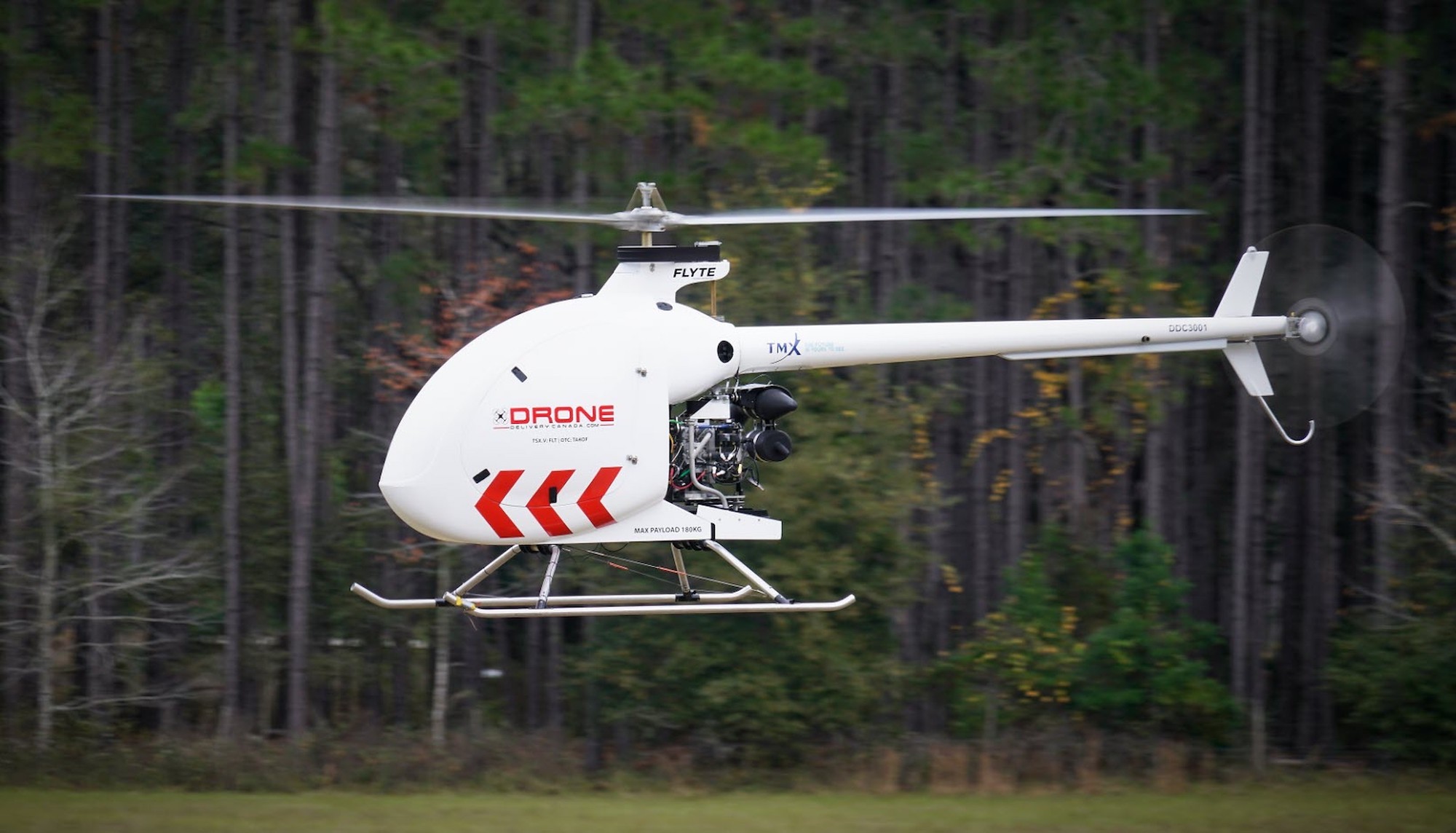 Drone Delivery Canada's (DDC) largest drone, the Condor, is expected to begin flying for commercial applications in 2021.
The drone, which has a payload capacity of 400 pounds and a range of about 125 miles, recently demonstrated its triple-redundant communications system (satellite, cellular, 900MHz RF), triple-redundant navigational guidance system and triple-redundant autopilot system in a series of tests. General flight stability and performance and fuel consumption characteristics were also tested, while the company successfully monitored unmanned flights remotely from the operations center.
Testing for the Condor, which looks like a helicopter, is expected to finish by the end of the year, DDC President and CEO Michael Zahra said. While he couldn't give specifics, DDC is in talks with companies in various industries, including mining, oil and gas, and logistics, for potential projects that would begin in 2021.
The Condor can carry large items or bulk amounts of smaller supplies like PPE, for example, Zahra said. The cargos are temperature controlled, making it possible to move items such as vaccines and blood biologicals. Industrial commercial applications are also a good fit for the Condor.
"A remote oil rig off the coast of Texas or Louisiana might need large heavy repair parts delivered," Zahra said. "Today, they would use a boat service that is unreliable and not very safe, or a helicopter service that is not as readily available and expensive."
Zahra describes the Condor as a game changer because, unlike other delivery drones, it can carry large, heavy payloads and handle industrial applications. It is fully integrated with DDC's patented FLYTE software system.
The Condor is the company's largest drone. The smaller Robin XL is also in the testing phase, which Zahra expects to be completed in the next few months. The Sparrow, the company's smallest drone, is involved in multiple projects and is delivering COVID-19-related items to two First Nation communities in Canada.