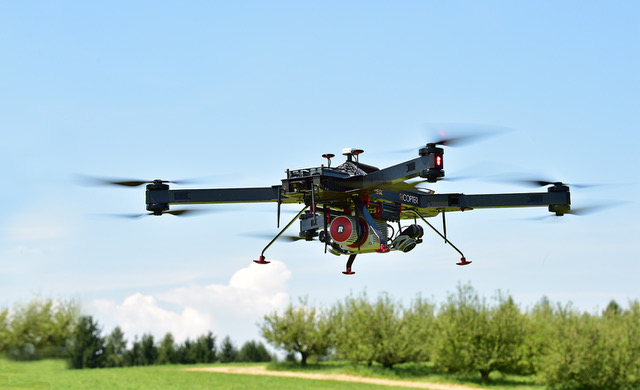 Registration is still open for this Free Webinar on Tuesday, April 16, 2019 from 1:00 PM – 2:30 PM ET. This event is sponsored by Inside Unmanned Systems, Applanix and Trimble. This live webinar has taken place and will soon be available on-demand.
LiDAR technology continues its emergence as an important tool for increased surveying and mapping accuracy and efficiency, even as providers await regulatory relief to allow them to fly beyond visual line of sight.
To explore LiDAR's full potential, experts from four major technology providers – Trimble, Applanix, Microdrones and RIEGL—will detail the technical and business case for robust navigation in UAS-based mapping.
Their insights will include:
The current status of BVLOS navigation and mapping: guidance, robustness, accuracy.
Explaining the difference between traditional GPS and RTK positioning.
What high-end LiDAR applications are available and what they can yield when integrated into specific airframes.
Use cases will put forward benefits and capabilities and enhance your ability to apply them.
Participating experts include:
Chris Wheeler, Business Area Director Integrated Technologies OEM, Trimble. Specializes in helping customers leverage robust and reliable GNSS solutions for real-time applications. MBA Marketing and Master Business Administration from Washington University; JD from University of Missouri Law School.
Joseph J. Hutton, Director of Inertial Technology and Airborne Products, Applanix. With Company since its inception in 1991, responsible for development and application of GNSS-Aided Inertial Navigation Systems for mobile mapping and positioning. Has written extensively on Direct Georeferencing. MASc in Aerospace Engineering from the University of Toronto.
My-Linh Truong, Unmanned Laser Scanning / UAS Segment Manager, RIEGL USA. Product line expert charged with expanding and developing the UAS LiDAR marketplace. Previously RIEGL's training and support manager for kinematic systems. Bachelor of Science in Electrical Engineering from the University of Central Florida.
Mike Hogan, Business Development Manager, Microdrones. All-region leader of sales and customer support teams. Extensive experience in military engineering, mapping and intelligence, with 22 years in the Royal Canadian Airforce. MASc in geodesy and geomatics from the University of New Brunswick.
Moderator:
General James Poss, CEO, ISR Ideas. Consults on intelligence, UAS and cyber warfare. Founder / former Executive Director, Alliance for System Safety of UAS through Research Excellence (ASSURE). Columnist for Inside Unmanned Systems and Inside GNSS, and moderates the former's Drone Beat podcast. Holds a master of arts in strategic studies from the Navy War College.
Register now for tomorrow's event at 1:00 PM to 2:30 PM EDT.