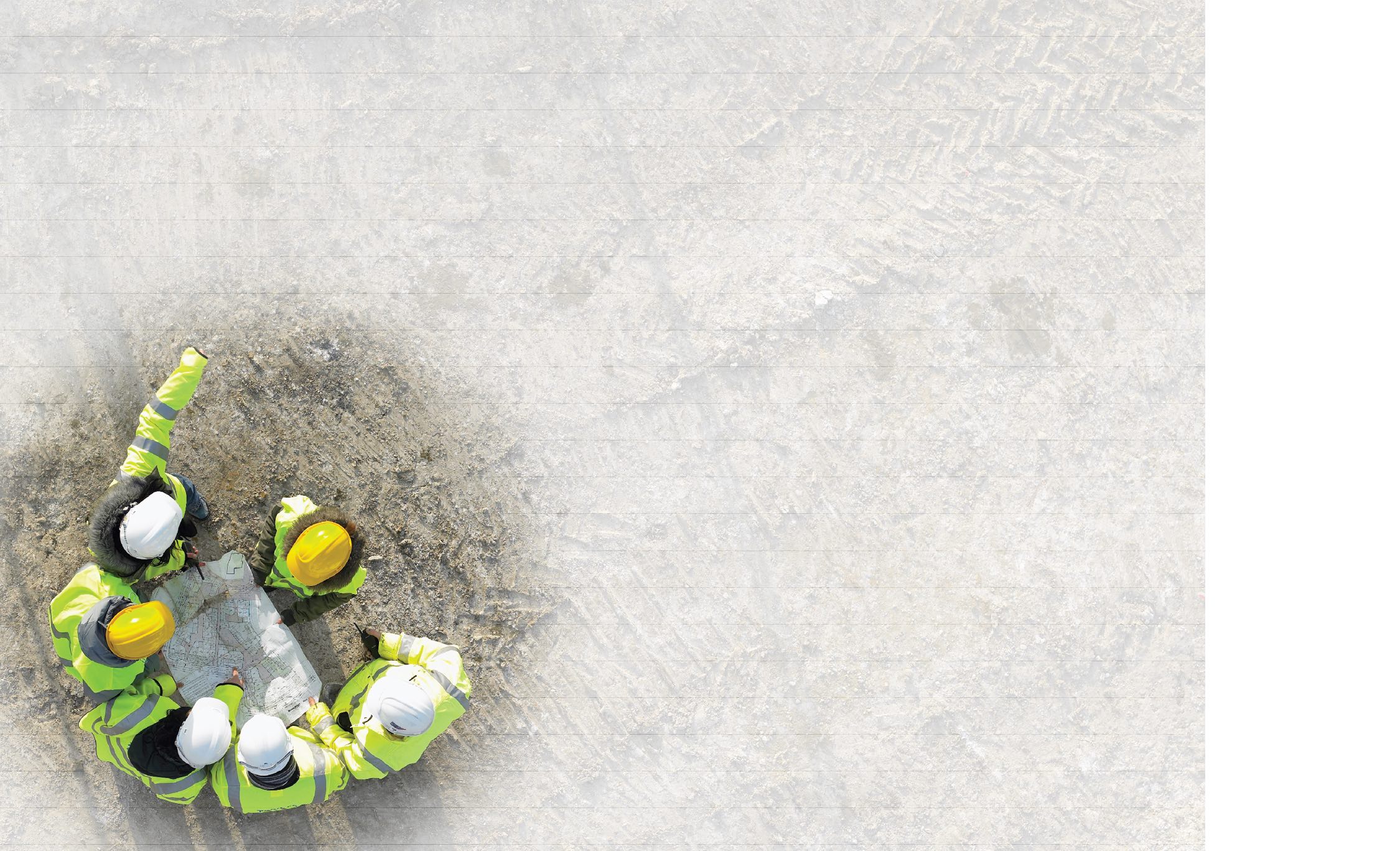 Windover Construction recently took on a modular prefabrication project for Phillips Exeter Academy in response to the COVID-19 pandemic. The goal was to build temporary dorms so students at the New Hampshire school could return safely. With drone fast-track Building Information Modeling (BIM) reality capture, the Windover team streamlined the decision-making process and schedule.
In just a few hours, the Beverly, Massachusetts, construction management company captured detailed site topography and created a 3D model of the site, said Amr Raafat, vice president of VDC and technology. Combining drone mapping with Autodesk software BIM workflow provided modular boxes and created animations, both Windover specialties, to expedite onsite construction coordination, unit layout and underground utilities planning.
This represents just one of the many types of projects Windover, and construction companies everywhere, have completed using data collected via drone. These opportunities continue to expand as software advances and the ability to integrate drone data into traditional workflows becomes more streamlined.
"The whole vision is to employ today's technology to offer real-time solutions for challenges on sites to make the team more efficient. When looking at drones, we wanted to not do just pictures or videos; we wanted to embed into the BIM workflow by capturing high-res 3D models and volumetric information we can share visually," Raafat said. "The biggest thing is to analyze the data and make it useful for our teams, so when we look at it we get what we need to apply it in the field."
Site monitoring, volumetric stockpile measurements and clash detection are examples of how construction sites leverage drone data. What's collected is converted into surface meshes, 3D models, orthomosiac maps and other outputs that improve communication and reduce paperwork, long a burden in the industry. Artificial intelligence (AI) and other advanced technologies also play a part, allowing for more sophistication.
While gaining access to data is key, quickly turning it into valuable assets is the secret sauce that's transforming drones into a must-have technology on construction sites.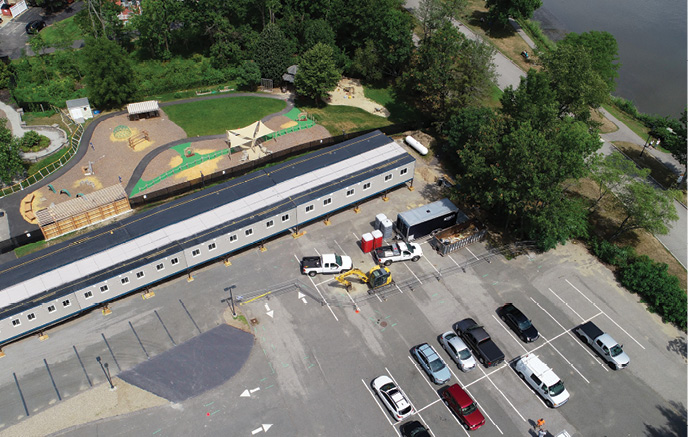 DATA CHALLENGES
The amount of data drones provide can be overwhelming, and early on, project managers weren't sure how to use it, where to store it or how to share it.
"There was so much you could do but not a whole lot of direction, so people were doing everything and saying 'hey, we collected all this data and look how fast and easy and cheap it was.' That lasted for a few years, where the main value prop was you can collect data cheaper and as often as you want," said Jeremiah Johnson, global business development, imagery and remote sensing for Redlands, California-based Esri. "Now they realize collecting data isn't the solution."
Storage also can be an issue, with drones often collecting terabytes of data or more, said Tristan Randall, strategic projects executive for Autodesk, in San Rafael, California. Small to mid-size sites just don't have the infrastructure to handle that.
The same goes for sharing. Randall has heard "war stories" of site managers trying to figure out how to distribute data stored on multiple hard drives to a global team, which usually requires downloading and then uploading everything to a shared site. That means handling everything twice, with someone always having to touch the data to move the workflow forward.
There's been a major shift from that model, Randall said, with more onus being put on service providers to deliver products construction leaders can act on and easily share. There are no longer "data dumps" that leave site managers to figure out what to do next.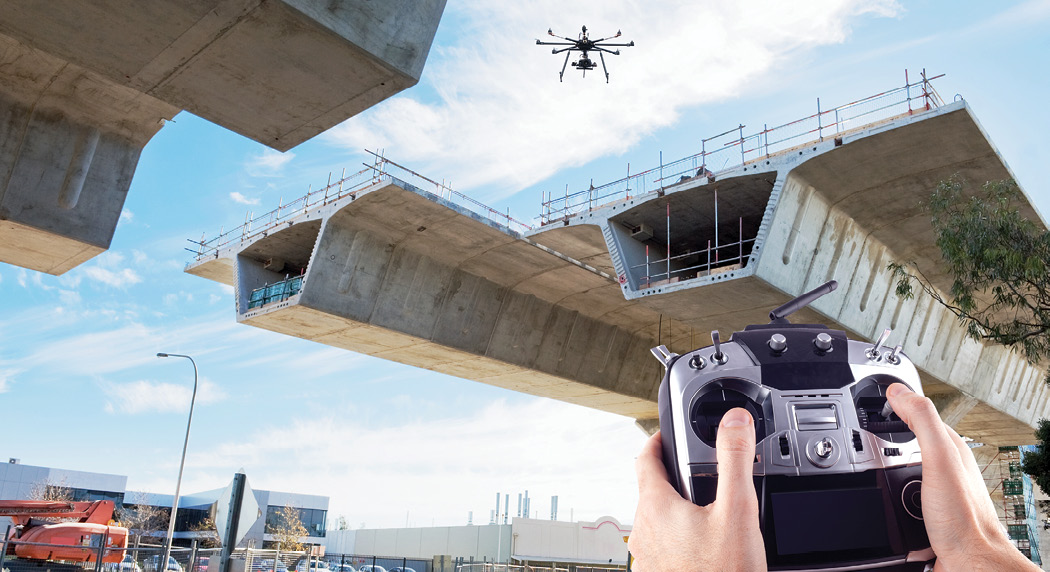 MORE SOPHISTICATED SOFTWARE

The good news is that these days software companies, as well as drone manufacturers with integrated hardware and software solutions, make it seamless for customers to upload raw data to a streaming service that processes it and creates easily accessible products. Those products can be used as is or integrated into traditional construction software products for further analysis.
Integration has become a focus, Randall said, noting Autodesk's partnership with companies like DroneDeploy. Autodesk has been a mainstay in the construction industry for years, and like Esri, has created products that integrate with traditional solutions as well as drone platforms. Drone companies, in turn, are developing solutions that interface with the construction software the industry is familiar with.
With Autodesk, processed maps and models are published to BIM 360 projects for easy access and comparison. If a problem is spotted or a clash detected, an issue form is automatically generated to alert the appropriate subcontractor, complete with maps and other critical information.
"The drone data is working behind the scenes and giving insights to project leaders, and then makes its way down to the workspace," Randall continued. "The subcontractor doesn't need to download a five-gigabyte image; he just needs to know about the change. Useful data being shared across construction sites without everyone having to interact with it directly makes it so much easier and so much more valuable."
That's exactly what Bill Bennington, national quality manager for PCL Construction found in Esri's Site Scan for ArcGIS, a product that provides an end-to-end workflow for acquiring, processing and managing drone imagery. The goal was to be as hands off as possible, and to streamline processing and sharing.
With this workflow, someone flies the site, which is planned and managed in Site Scan. Images collected are uploaded to the web portal, where generated outputs are easily accessed. Various manipulation tools are available in the web interface, or the data can be downloaded and used in other authoring platforms. This workflow made the company's drone program easy to scale, improving efficiencies and communication.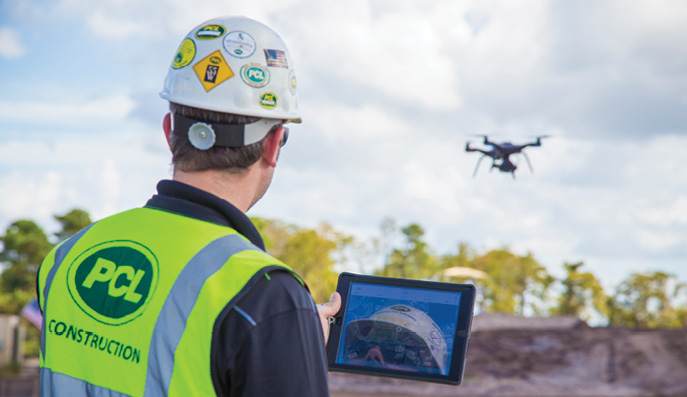 USING THE DATA
Construction sites change on a regular basis, DroneDeploy co-founder Jono Millin said, making it difficult to keep track of equipment and if subcontractors are on schedule. Drones can automatically create a full 3D BIM reconstruction of a site, giving supervisors a digital snapshot of all phases, even the bidding process.
Drone data is often used to streamline earthworks at the beginning of a project, telling supervisors if they need to cut or fill to ensure there's the right amount of dirt to support what's being built, Johnson said.
"This phase of a project is where mistakes tend to happen," Millin said. "They arrive on site and the land is pretty natural and uneven, and they need to flatten it and make sure they have the right topography. It's historically been challenging to accurately estimate going out with traditional survey tools that give you a sparse data set. Drone data is more precise."
Flight measurements are the most common application used within Trimble Stratus, a drone mapping and analytics platform, said Jim Greenberg, UAS and landfill product manager for Trimble's Civil Engineering and Construction Division. Customers fly the site multiple days to identify changes, such as how much material has been moved and where. Site designs—say a subgrade for a road—can be uploaded into the platform and compared against the current surface model to see where they need to cut and fill. Managers can track trends over time.
Drone data also helps supervisors manage the subcontractors responsible for electrical work, digging trenches, plumbing and dirt moving, Johnson said. Before, supervisors had to make sure progress was recorded properly to avoid overpaying, but with everything documented across many paper and PDF files, that wasn't easy. Drone mapping gives managers access to 2D and 3D products that show what's completed. Automatic stockpile analysis also helps ensure companies pay the right amount for dirt that's hauled onto and off the site.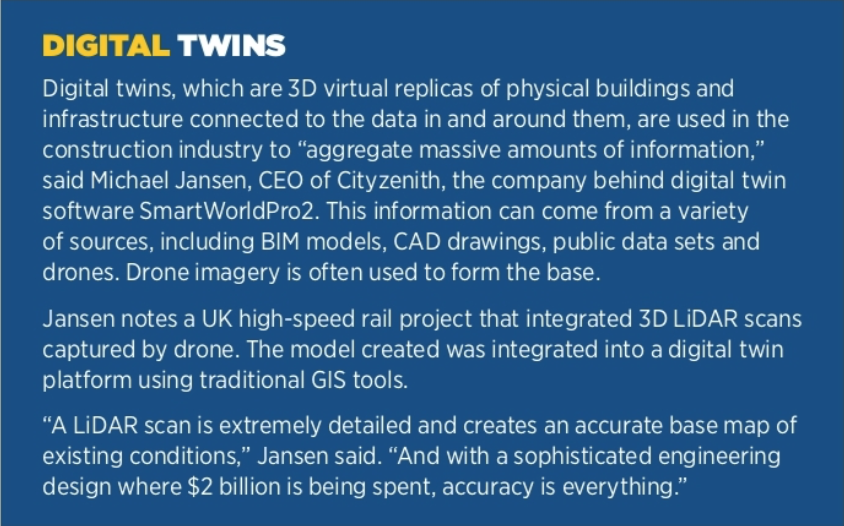 "I have a customer bringing in sand that's been dredged from the bay here in San Francisco, and wet sand is 30 percent heavier than dry sand," Johnson said. "So, a 20-ton truck of wet sand is less than a 20-ton truck of dry sand, but you don't know that until you pull it out of the truck and do a stockpile measurement."
Another key use for drone data is monitoring progress. Orthomosiacs, 3D point clouds and contour data are among outputs used to verify the as-built with the as-designed BIM model, speeding up the verification process, Pix4D Senior Account Executive Angelo Feltrin said. Construction plans can be overlaid on drone data, making it possible to catch costly mistakes. This might be an improperly placed plumbing line, or a trench that's a few feet off—problems that are easier to fix before concrete is poured.
"You can identify issues very early on and very quickly, and you don't need to be as highly skilled," Millin said. "To look at a plan on paper and then the real world and identify where there are differences, that's a skill that is gained over time. When you have a new project manager or super on site, they don't have those skills. Being able to overlay on top of the actual model and spot the differences is easier than trying to look at the plans and do the translation in your head of what's in the real world."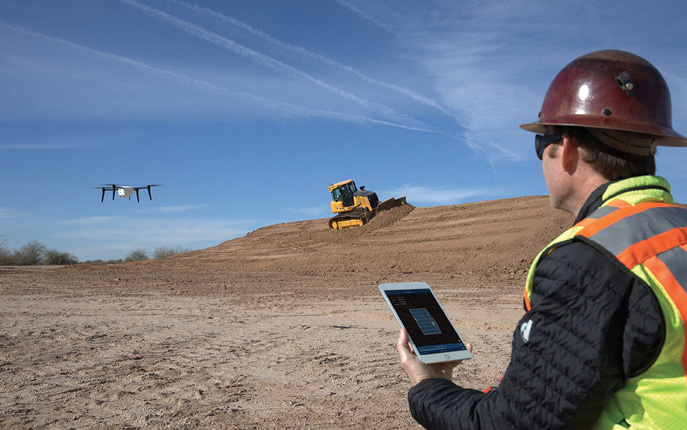 BETTER COMMUNICATION
Hawaiian Dredging Construction Company, the state's largest and most diversified general contractor, invested in Pix4D to store and manage the data drones collect over various remote job sites. The software makes it easy to share 3D models and other outputs, improving communication.
"Previously, we'd use rough sketches on whiteboards or redlined site plans to discuss the status and strategy for completing work," BIM Manager Christopher Baze said. "Now, we regularly fly drones before important meetings, so we have an up-to-date orthoimage and 3D model. When you can see the actual jobsite instead of a sketch or plan, it's much easier to zoom in on and discuss the various activities and challenges we are working on."
In Trimble Stratus, designs can be uploaded to a viewing portal. Measurement created relative to those designs are easy to share with the team, streamlining communications. Stratus also has a mobile map output that can be sent to a specific area of the worksite as a static webpage, Greenberg said. Someone in the office sends a link of a measurement to a colleague in the field, who also can mark the map for back-and- forth interactions.
Overlaying design files, site logistic plans and other assets on top of drone imagery is a common practice at PCL, Bennington said, and one that helps show workers what's happening on the site. Previously workers would be oriented to the jobsite with static drawings. Now they view site logistics plans on top of drone imagery that is updated daily. The software enables the team to turn on multiple layers so they can look at the underground electrical and compare it to a structural drawing that shows foundations.
"It's changed the way we communicate on the job site," Bennington said, "and has worked its way into our normal routines and workflows."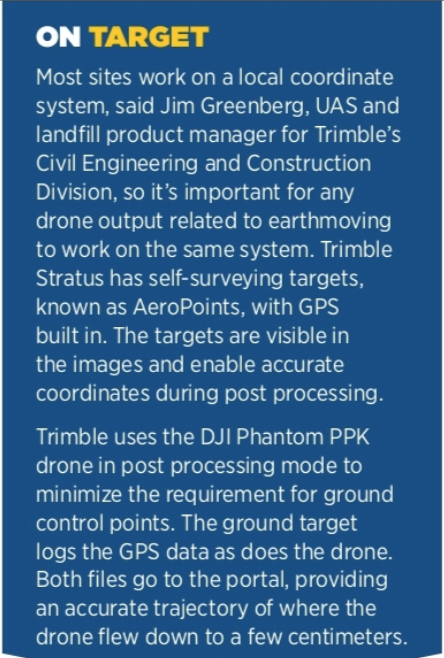 The outputs also improve communication between subcontractors, Johnson said. A plumbing crew might change how a pipe is installed, leading to a clash with electrical. A supervisor looking at a 3D model overlaid on the original design file can catch that.
Client communication is another area drone data improves. Raafat's team at Windover, for example, creates 4D animations as part of the daily workflow. The 3D models are turned into a 4D sequence showing how a project will evolve.
The fact data outputs can be accessed remotely has been key for communication during the COVID-19 pandemic, Millin said. Contractors can view data and make decisions without being on site. The 3D reconstructions and other outputs make it easy to communicate progress to stakeholders as well.
INTEGRATED SOLUTIONS
There are end-to-end solutions that include everything construction clients need to capture drone data, from the platform to the sensor packages to the software. Microdrones offers such platforms, with multiple solutions that meet various construction needs.
The multinational's LiDAR-based solutions, for example, create outputs that separate the ground from non-ground points, which is critical during planning, COO Frank Darmayan said. LiDAR cuts through power lines and trees, quickly providing a surface-only model.
Because everything is integrated, the workflow is simple and leads to repeatable results, Microdrones CEO Vivien Heriard-Dubreuil said. The drone knows what to map and the accuracy needed for the final deliverable, whether it's flying a photogrammetry payload or LiDAR.
Construction clients can still use GIS software to manipulate the data if they choose, Darmayan said, but with higher quality, denoised data.
"What's changed for them is their computer and software that used to struggle with half a million points can now digest 80 million points with no problem," Darmayan said. "Instead of just a sparse point cloud where they can hardly see what they're looking at, now they have a realistic view. They can actually see the drone pilot with the remote control in his hand on the field."
Data collected is processed through mdInfinity software, which has eight modules and is available in desktop or cloud versions.
Another benefit of an integrated solution? Support, Heriard-Dubreuil said. Everything is designed to work together, meaning customers only need to go to one place for guidance.
Kespry, of Menlo Park, California, also produces an integrated hardware and software solution that automates the entire process. Construction clients select key inputs from the user interface and a flight plan is generated to capture geotagged data, Product Manager Taylor Seabaugh said. The data is automatically uploaded to the cloud for processing and stored there for easy access.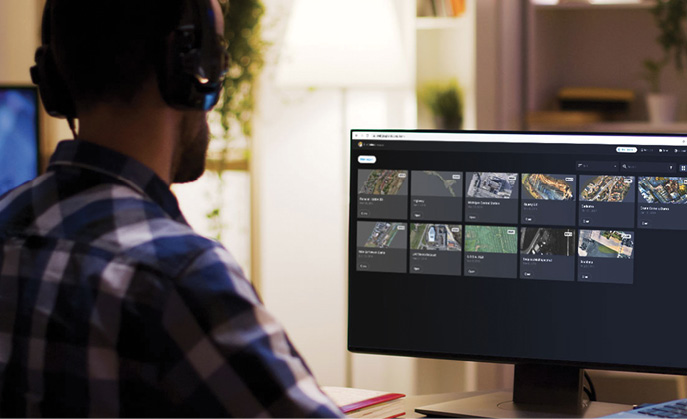 ADVANCED TECHNOLOGIES
The construction industry is seeing the advantages that come with AI and other advanced technologies. PCL, for example, uses AI engines to increase analytics to track production and identify discrepancies between drone data and design files. Discrepancies are flagged within automated reports so teams can be more efficient with quality management in the field.
AI capabilities are also being added to drone software. For example, Kespry offers extraction, which immediately removes vehicles and equipment captured in the data, Seabaugh said. Kespry also has released a feature that automates the process for monitoring and designing haul roads. The algorithm uses computer vision to detect the width of the road, if it has berms on either side and the grade. Users can analyze roads to ensure safety standards are met and that bottlenecks aren't slowing work down. (For more on the company's solutions, see "Drones on the Jobsite, page 10.)
AI and machine learning also have enhanced safety and quality control, Randall said. AI can identify problems in a drone image, such as fall hazards or lack of protective barriers. Partners like smartvid.io offer image recognition in both photos and videos to automatically identify if hard hats and safety glasses are being worn.
Last year, DroneDeploy released a tool for manual inspections and plans to build machine learning on top of that, Millin said. As time goes on, people-driven inspections will shift to AI-assisted, where information of interest might be pointed out. Eventually users will be able to confirm and update suggestions for making the system smarter. The software also has AI tools that can count objects such as cars and trees.
"AI models can recognize this represents the ground and this is a tree and will remove the tree," Randall said. "The intelligence built in allows you to classify objects in the scene as ground, trees, signs, buildings or parking spaces. You're able to extract information and generate a drawing automatically with very little human input."
Augmented reality also has benefits. Trimble SiteVision, for example, is an augmented reality platform to which drone data can be exported, letting users view georeferenced 3D models from any angle.
"As you rotate it around you see the design utilities or the building as they're going to look in the field," Greenberg said. "It's a really enlightening way to look at the data out of the 2D world. Augmented reality makes the information accessible."
Windover Construction recently combined drone reality capture with 3D printing. The team used ground control points to capture a detailed 3D map of a historic building facade, creating a model that showed defects in the 120-year old structure, Windover's Raafat said. They combined the data with BIM and manufacturing software Fusion 360 at Autodesk Technology Center to 3D print façade elements.
Windover also recently collaborated with a robot software company to develop an autonomous laser scanning and wall layout, what Raafat described as "bridging the gap between the field and design data."
WHAT'S NEXT
"Windover envisions the future in construction as a combination and merge between robotics and drone technology," Raafat added, "to collect data in real-time and streamline decision making to build more efficient and safely."
Construction clients continue to seek more precise, denser data, Darmayan of Microdrones said. They want to see building faces, and that requires more points. Software will need to process the large number of photos and data required to create denser point clouds and better 3D models, spurring innovation going forward.
Data capture will become more automated, Millin said, with drone in a box solutions flying sites several times a day, leading to storage challenges in the near and long term.
Projects that are three to five years long will have terabytes if not petabytes of data, Johnson said, with more efficient analytics and storage workflows needed to manage and archive it. And once construction is finished, instead of putting a lockbox on the first floor with the as-built drawing that includes the changes made over the course of the project, that file will be digital. It will be possible to strip away walls and see plumbing and electrical work in these drawings, making them valuable assets years down the road.
While data from other sources, such as laser scanning, can be brought into most software today, Greenberg sees a future that combines drone and machine mapping data. Mixing the two will offer a complete snapshot of where a project is at any given time, further improving site management and scheduling.
Overall, the future will bring more automation, accuracy and simplicity.
"As we continue to leverage machine learning computer vision and AI, we'll be able to detect things faster at a higher level of accuracy, and hopefully get to a point where we're not double-handling data," Bennington said. "We'll stop consuming human resources and effort to validate what's been constructed against the design."