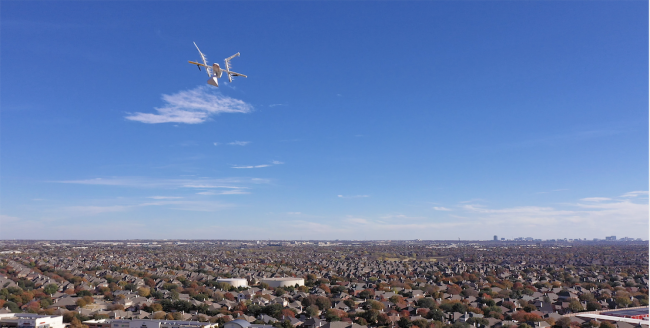 Earlier this month, Wing began delivering goods via drone to residents in Frisco Station, a mixed-use development in Frisco, Texas, making Dallas-Fort Worth (DFW) the first metro area in the U.S. with access to drone delivery.
Wing, a company that has completed more than 200,000 commercial drone deliveries across three continents, has partnered with three local companies, Blue Bell Creameries, easyvet and Texas Health Resources, to make these deliveries possible. Wing is also delivering products from Walgreens.
"This is a significant step forward and shows for the first time that drone delivery can be an incredibly beneficial asset to a community of this size," said Alexa Dennett, head of communications for Wing, Alphabet's Christiansburg, Virginia, subsidiary. "It's not only a faster and more convenient way to order goods; it's a safer, less expensive and more sustainable way to deliver them."
The store-to-door approach
For this delivery service, Wing is deploying its new "store-to-door" operating model, Dennett said, which entails co-locating drones with retailers. Through the Walgreens partnership, the drones, built by Wing, are staged in the parking lot adjacent to the store, with Walgreens employees fulfilling orders that come in via the app. There's also an operating site located in Frisco Station, where drones are delivering goods from the other three partners.
Wing uses the same model in Australia, Dennett said, where its drones perform as many as 1,000 deliveries a day, or about one delivery every 25 seconds during operating hours.
"This operating model," Dennett said, "allows us to expand into densely-populated metropolitan areas and bring drone delivery to more people."
How it works
Residents in the delivery area can order goods through the Wing app, with drones able to deliver in a matter of minutes in some cases. Items available to Frisco Station and Little Elm residents include ice cream, first aid kits and pet medications, as well as a variety of goods from Walgreens.
Once an order comes in, items are placed into a specially designed Wing box, Dennett said. To pick up the box, the drone ascends to an altitude of about 30 feet and releases a hooked tether. An employee then attaches the Wing box to the hook, and the tether is retracted until the package is secured to the drone's underside. Once the package is onboard, the drone flies to a height of about 150 feet and makes its way to the delivery location.
No human involvement is required for the delivery, Dennett said. When the drone arrives at the site, it descends to about 30 feet, lowers the tether and automatically releases the package. It then flies back to cruise height and returns to its charging pad to prepare for the next order.
The aircraft
The all-electric, environmentally friendly UAS has a 3.3 foot wingspan for efficient flight, with the fastest delivery recorded at 2 minutes and 47 seconds. The aircraft features both fixed wings and hover propellers, giving it the ability to transition between an airplane and a helicopter. It can keep packages steady and level during flight, making it possible to deliver items like coffee without spilling.
Wing drones are made mostly of foam and plastic, Dennett said, and have a range of 12 miles (six miles each way).
"The lightweight nature of the drones themselves and the operational footprint they require allows us to deploy and scale relatively quickly and easily," Dennett said. "With over 80% of deliveries consisting of packages weighing 5 pounds or less, Wing's drones can significantly lessen the impact of last mile delivery, cutting down on traffic, reducing emissions, and making our roads safer. Delivery drones can also help retailers boost sales and bring added convenience for consumers."
And, she added, "it makes a lot more sense to deliver a bottle of headache medication via a 10-pound drone than it does with a 3,000-pound vehicle."
How the program got off the ground
Hillwood, one of the developers behind Frisco Station, has been involved in many transportation technology projects in the DFW area, Dennett said, mainly through the Mobility Innovation Zone (MIZ). MIZ is described as a "do tank" for smart infrastructure development, offering technology companies access to a testing ecosystem, resources and partnerships. Hillwood also operates the AllianceTexas Flight Test Center, a shared facility designed for drone testing in Fort Worth. When Wing first began looking at locations to set up deliveries in North Texas, this area just seemed like the perfect fit.
Wing performed test flights at the center and also conducted demonstrations last October so residents could see the drones in action before deliveries began.
"Wing is safety minded so they really embraced that community engagement piece," said Fort Worth Alliance Airport Sr. Vice President of Aviation Business Development Chris Ash, who was part of the team that helped bring Wing to North Texas. "They went to town hall meetings and parks to let the public see the aircraft and ask questions about the reliability, safety, capability, you name it. As a result of that approach, the community has been largely accepting, with the question shifting from how safe and effective is it to how quickly can I start expecting service in my community."
The answer? Maybe not right away, but it shouldn't be long. The plan is to start small, delivering to a limited number of residents but scaling the service over time as engagement increases, Ash said.
The impact
This launch marks an important milestone for drone delivery, with increased delivery speed, reduced traffic congestion and emissions, and help in easing supply chain issues among the many benefits this type of service can provide to a community.
"If we start to use this innovative technology to move freight around more efficiently," Ash said, "then it's also going to help speed up the market and get goods to the customer faster."
And while drone delivery is still in the early days, Dennett said, "the future is coming into clearer focus."
"This launch in Dallas," she said, "along with our other successes in Australia, Europe and the U.S., imply a not-too-distant future in which similar high-volume drone delivery services could be replicated in cities and metro areas around the world."