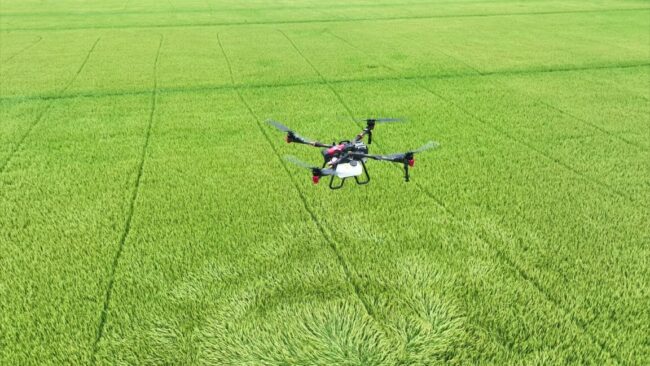 TAM NONG, Vietnam—P100 Pro, the latest generation of the XAG Agricultural Drone, has been released in Dong Thap province of Vietnam, taking efficiency and agility on farms to higher levels, the company said.
This product provides Vietnamese farmers with a fully autonomous, easy-to-operate solution with a large payload of 50 kilograms. As a proven way to lower production costs and mitigate climate risks, XAG P100 Pro is expected to be a widely used tool in Vietnam.
The launch also established Dong Thap Digital Agricultural Cooperative, which aims to promote the application of drone technology in rural areas. From organizing drone training courses to providing farmers with easy access to innovations, these actions will upgrade the digital skills of rural youth and create more jobs, such as drone operators and engineers, with decent income.
Vietnam is the world's major agricultural exporter of rice, banana and durian, while it has also been faced with a shrinking agricultural population. Despite a strong global demand for Vietnam's food export, a growing number of workers have moved to the manufacturing and service industries. The agri-tech company XAG sees this as an opportunity to fulfill its mission of advancing agriculture.
The XAG P100 Pro Agricultural Drone is an electric unmanned aerial system, designed for precise seeding, crop spraying, fertilizer spreading and field mapping. It combines a flying platform and different payload systems to achieve multiple functions. This technology is not a new concept but an upgraded version of its predecessor P100, which has helped local farmers ease the burden and grow more with less.
Adopting the foldable quadcopter structure, XAG P100 Pro reduces its folded volume by 62%. So, the drone can be easy to transport on the way by a minivan and even a motorcycle. Equipped with the XAG RevoSpray 3 system and a 50-liter smart liquid tank, it can spray at a maximum flow rate of 22 liters per minute. Its crop protection efficiency reaches up to 19 hectares per hour for open fields and 2 hectares per hour for orchards.
XAG Mekong, as the authorized distributor of XAG products in Vietnam, offers sales, training, and after-sales support on digital agriculture technology. Through local collaboration, the XAG P100 Agricultural Drone has been widely applied across the Mekong River Delta, covering rice, banana, and durian plantations.