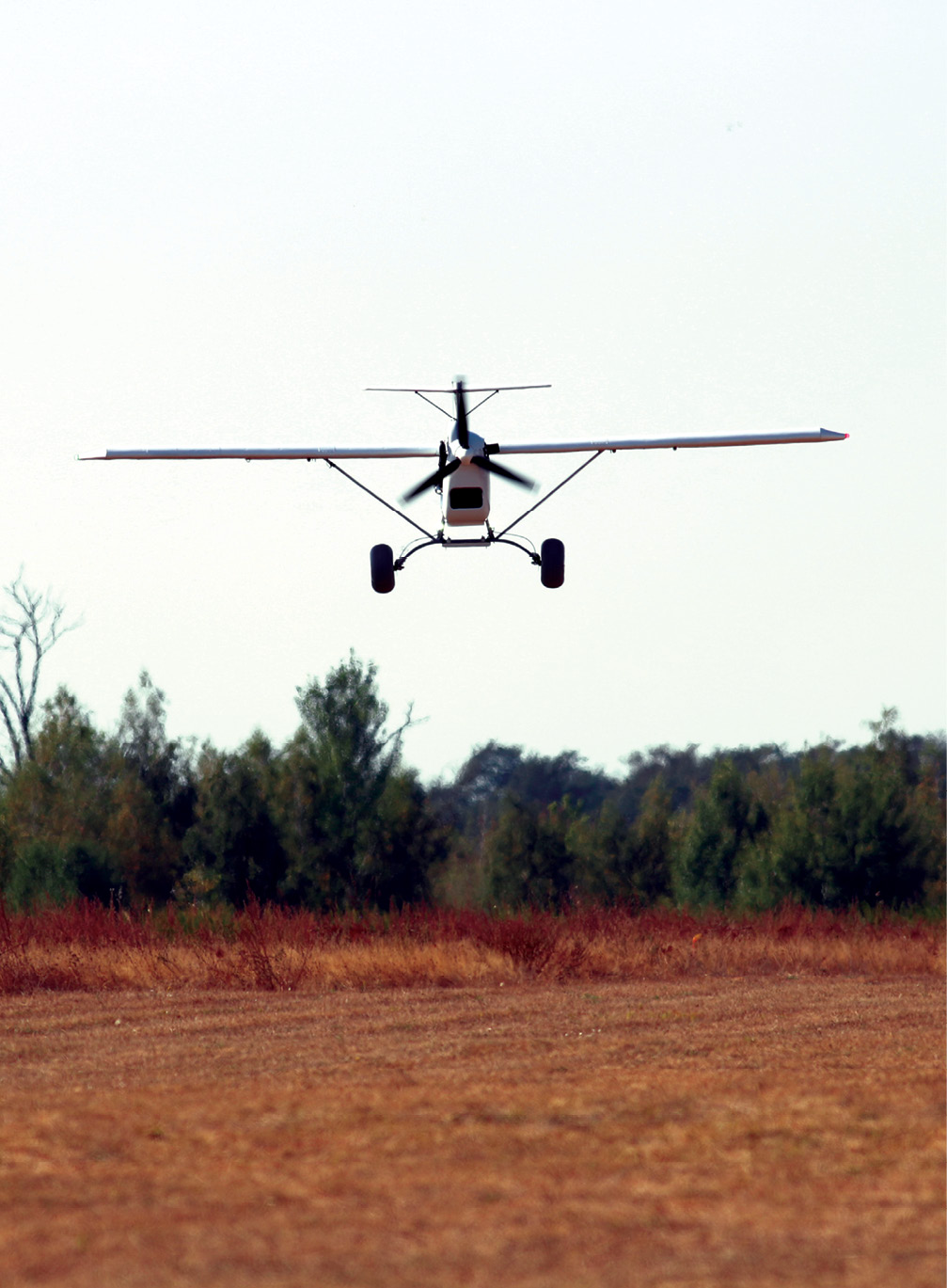 Ukraine is too often known for strife and tragedy. But for decades, agriculture and aviation have been integral to the Eastern European country's history. Wheat and corn, sugar beets and sunflower oil abound, and Ukraine is said to contain 30 percent of the world's rich black soil. Also, under both Soviet and independent governments, the manufacturer now known as Antonov State Enterprise has produced 22,000 cargo, transport and passenger planes—including the An-225 Mriya, likely the world's biggest and heaviest aircraft.
So, perhaps it shouldn't have been surprising when a very large UAV crop duster loomed at the entrance to the floor of the Commercial UAV Expo in Las Vegas. At 12 feet long with an almost 20-foot wingspan, and weights of 375 pounds with a 176 pound payload, the fixed-wing Uavita DR-60 "Discovery" proved to be a traffic magnet.
Now being tested and deployed, Discovery's market proposition is to provide fully automated major-field crop protection and crop-health monitoring, spraying faster while using less fuel and fewer people than conventional crop sprayers.
How did a very large, high-payload, long-range UAS solution come to be developed nearly 6,000 miles from America's own granary? Answers involve vision, a family's affinity for technology and finding important partners along the way.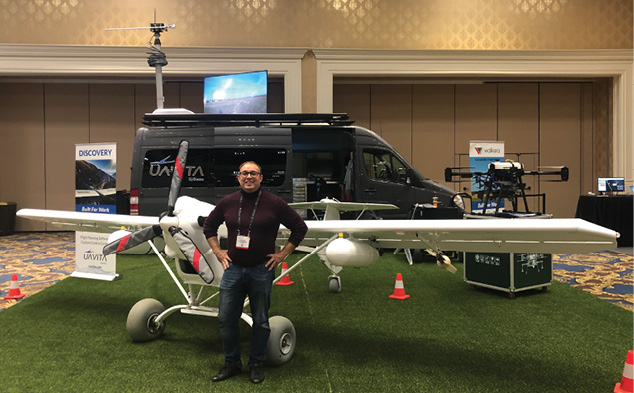 ROOTS AND RIPENING
"Ukraine is a very agriculture-intensive country, and we saw the need for this technology to collect average local field data: field size, typical crops, ULV spraying parameters, weather, etc.," explained Yuri Pederiy, co-founder of Uavita Systems. "This data helped us to define UAS technical specs for airframe, payload, capacity, engine, servos and others. I couldn't find any UAS for that, and I realized that this was an opportunity for us to build UAS that could carry more payload, fly longer missions and cover large distances."
Born in Ukraine, Pederiy grew up within an aviation family. His mother managed local airlines, and his dad worked at what was then called the Antonov Design Bureau; he designed spraying payloads for crop dusters and gears for the giant Mriya. "Therefore, aviation was always close to me." The younger Pederiy received a bachelor's in aircraft systems engineering and a master's in business administration. "After my father retired, we built our first UAS prototype. Unfortunately, in 2013 my father passed away but I continued to work with his engineering team." That team designed Uavita's airframe parameters, built a commercial autopilot, servos and sensors.
The Discovery is large but the developers started small. "To test UAS application hypotheses, we built a drone that could fit on a ping pong table, with a payload capacity of 10 kilograms [22 pounds]. It was manually radio controlled. The idea was just to build an airframe that could spray fields in the manual mode."
Pederiy also was working for Microsoft in Munich, running a multinational Windows category. "Drone development had been a long time in parallel to the job at Microsoft, and in 2016 I decided to dedicate myself to this exciting UAS journey."
That "journey" was rooted in the UAS sector's drive for increased safety. "Reading the shocking news every year about crop duster crashes hitting power lines or trees, I realized the major root cause is the human factor related to fatigue in low-altitude operations. UAS equipped with sensors and payloads can make crop dusting much safer, more productive—they can fly at night—more environmentally friendly as less expensive."
An intermediate-sized DR-20 became what Pederiy called "a milestone" because it was fully automated from takeoff to landing. "We designed DR-20 with a 20 kilogram [44 pound] payload and installed onboard autopilot and spraying payload. We realized the potential for crop dusting after the first automatic flight." The DR-20 led the company's U.S. debut in North Dakota, a state that has been at the forefront of UAS deployment for agriculture and energy. In 2017, it was shipped to Tioga, North Dakota, as both a testbed and an educational tool, with enthusiastic local support. "In the West, there are paying customers who need this technology," said Tioga Economic Development Director Dennis Lindahl. "The potential for UAS is going to be payload….And we need people to understand the fixed-wing aspect."
Also in 2017, investor Jason Mann of Saskatoon, Saskatchewan, who has experience with agricultural solutions through another of his companies, became at once a business and what Pederiy affectionately called a "sparring" partner. Back in Ukraine, a professor from Ukraine's Institute of Plant Protection contributed to designing ultra-low-volume (ULV) spraying methods. "Together." Pederiy noted, "we found unique fits of ULV spraying equipment with the Discovery airframe."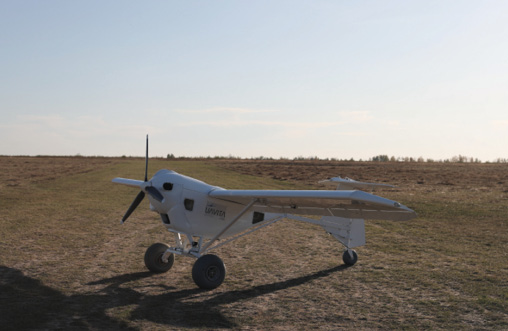 THE FLOWERING OF DR-60
Developed over 2016, Discovery first flew the next year. Testing at local fields collected data on attributes such as spray width pattern and drift, and average droplet size, density and deviation. Precision was the goal. "One of the Discovery spray features is multi-spot spraying to deliver pesticides to the areas where they are needed instead of blanket-spraying of the whole field."
Discovery racked up significant statistics: a range of 186 miles, 6 hours of flight time per fuel tank, claims of spraying three times faster than ground sprayers using 10 times less fuel and requiring only two operators rather than a complex conventional infrastructure. It also stacks up well against conventional crop duster airplanes, Pederiy said. "The discussion at the end is about value for the farmers, how this technology results in better crop protection and operational cost savings."
That this UAV is part of a system was evinced by the large slate grey and black van in which we first spoke. Based on a Mercedes Sprinter chassis with a trailer for Discovery, this ground control station/transporter includes work desks, CGS computers with two screens for mission monitoring, a foldable 10-meter antenna that ensures operating range for up to 22 miles, a power invertor and tools.
Once on-site, an operator and a technician unfold Discovery's wings, plan the flight, fill up the chemical/fuel tanks and start the engine. MISSION POSSIBLE software allows for automatic planning, takeoff and landing, and for data insight with up to a 1000-waypoint navigation path. A crop scouting feature includes an integrated high-res camera to identify problem areas. High-precision aerial surveillance imagery is provided by equipment from agriculture intelligence company Taranis (offices in Israel, Western Australia and New Richmond, Wisconsin). Operators monitor all instruments, sensors and mission progress, and can pause or abort, take over or return for fuel. At flight's end, logs are downloaded to show farmers crop stresses and agronomists what pesticides to spray.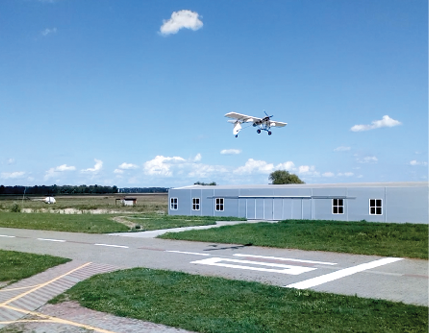 BLOOMING
The first DR-60 unit shipped in 2019, and three units are now in the field. MHP, a grain and meat company in Ukraine with more than 430,000 acres in operation, has been testing one. A client in Eastern Europe is about to receive and deploy a unit. And the Discovery that appeared in Las Vegas went on to nearby Henderson, Nevada, to prove itself for relevant FAA permissions in the U.S. There, it is interacting with Praxis Aerospace Concepts, which operates the U-Space Proving Grounds along a 38-mile corridor, to secure experimental UAS certification. (In Ukraine, UAS are able to fly BVLOS after submitting a flight plane and reserving the airspace.)
Las Vegas marked what Pederiy called "the first step in the commercialization process to get feedback from the market and identify other application scenarios. We have done local tests for crop dusting and crop scouting workloads and have first orders in the pipeline for several customers in LATAM [Latin America], Eastern Europe and Asia." Sales and marketing are now done out of Canada, while R&D and manufacturing remain centered in Ukraine.
Efforts are being standardized around Discovery: "Our 2020 goal is to reach the run rate of one Discovery unit per week." To achieve scale, Pederiy is setting up series production with Aeros, a leading Ukrainian ultralight manufacturer. "Discovery was built for agriculture with a heavy payload and a long flight range, but we see potential in other civil industries where similar specs are required: oil and gas pipeline monitoring, transporting high-value cargos where traditional aircraft cannot operate, highway and border patrolling, forestry, and search and rescue.
"I'm sure there are many more applications," Pederiy concluded. "We just started realizing the potential of our technology and are open to any kind of project, looking for partnerships in integrating various payloads and use cases."