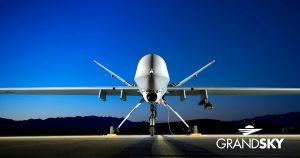 Grand Sky Development Company, LLC (Grand Sky), the first commercial unmanned aerial system (UAS) testing and training center in the United States, is celebrating five years of successful operations and positive economic impact in its home state of North Dakota.
The company has logged an impressive 2,300-plus flight hours in support of large UAS operations at Grand Forks Air Force Base, a 217-acre aviation park that's one of the few facilities in the country to provide beyond visual line of sight (BVLOS) flight capabilities.
This celebratory milestone comes at a time when the commercial UAS industry is pushing slowly yet steadily toward a future in which BVLOS will become commonplace, and Grand Sky appears poised to play a key role in advancing that agenda forward in a state that's developing a reputation as the 'Silicon Valley of Drones.'
"There is much to celebrate across the Red River Valley, not just in the advancements and capabilities at Grand Sky but in the UAS industry across the state," Grand Sky President Thomas Swoyer Jr. said, according to a press release.
To date, North Dakota has invested $18.5 million in infrastructure and Grand Sky secured another $60 million in private investments, resulting in more than 160 full-time jobs. Through Grand Sky's operations, R&D, testing and training activities, the average stay of out of state visitors has resulted in more than $19.2 million in annual economic impact.
"We saw a vision for Grand Sky, and in just five years, it's rewarding to see the success and new opportunities happening in North Dakota," Swoyer said. "It's all been made possible due to our partnerships throughout the State and funding from our legislators."
Indeed, the high level of BVLOS activity in North Dakota can be attributed to research, regulatory work, stakeholder meetings, working group discussions and activities from companies like Grand Sky. The state was one of the 10 initial participants of the FAA's UAS Integration Pilot Program and the first to establish a 100-mile UAS super corridor for BVLOS flights.
In an effort to continue to build on those firsts, Grand Sky is working with UAS manufacturers to bring large UAS to the commercial world. The company plans to host a series of demonstrations this spring and later in the summer.
"We see these demonstrations as a way to unequivocally show how large UAS will forever change the UAS industry and deliver actionable information to a wide variety of end users quickly and very inexpensively," Swoyer concluded.