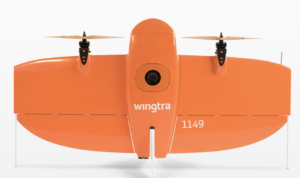 WingtraOne PPK (Post-Processed Kinematics) combines hands-free VTOL and fixed-wing flying, delivering expanded coverage (320 acres), large-scale surveying and accurate 4D mapping down to 0.4 inches.
Key features include:
Vertical takeoff and landing
Geo-4D mapping
Vertical hover capabilities for closer viewing
Airplane-efficient flying
Want to get your hands on one? You can.
WingtraOne PPK drones are now available to customers. Request a demo or more information at www.wingtra.comor watch this video at https://youtu.be/KwkCgDMKTTs.
For information on AUVSI XPONENTIAL, check out the Inside GNSS/Inside Unmanned Systems' Official Show Navigator here.
Wingtra develops, produces and commercializes high precision VTOL drones that collect survey-grade aerial data.
By Sunday Ely, Inside Unmanned Systems Correspondent