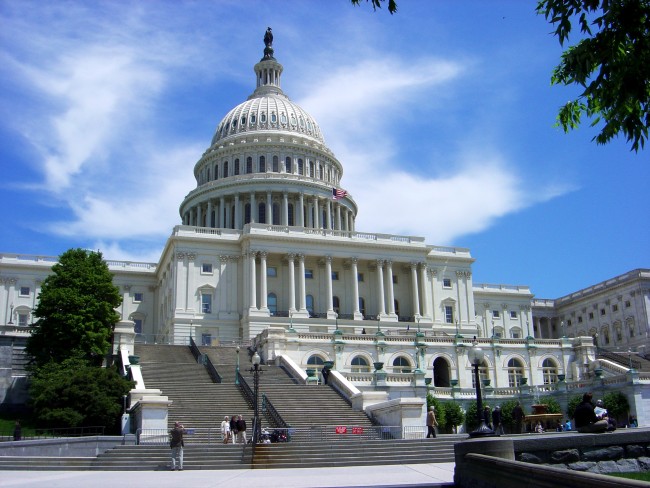 Congress has a new trio of unmanned legislation to consider when it returns next week from its July 4 recess.
Two of the bills aim to expand the use of unmanned technology through expanded research and new operating guidelines. The bipartisan Protecting Firefighters and Promoting Innovation Act (H.R. 2909) would establish an interagency working group to support deploying Unmanned Aircraft Systems (UAS) against wildfires. The group would develop best practices to help make UAS, more commonly known as drones, available to wildland fire fighters. Such drones could reduce the risks for emergency personnel by improving coordination through real-time updates and delivering countermeasures to areas otherwise too remote or inaccessible firefighters.
"Arizonans are too familiar with the devastating effects wildfires have on our communities," said Rep. Kyrsten Sinema, D-Ariz., who introduced the bill. "Two years ago, the Yarnell Hill Fire claimed the lives of 19 Arizona hotshots. These heroes put everything on the line to protect our neighbors and families, and it's our responsibility to do everything we can to prevent future tragedies."
The bipartisan legislation was co-sponsored by Duncan Hunter, R-Calif., and it already has the backing of Reps. Scott Peters, D-Calif., Chris Stewart, R-Utah, Paul Gosar, R-Ariz., Matt Salmon, R- Ariz., and Martha McSally, R- Ariz.
There are more than 60,000 wildland fires in the U.S. each year, said Brian Wynne, president and CEO of the Association of Unmanned Vehicle Systems International (AUVSI). "This legislation is a critical step toward allowing UAS to be used as an essential tool in these all too common occurrences."
The Federal Aviation Administration (FAA) and the Department of the Interior would lead the working group, which would include representatives from the Department of Agriculture, NASA, the National Guard, Federal Emergency Management Agency and the National Oceanic and Atmospheric Administration. Outside stakeholders and experts would be consulted to ensure that proposals protect civil liberties and include state and local agencies in the process.
"Integrating new technology can lower the risks for Arizona first responders and help fight wildfires faster and more effectively, said Mary Dalton, president of the Arizona Fire District Association.
Three House committees will consider the bill: Transportation and Infrastructure, Agriculture and Natural Resources.
Transportation will also consider a second unmanned technology bill — only this one will look at R&D for automated and assisted-drive vehicles.
The Future Transportation Research and Innovation for Prosperity (TRIP) Act, (H.R. 2886) proposes to create the Automated and Connected Vehicle Research Initiative. The bill, which was introduced by Rep. Daniel Lipinski, D-Ill., is to contain other provisions as well, though the details and the text have yet to be published.
AUVSI applauded Lipinski's efforts to support connected and intelligent vehicle technologies.
"A new generation of intelligent machines, including automated vehicles, will improve the safety of our transportation system, provide mobility to the elderly and disabled, and reduce cost and waste," said Wynne. "Through collaborative research efforts, demonstration programs, and the development of standards and procedures, the Future TRIP Act will help develop a culture of innovation and accelerate the adoption of these transformative technologies."
By contrast, the Consumer Drone Safety Act (S. 1608), introduced June 18 by California's Sen. Diane Feinstein, seeks to put sharp limits on the operation of UAS including recreational and hobby aircraft.
The bill would require unmanned aircraft to have some sort of identifying number and transponder, collision avoidance technology and safety-ensuring technology in case communications with the drone are lost. Co-sponsored by fellow Democrat Sen. Chuck Schumer of New York, the bill would also mandate that manufacturers retrofit existing drones to meet the legislation's requirements.
Though model and recreational aircraft operators might not have to incorporate all of the Act's provisions if they can get a waiver or they choose to operate within confines of a club like the Academy of Model Aeronautics, many now unregulated operators would likely be covered.
The goal of the Act is to prevent accidents with piloted aircraft. In response to a request from Feinstein, the FAA revealed last year that pilots spotted drones more that 190 times over a nine-month period. Of those incidents more than two dozen were near mid-air collisions, the senator said in a statement.
"If we don't act now, it's only a matter of time before we have a tragedy on our hands," Feinstein said. "Consumer drones are a new technology. They can fly thousands of feet in the air and jeopardize air travel, but the FAA can only regulate them if they are used for commercial purposes. That loophole must be closed."
Manned aviation advocates long have been concerned about collisions with drones and the bill is supported by the Airline Pilots Association, the Southwest Airlines Pilots Association (SWAPA), the American Association of Airport Executives, the National Association of Broadcasters, San Francisco International Airport, the Golden Gate Bridge Highway and Transportation District and Captain Sully Sullenberger, according to Feinstein's office.
"Encounters involving recreational drones and commercial airliners are occurring with increased frequency," said SWAPA President Paul Jackson. "The introduction of Senator Feinstein's bill comes on the heels of two recent incidents involving recreational drones invading the flight path of a Southwest aircraft on final approach — one in Dallas at 1,000 feet and the other at LAX at over 4,000 feet."
The UAS industry is worried new restrictions could hamstring the young industry's creativity.
"I'm in agreement with the spirit of the bill," Lisa Ellman, co-chair of the Global UAS Practice at the Washington, D.C. office of law firm Hogan Lovells told Fortune. "But being prescriptive about what technologies manufacturers should include are things that industry and policy makers are already working on now, and it doesn't make sense to get in the way of that. We want to enforce safety without inhibiting innovation."
Mark E. McKinnon, a partner in the UAS Practice Group of law firm McKenna Long & Aldridge, noted in the firm's Plane-ly Spoken blog that the vast majority of UAS sales in the United States are made to hobbyists. In 2012 Congress included a special rule in the Federal Aviation Administration reauthorization bill, forbidding the agency from imposing new regulations on such model and recreational aircraft. S. 1608 would change that.
"The abandonment of the Special Rule for Model Aircraft," he said, "would have a substantial impact on the industry."