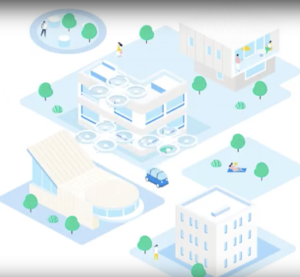 Aerial systems company Aeronyde announced on December 12 it had $4.7 million in seed financing to develop its end-to-end infrastructure for self-flying vehicles. Aeronyde is the first company to integrate artificial intelligence (AI) and augmented reality (AR) into a full-service system for the safe and secure operation of commercial drones, according to the company.
Through data collection and partnerships with national, state and private stakeholders, Aeronyde aims to deliver a turnkey Unmanned Aerial Vehicles (UAV) service for emergency responders, disaster relief, and commercial transportation and logistics in urban areas.
The investment was led by Korean electronics manufacturing giant JASTech Co. Ltd, best known as a world leader in flexible OLED/QLED display. Aeronyde, based on Florida's Space Coast, is applying the strategic investment to the development of hardware and systems software for autonomous fleet management (AFM).
A video accompanying this announcement is available at http://www.globenewswire.com/NewsRoom/AttachmentNg/2d4f84f2-e947-4d86-86ad-6cd431b5f8a2
"In the 21st century, drones will shape global transportation and distribution and redefine the urban landscape, however we're not there yet," said Edgar Muñoz, CEO of Aeronyde. "Adoption of Unmanned Aerial Vehicles (UAV) platforms depends wholeheartedly on the public's acceptance of the technology. As an industry, we must ensure public safety is addressed prior to the commercial unmanned aerial system (UAS) industry boom. This is what Aeronyde is working on."
Powerful Partnerships
The Aeronyde team is working with United States regulators and international associations to define standards and protocols for the safe implementation of commercial drone technology. Key partnerships include:
IBM Watson: Aeronyde is conducting rigorous testing, working with IBM Watson to run millions of flight simulations, and collecting data on the security of the system.
Leading technology, systems and regulatory partners: Unifly, the Police Foundation, iSENSYS and the Global UTM Association (GUTMA), a consortium of public and private entities working on unmanned traffic management (UTM) technology.
"The market is growing rapidly as more countries are looking at developing UAS regulations. We are excited to invest in Aeronyde, a leader in this revolution, as they innovate UAS technology," said Jason Chung, Chairman of JASTech. "Aeronyde is helping to build the future of Autonomous Aerial Systems with software and hardware that ensure the responsible management of drones in urban environments."
The Aeronyde System
Aeronyde provides flexible infrastructure for aerial logistics, transportation and data collection including:
Real-time data analysis to contextually apply sequencing, tasking, local environment, and weather.
Machine learning to build situational awareness.
Live flight and testing in Aeronyde research and development centers.
The end-to-end Aeronyde hardware and software system includes:
Autonomous flying vehicles and processors
Airspace and flight path management
Unmanned traffic management (UTM)
User interface and training programs