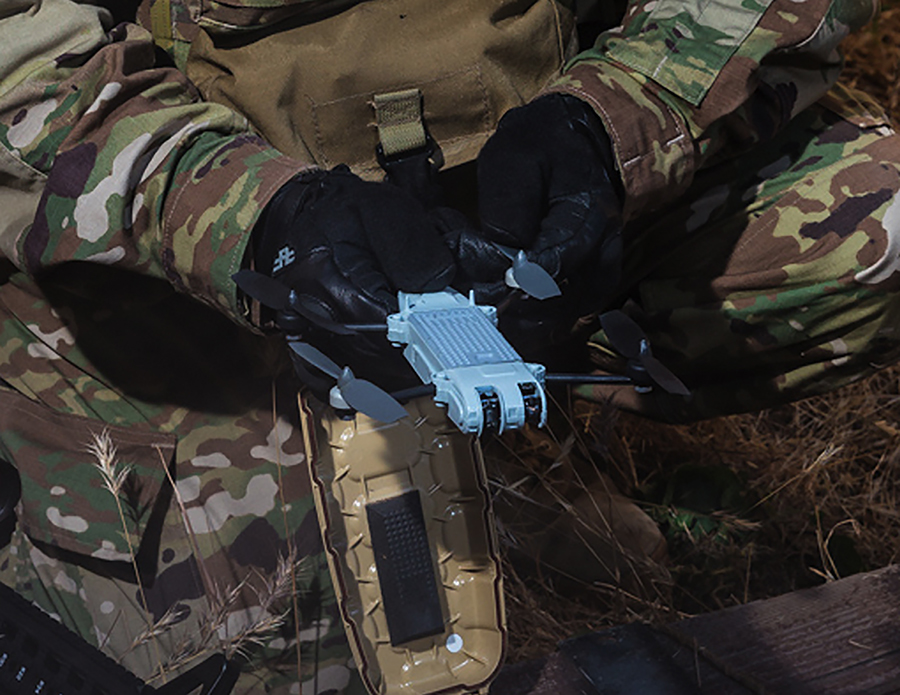 AeroVironment introduced the Snipe Nano Quad, a field-rugged unmanned aircraft system (UAS) designed to support close-range intelligence, surveillance and reconnaissance missions, at AUVSI XPONENTIAL in Dallas.
The UAS is equipped with electro-optical/infrared (EO/IR), low-light-capable and long-wave infrared (LWIR) sensors in an integrated tilt mechanism. It can relay high-resolution images and record real-time video day and night. The integrated UHF radio enables non-line-of-sight operation, while the software-defined radio (SDR) allows Snipe to be sold commercially.
"It's a quad so it provides stable images and has all the technology necessary to deliver higher-quality information to warfighters," said Steve Gitlin, AeroVironment's vice president for marketing strategy, communications and investor relations. "The more actionable intel enables them to proceed with certainty."
Snipe features quiet electric motors, has a more than one kilometer range and can reach flight speeds of more than 20 mph, making it difficult to detect in operating environments even when there's minimal ambient noise. The rechargeable batteries allow for about 15 minutes of flight time. Snipe has the ability to operate in challenging environments and still deliver the necessary information, including winds of 15+ mph with gusts up to 20 mph.
"The camera swivels and has gimbal capabilities," Gitlin said. "It has a range of about a kilometer, which is useful for warfighters. This is the environment where their risk is the highest and time is the shortest, so having an overhead view might make the difference in completing a successful mission."
The nano-UAS is designed to be worn by the operator and deployed in less than a minute. The arms fold in and fit into a small case stored on the warfighter. While the focus is on the military market, Snipe also could be used in commercial applications, Gitlin said, such as in first response where close proximity situational awareness might help the operator make better decisions.
The small but robust drone is controlled via an app on a standard, ruggedized (MIL-STD 810) touch screen controller with an intuitive user interface and automated operation. Snipe has the ability to return to its operator automatically if it loses its radio link.
AeroVironment also developed the Nano Hummingbird for DARPA, and the new Snipe Nano Quad builds on that technology.
The first 20 Snipe systems were delivered to the U.S. government in April and 10 more will be delivered this month. It will be available for order this fall.