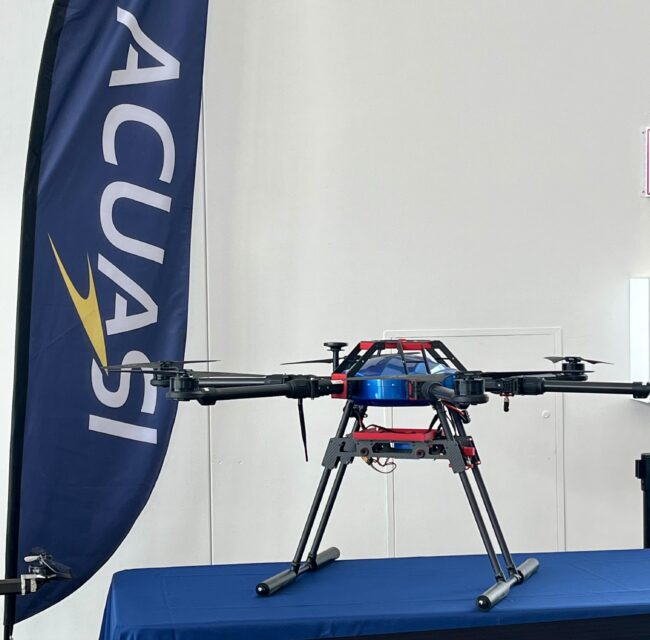 ANCHORAGE—According to Lt. Gov. Nancy Dahlstrom, who kicked off Alaska's inaugural Global Autonomous Systems Conference here last week, the state has three key ingredients to skyrocket it to drone domination: its people, the place and the policy.
The multi-day event attracted close to 200 attendees, most of whom traveled from afar to the 49th state with hopes of doing business there. These highlights from the event showcase what make Alaska uniquely situated to propel the drone industry.
The Very Big Picture
They say everything's bigger in Texas. Double that for Alaska, which can wedge two Lone Star States into it. In fact, Alaska is one fifth the size of the entire Lower 48 and bigger than Texas, California and Montana combined.
It's not just Alaska's size that matters. It has tough terrain with extensive forests. Most of the state's forestland, approximately 107 million acres, can be found in Interior Alaska. An additional 13 acres consists of temperate forests along its southern coast. Frequent wildfires dot the landscape and consume almost 1.5 million acres annually.
It also boasts a lot of big mountains; 3,844 named mountains, to be exact. Among these looms Denali, the third most prominent mountain in the world, with an elevation of more than 20,000 feet. These mountains, and forests, attract approximately three million hikers each year, some of whom lose their way. State troopers conduct over four hundred and fifty search and rescue operations annually.
Among its list of the "biggest," the state ranks No. 1 for total area of water (94,743 square miles), which accounts for more than 14% of the state's total area. It contains approximately 12,000 rivers, three million lakes larger than five acres (the U.S. record), as well as numerous creeks and ponds. This water makes it difficult to get around.
A harsh Arctic climate blankets this massive state. The summers, while short and cool, have 24-hour sunlight for several weeks. Its famous long, cold and dark Polar winters, during which temperatures can plunge below 70 degrees, produce frequent blizzards. These cause dangerous avalanches across 30% of the state every year.
Alaska contains a wide variety of natural resources. It ranks among the top 10 areas in the world for coal, copper, lead, coal, zinc, and silver. It possesses large reserves of lumber, oil and natural gas. Thirteen percent of the nation's domestic oil production flows through the 800-mile Trans-Alaska Pipeline. Ever since the 1989 Exxon-Valdez oil spill, which spewed more than 11 million gallons of oil into the ocean, the state remains vigilant to prevent and rapidly respond to oil spills.
Whereas Alaska may be flush with natural beauty and resources, at the same time it lacks infrastructure and capacity. Because of Alaska's enormous and complex landscape, about 80% of its communities lack road systems. These communities rely on a short tugboat season for delivery of materials and bulk fuel. The only other means to connect them to the rest of the world is by way of expensive charter aviation. Alaska's aviation community, which comprises only 1% of the total U.S. aviation population, accounts for 40% of the collisions.
But Alaska's leaders view these challenges as opportunities. Dr. Cathy Cahill, director of the Alaska Center for Unmanned Aircraft Systems Integration (ACUASI) at the University of Alaska Fairbanks (UAF), emphasized that Alaska's remoteness, physical infrastructure and other challenges lend themselves to deploying autonomous technology "almost anywhere."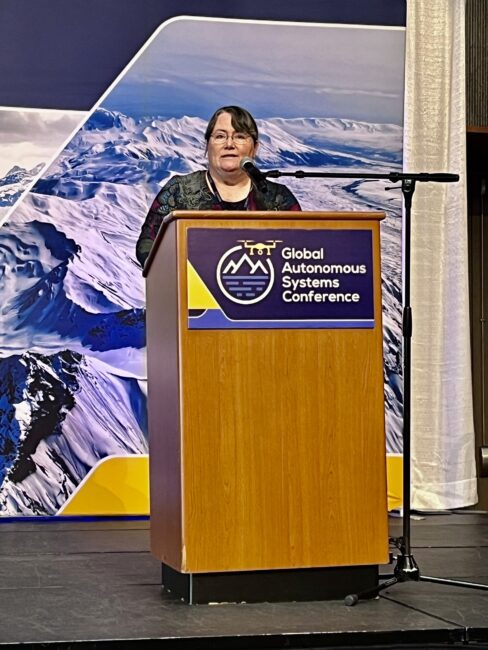 Challenges Create Opportunities
The combination of such a difficult environment and limited resources sparked the state's innovation in uncrewed aircraft systems and autonomy. The UAF successfully bid to become one of the original six FAA test sites. It also became one of the first seven lead participants in both the FAA's original UAS Integration Pilot Program (IPP) and the Alliance For System Safety Of UAS Through Research Excellence (ASSURE). It now holds steady as a lead participant in the agency's current BEYOND program, successor to the IPP.
This ability to enter into research and development at the inception of the drone industry has enabled Alaska to rack up a significant list of policy and "firsts," which have enabled historic feats. Ranked high among these, last year, the UAF conducted the first remotely controlled operation of a civilian large drone (a 280 pound Sentry with a 13-foot wingspan), to fly on a general aviation runway into controlled airspace, at an international airport. A culmination of years of coordination with the FAA and the airport, this mission successfully demonstrated the potential of large drone missions for cargo delivery and other essential Alaska missions.
Earlier this year, Alaska received the first 44083C waiver for civil operations within a test area. This waiver made Alaska the only state with the ability to allow drone operations classified as R&D, including aircraft under 300 pounds, to be conducted in its test site airspace. The test site's Pan-Pacific UAS Test Range Complex includes areas in the States of Oregon and Hawaii. As a result, instead of partners having to obtain expensive and time-consuming special airworthiness certificates and regulatory exemptions, the ACUASI can evaluate the safety of an operator's drone and related procedures and make the call on safe operations.
This summer, ACUASI and aviation technology company Merlin (formerly Merlin Labs) completed a 25-flight trial of the Merlin Pilot autonomous flight technology in a Cessna Grand Caravan out of Fairbanks International Airport. Safety pilots were on board these flights which were fully automated flights from takeoff to touch down. The demos used flight plans and the planes were equipped with listening equipment, communications to engage with air traffic control (including BVLOS satellite links) and navigation aided by GPS and other sensors.
Alaska has also received a few important waivers that, until now, have flown under the radar. Among these, the FAA granted its approval for R&D operators to receive payment for commercial operations such as cargo and delivery. The FAA also gave it the only existing approval to transport and drop explosives from drones for purposes of avalanche control.
Use Cases As Big As the State
The conference provided multiple representative use cases to illustrate the benefits of autonomy in Alaska and around the world, from detecting geophysical hazards to SAR to wildfire prevention and more.
Avalanches
The Alaska Department of Transportation & Public Facilities employs drones for mapping and data collection to determine the related changes from snow deposits, before and after storms. According to Timothy Glassett, Avalanche and Artillery Program manager, "The majority of avalanches are caused by wind-direction changes. Detecting those changes can prevent disasters."
Detecting an avalanche hazard is only the first step. Once detected, experts must then trigger the avalanche in a controlled manner. Traditional methods involve deploying explosives from Army artillery pieces (such as a Howitzer) or from a helicopter. Glasset said drones provide a less risky option by removing the human element from these dangerous operations.
In the event of a snow disaster, mapping, photogrammetry, LIDAR and drone docking systems, deployed in locations where DOT can't put personnel, assist in response operations. Glasset recounted a significant avalanche event that had covered a key road for over a mile.
"The first eyes-on the situation was a UAS," he said. "By mapping the area, we were able to determine the drift was over 25 feet deep. This allowed our DOT operators to bring in much bigger equipment to manage that."
Wildfires
Wildfires continue increasing rapidly and drastically in Alaska and globally. The notable 2019 McKinley wildfire burned over 50 structures and shut down a 28-mile portion of the only direct highway between Anchorage and Fairbanks. Since then, from 2000 to 2020, 2.5 times more acres burned than in the previous 20 years. Three of the four highest-acreage fire years have occurred since 2000.
Just as DOT monitors snow with drones, so too the Alaska Department of Natural Resources uses drones to survey and monitor forests, to reduce the risk of wildfires. Jennifer Schmidt, associate professor of natural resource management & policy at the University of Alaska's Institute of Social and Economic Research, said wildfire preparedness includes structural vulnerability assessments in addition to vegetation monitoring. Drones and digital twins, she said, provide the type of high-quality data needed to conduct these analyses.
Alaska officials also use drones to assist in removing flammable vegetation and to inventory damages post-response, in a safer and less expensive way than using helicopters or fixed-wing aircraft. The fuel burn comparison is 300 gallons per hour for a helicopter versus 300 grams for a hybrid drone.
More importantly, drones save lives. Dave Whitmer, director of business operations at Global UAS Solutions, said, "Anytime you put a helicopter in a low, slow profile you are putting them in danger. Every seven years we kill a helicopter firefighter." It might cost $80,000 for a drone, he said, but the cost of a helicopter crash doesn't just include the hardware, it includes two lives.
Medical Delivery
Alaska has limited healthcare facilities and a shortage of healthcare professionals in its rural areas. Rural residents in Alaska travel an average of 147 miles one way for access to next-level medical services, including maternity care.
"We spend more money on transporting patients than caring for patients," said state Chief Medical Officer Dr. Anne Zink. She noted this happens not just in Alaska but in the lower 48 as well.
Her vision is to use drones to change the face of medicine. She sees drones as a viable way to deliver Epi-Pens, AEDs (defibrillators), naloxone and tourniquets during time sensitive medical events and disaster response; to safely and rapidly deliver blood, organs and specimens to those in critical need; and to more nimbly run diagnostics and medical supplies across the state.
"We could save three days on blood testing. Instead of having patients come to Anchorage to get the test and send it to Fairbanks for analysis, they could take the test at home and fly it by drone directly to Fairbanks," she said.
Emergency Management
Greg Foster, project manager for ACUASI, said drones are a force multiplier across a range of use cases in emergency management. For example, Fairbanks has more than 30,000 people, but only 30 police officers. It used to take two hours to conduct an investigation after a fatal car accident investigation, during which time the roads would be shut down.
"We have that down to 30 minutes with a drone," Foster said.
Then there are oil spills. Both the U.S. Coast Guard and the nonprofit Alaska Clean Seas (ACS) use drones to monitor and map environmentally sensitive areas and equipment along the coast and respond, when needed.
ACS responds down the first 275 miles of the Alaska pipeline on the north slope near the Arctic. They use LiDAR and other advanced sensors on a drone to conduct baseline surveys of shorelines pre-event, to detect, map and track spills during an event and to help determine impacts post-event, including on wildlife.
According to Adam Kayser, ACS' planning and training coordinator, traditional methods to find spills around this frozen tundra included using boats, snow machines and shovels.
"Folks looking out windows of their boat can't see the slick. There's always been a need for aircraft but those needs are greater than the planes and pilots available. Drones help us, including by indicating where we need to direct resources," Kayser said. ACS now has 14 pilots and five drones to help cover its response area. "The uses for drones are endless," he said.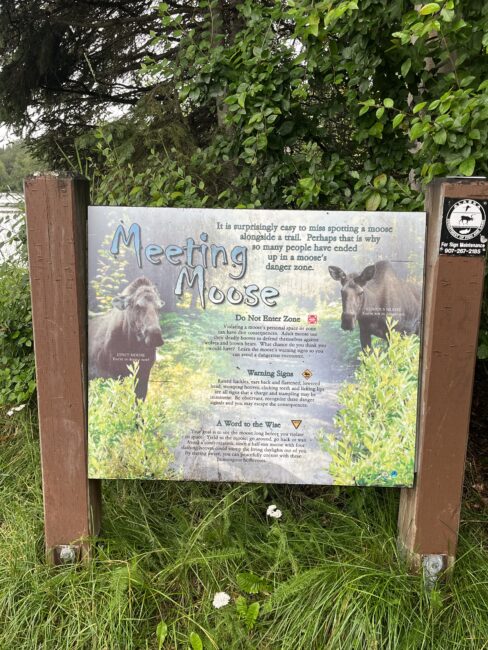 The Future is Bright
As for what's on the horizon for Alaska, and the rest of the drone industry, U.S. Sen. Dan Sullivan (R-Alaska) said he pushed for the reauthorization of Alaska's UAS Test Site in the pending FAA reauthorization bill. He outlined the Senate Commerce Committee's priorities as including: UAS platforms being able to use areas in the Arctic for R&D; equipping the FAA with tools to make drones scalable, safely (e.g., a regulatory pathway forward for BVLOS); enlarging the type of UAS platforms that can fly BVLOS; and an interim FAA streamlined approval processes.
Vinn White, senior adviser for innovation in the U.S. Department of Transportation's Office of the Secretary, cryptically said more big news will be forthcoming about Alaska. He alluded to longer drone flights along Alaskan pipelines, avalanche mitigation and landslide tracking, projects to integrate UAS in ongoing airport operations and detect-and-avoid research.
All of this remains to be seen. But the future in Alaska, with its wide-open spaces for aviation, frontier spirit and need for low cost and safe autonomous solutions, definitely appears to be burning as bright as its 24-hour summer sun.