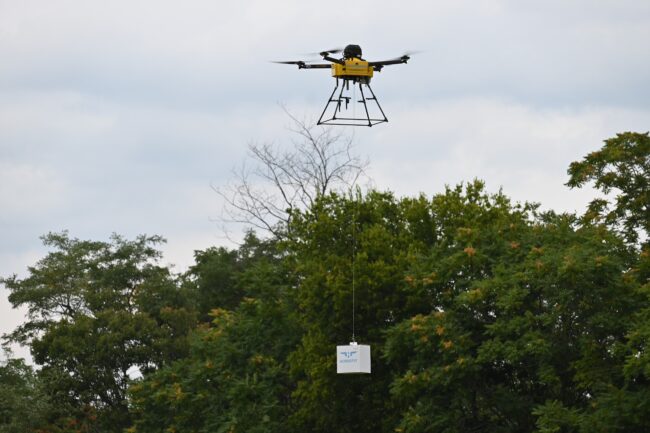 ORANGE COUNTY, Virginia—MITRE cut the ribbon a new drone testing facility here Aug. 14, which company officials said will allow additional research on drones and drone operations and could lead to greater use of drones by first responders.
The MITRE Drone Range, just outside the historic town of Orange, will allow drones to be tested "under real mission conditions," said MITRE's Beth Meinert, senior vice president and general manager of MITRE, a nonprofit chartered to conduct research for the public good.
Yosri Barsoum, MITRE vice president and director, said the Drone Range sprang from a summit held two years ago with first responders.
"What came across was a disconnect between what the operators need and what companies are providing," he said. "That's really what spurred it."
The ribbon cutting drew distinguished guests, including Jeffrey Vincent, executive director of the FAA's UAS Integration Office, and Rep. Abigail Spanberger, D-Virginia, who represents the area in Congress.
"I really understand how important this technology is to the security of our country and the safety of our communities," Spanberger said.
The ribbon-cutting event was cohosted by Droneresponders, which advocates for drone use by police, EMT and other first responders.
"Initially this is a MITRE facility and it's meant for the researchers and engineers at MITRE to better improve the research and development they're already doing for the U.S. federal government," said Steve King, a senior manager at MITRE who heads a team that has been working with first responders to improve their technical capability.
"But we're excited to open this up for first responders as well, especially in the region, and partner with them, as we've started to do for the last two years already."
MITRE is seeking to leverage some of the work it is doing for the federal government and apply it to the first responder community, such as by creating drones and concepts of operations for them.
"For instance, we've invented a hazardous materials detection capability that can be applied to any drone, using many of the sensors that our fire and rescue departments across the country are already used to," King told Inside Unmanned Systems. "…We're really excited about those kinds of opportunities. As a not for profit, MITRE's really in a perfect position to transition capabilities at low or no cost."
Charles Werner, director of Droneresponders, said the concept of a drone as a first responder, pioneered by the Chula Vista, California, police department, "has become the most important de-escalation tool for law enforcement so far."
He led a panel discussion at the event with three first responders, including the Orange County sheriff, Orange County fire and EMS chief, and the sheriff of Loudoun County, Virginia, all of whom either have drone programs or are starting them.
"I'm looking forward to utilizing this resource that we have here," said Sheriff Mike Chapman of Loudoun County.
The event included demonstration drone flights by delivery drones, racing drones and others.