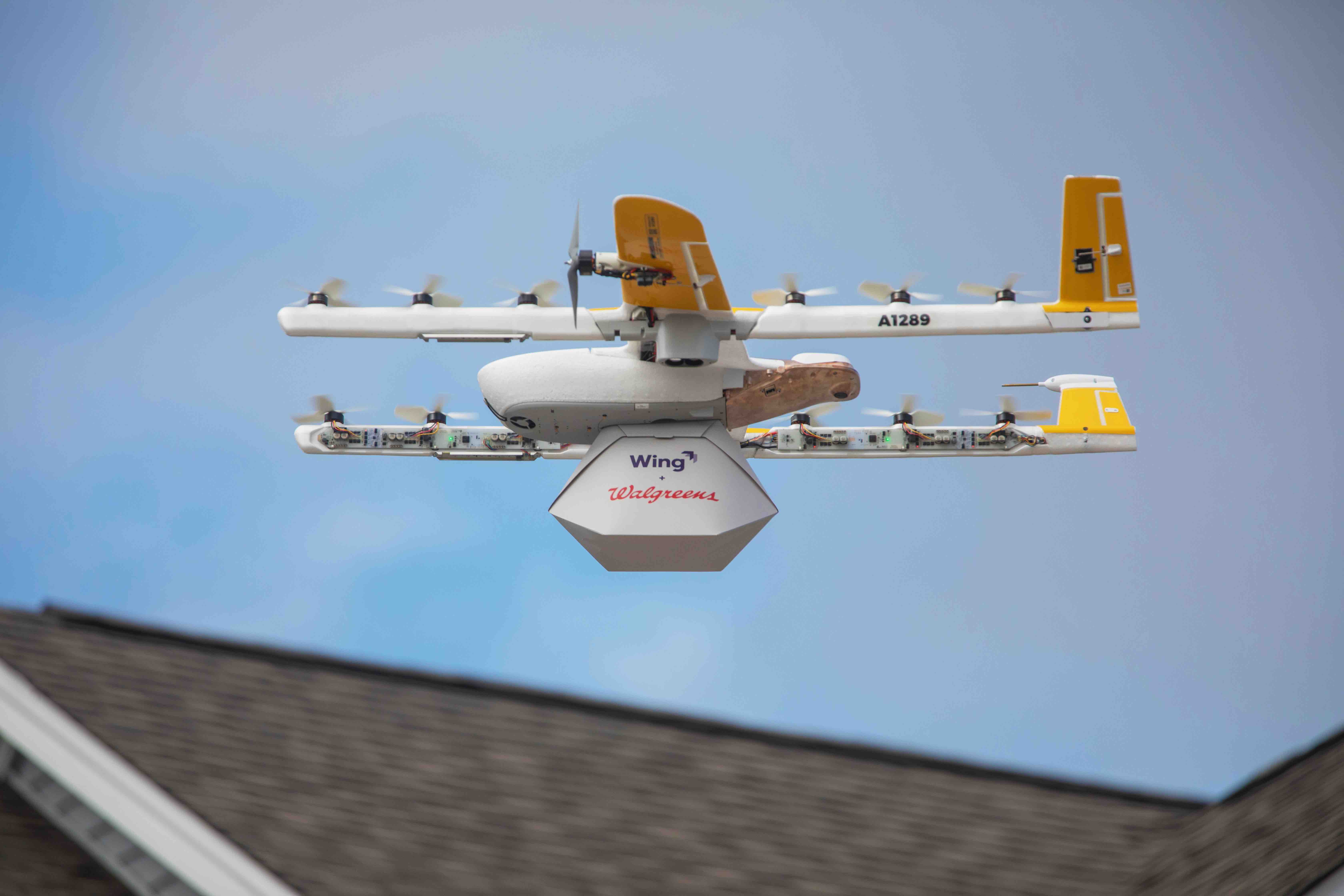 Alphabet's drone-delivery offshoot Wing launched its inaugural commercial drone air delivery trial in the United States last week, making it the first company to do so after securing approval from the Federal Aviation Administration earlier this year.
Wing made history when it delivered a customer's FedEx package containing a "cough and cold pack" from one of its distribution centers to a family's home in Christiansburg, Virginia, on October 18. This also marks a first for Walgreens, which became the earliest U.S. retailer to partner in such a delivery, and FedEx, which became the first logistics provider.
According to the company's blog, "This is a big milestone when it comes to U.S.-based drone delivery, and another sign that people should get ready for these services to start to be a more regular fixture."
While this is a key step toward Wing's goal of flying local goods directly to customers' doorsteps across the globe (the company already provides services in Australia and Finland), it also beats out Uber Eats' drone delivery program, as well as and Amazon's Prime Air's plans to begin deliveries in December of this year.
"This is an important step forward for the safe testing and integration of drones into our economy," said U.S. Secretary of Transportation Elaine L. Chao in a press release in April, when Wing was first granted certification for commercial package delivery. "Safety continues to be our Number One priority as this technology continues to develop and realize its full potential."
The all-electric fixed wing aircraft that is being used for these historic deliveries is 1.3 meters (4.3 feet) long, has a one meter (3.3-foot) wingspan and includes 14 propellers that allow it to easily transition between an airplane and a helicopter, keeping packages steady so it can deliver goods like coffee without spilling. 
The delivery drones can fly as fast as 113 kilometers (70 miles) per hour and is capable of covering a roundtrip distance of 20 kilometers (12 miles) carrying a package weight of 1.5 kilograms (3.3 pounds). These drones are capable of converting GPS signals into latitude and longitude to determine location and speed.
The company's designed software has multiple redundancies built in as well, such as a downward-facing camera for backup navigation, additional motors, batteries and multiple navigation systems to prevent mid-flight issues. 
Onboard software helps the aircraft understand its surroundings, process information and monitor its own health and performance in real time.
Wing's OpenSky technology also enables the planning of advanced delivery. According to the company's website, it is drawing on its Google heritage to create a detailed understanding of the world—such as buildings, roads, trees, and other terrain—to help drones navigate safely. 
"As we introduce OpenSky for new drone flyers and markets, we will leverage our unique combination of capabilities and experience to make it easier to integrate drone operations safely into the airspace," the website said.