Drones are being deployed across all aspects of the construction life cycle, with surveying and mapping providing valuable insights from bidding to post-project. 
Over the last few years, Chicago-based construction services provider CLAYCO has ramped up its drone use, moving from only a few licensed drone pilots to 30. Unmanned technologies are quickly becoming standard tools for CLAYCO and other firms, with pilots regularly capturing images on job sites across the country.
As with CLAYCO, drone integration into construction is only expected to grow, with UAS used across the life cycle of a project "for an incredibly diverse range of applications," said Dave Lee, technical content manager for Portland-headquartered Skyward, A Verizon company.
Surveying and mapping are tops among applications, with UAS collecting imagery before construction to enable more accurate bids, as well as to contribute to earthwork analysis, checking as-built features and monitoring overall progress. Drones won't fully replace surveyors on a site, but deploying them can significantly augment work processes while saving time and money, CLAYCO Drone Operations Manager Josh Arneson said.
Firms have become comfortable with the technology, creating deliverables such as orthomosiacs, surface models and 3D maps from data captured via RGB cameras. Though not as common, some are also flying LiDAR for richer datasets and thermal to capture heat signatures.
Unlike in the early days, it's not just engineers and virtual construction managers turning to drone data, said Nico Bonnafoux, Esri's product manager for Site Scan for ArcGIS, a cloud-based solution that supports every phase of the drone mapping workflow. As data has become easier to digest and process through AI and automation, foremen and superintendents are now accessing it as well.
"You'd be hard-pressed not to find somebody using some kind of drone on a construction site right now," said Dave Henderson, director, geopositioning sales, Americas at Topcon Positioning Systems, of Livermore, California. "It's becoming mainstream because people know they can grab a lot of data quickly. Drones have really taken off with this industry and have proved to have a very valuable return on investment."

PRE-CONSTRUCTION INSIGHTS
Drones are on their way to becoming as common as backhoes on excavation sites, CLAYCO VDC Senior Manager Siddharth Kothari said. Many firms are deploying drones before they even begin a project, capturing preliminary information that will help them put together a more accurate bid.
"The information collected by the drone can be tied to all sorts of other data, whether it's LiDAR data captured on the ground, publicly available GIS data and in some cases real-time data if there's existing sensors on the site," Bonnafoux said. "This information can all be used to create a digital twin as early as possible."
When preparing a bid, CLAYCO creates a video that shows the potential client its plans for the job, Kothari said. A rendering of the project is overlaid on drone-collected data that illustrates logistics such as how trucks will move in and out of a site during different stages of construction. This helps potential clients visualize how a project will flow.
Maps and 3D renderings from similar projects also can help with the bidding process, said Terence Thiel, Wingtra's sales manager for the Middle East and Africa. Let's say a firm is bidding on a housing project. The team can show data from a completed project to give builders an idea of where they'll be in six months, or what the project might look like when it's completed.
Drones also can be used to ensure plans are correct and update them if necessary, Henderson said. If a firm is working on a highway project, they can fly a drone to verify the existing terrain before construction.
"At this stage, the contractor can then extimate the volumes based on the construction design and determine how much earth they will need to move," Henderson said. "If you fly a drone pre-bid, you know exactly what those volumes are going to be, so when you go into the construction phase you don't get three-fourths of the way finished and discover you don't have enough dirt. That's a huge problem."
Going into a bid without this information could cost firms a job, Thiel said. If the bid comes in way over what clients are expecting, they'll likely go with another that's closer to the mark. And if a firm wins a job by underbidding, stakeholders won't be happy when they're asked for more money mid-project.
Flying the site before work begins also can help identify any potential hazards, said Krish Hariharan, CEO and president of end-to-end drone solutions provider Kespry. This allows crews to confidently document a site's conditions to ensure it's compliant with other aspects of the workflow.
This stage is also when LiDAR will most likely come into play, especially if the firm needs to survey an area with thick plant growth.
"Vegetation presents a challenge for photogrammetry because what you see is what you get," Microdrones Marketing: Voice of Customer Robert Chrismon said. "You can't see the ground through the canopy. LiDAR has more options to get to the ground because the scanner is sending out hundreds of thousands of measurements a second."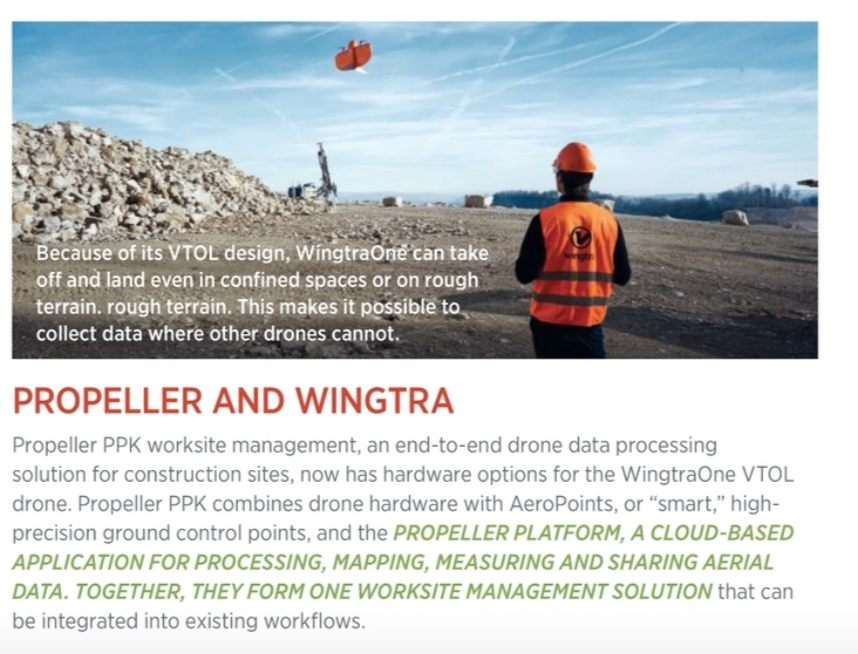 GETTING THE DIRT
Understanding material movement is critical to any construction site, with drones serving as an invaluable tool for making those calculations, said John Frost, VP of business development at Propeller Aero, an Australian-headquartered company that provides a 3D drone mapping and data analytics solution for civil construction and earthworks operations. Site managers must understand how much has been moved and how much still needs to go. This allows them to allocate resources such as laborers and machinery, and plan for different phases of a project.
"There's a design of what a construction site should look like," Frost said, "and drone data can show you how things are progressing toward that design."
One of Topcon's customers uses the Intel Falcon 8+ Drone—Topcon Edition to calculate volumes moved for heavy highway projects, as well as for pre-bid, project progress monitoring and post-construction documentation, Henderson said. Letting drones take on this task significantly reduces surveying work on the ground.
CLAYCO also uses drones for cut and fill, tracking dirt movement in different areas and comparing totals week to week for site balancing, Kothari said. The map created gives the team a basic analysis of the surface and how it's changing, and that's information they can use to accurately estimate how much the work will cost.
"When you're putting in the foundation you want to make sure it's as flat as can be," Arneson said, "and this gives a good visual cue to the team."
Propeller focuses on earthwork and is helping customers realize significant savings. One firm, for example, saved $1 million by using the platform to understand the condition of a site, Frost said. Before, they monitored the site using traditional surveying methods or not at all. Now, they have a single source of truth they can use on a regular basis.
While many construction firms opt to use photogrammetry for volume calculations, some are turning to LiDAR for the richer datasets it provides, Chrismon said, noting that Florida-based client Cougar Companies uses the mdLiDAR1000 aaS for different phases of construction, including confirming fill quantities.
"Photogrammetry is great, and you can build 3D models from it as long as the site is wide open and there's no vegetation," he said. "LiDAR is known to be better vertically, and, with the vertical aspect of grading and volume calculations, accuracy from the LiDAR could provide a benefit."
Whether the data is from photogrammetry or LiDAR, it also can be used to ensure projects are billed correctly. Subcontractors typically remove and bring in dirt, and they're paid based on how much comes in and how much goes out, Thiel said. The drone data acts as a reliable, impartial third party to settle any discrepancies. For example, a government agency in charge of a rail project saved $180,000 by pointing to drone data to settle a dispute.
SITE MONITORING, QUALITY CONTROL
Drone data can be used to check as-built features, which could range from curb lines to retaining walls to utility structures, said Ryan Sweeney, Switzerland's Pix4D's channel sales manager in North America. By overlaying proposed linework on top of an orthomosiac or point cloud, site managers can verify that everything has been built according to plan—and take appropriate action if it's not.
Windover Construction deploys drones for a variety of applications, including real-time QA/QC, Vice President of VDC & Technology Amr Raafat said. For example, the Beverly, Massachusetts, firm sends out UAS with ground control points weekly to monitor a multi-unit housing project. The drone captures detailed data about as-built underground piping in progress, and it performs QA/QC MEP coordination overlays with 3D models to ensure all piping is placed in the correct location before concrete is poured. If any pipes aren't in their intended location, it's communicated to the team in real time. The team has found 10 discrepancies, with adjustments made before pouring concrete saving about $10,000. This is just one example of how Windover is providing substantial cost and time savings to clients using drone technology combined with Building Information Modeling (BIM).
"If you don't find these issues until after you pour concrete, it causes delays because now you have to dig out the concrete to move the pipe," Raafat said. "With drone technology, we can mitigate the risk and eliminate that re-work."
Drones enhance communication throughout a project, providing repeatable, accurate information that makes it easy to monitor progress, compare previous flights and quickly disseminate information. One of Komatsu America's customers used drone data to communicate with a site owner about how much pipe had been laid after it was already covered, Senior Product Manager Chris Faulhaber said. The exposed pipe, captured while the trench was still open, was measured, and that information then relayed back to the owner. The company was paid for all work performed, which might not have been the case without this level of documentation.
PCL Construction of Edmonton, Canada, one of Esri's clients, deploys a drone at the end of every day to map the site, Bonnafoux said. During the next morning's project meeting, the superintendent pulls up the latest map and 3D model to plan the new day's work. They also use the information for volumetric calculations.
Daily drone updates are invaluable on larger construction projects, such as roads and dams, to keep everyone apprised of progress, Thiel said. A 24-hour delay can cost thousands, even hundreds of thousands, of dollars. Daily progress reports help keep everything on track so stakeholders and crews identify small issues before they develop into big problems.
Drone data also makes it easy to address issues. Software solutions like Autodesk BIM 360, which integrates with DroneDeploy, can generate work orders for subcontractors who are responsible for certain areas on site, said Josh Cheney, senior manager of strategic alliances at Autodesk Construction Solutions. Work orders are automatically assigned and tracked, ensuring the appropriate fixes are quickly made.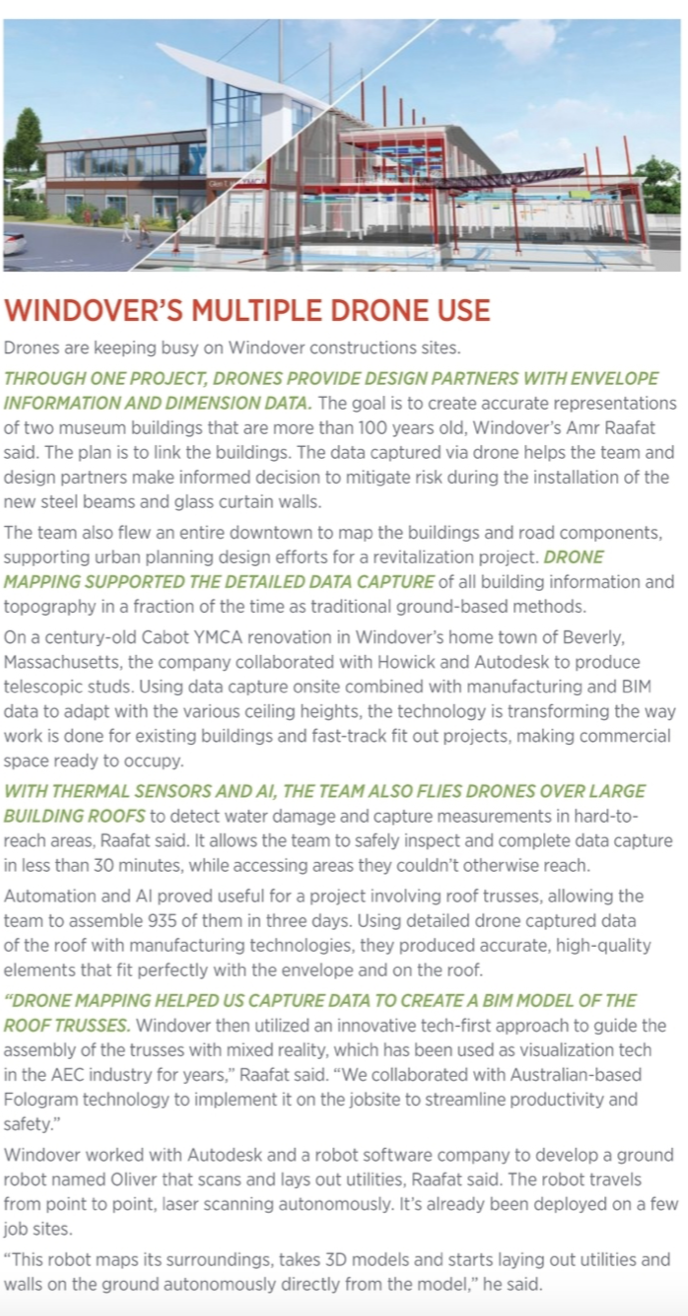 SAID AND DONE
As a construction site is monitored and compared to the as-built design, there will likely be changes along the way, Bonnafoux said. As modifications are completed throughout the life cycle, drone data keeps a record that can be given to the project owner for continued maintenance.
Drones also can fly a vertical building post-construction to examine façades or other areas of interest that are difficult to reach. "This gives a different perspective on what to look for moving forward," Henderson said, "so the owner can manage the life cycle of the asset."
This is where thermal might come into play, Thiel said. A drone can be flown to see if solar panels on a roof are set up correctly, or to identify hot spots on a large industrial site that may indicate an inefficiency capable of stressing the building over time.
SYNERGIES
While drone data offers plenty of benefits, integration with other technologies is even more powerful. Such data might include mobile mapping, terrestrial laser scanners, and images from point and shoot cameras and even smartphones, Sweeney said. Companies like Pix4D provide universal outputs that can be used in just about any survey, mapping or construction software.
Data collected from other machinery on a construction site also can be combined with drone outputs, Frost said, layered together in a 3D environment and displayed in different ways. Real-time sensor data such as gas emissions can be integrated, Bonnafoux said, to ensure personnel aren't entering into unsafe areas.
Komatsu's suite of Smart Construction solutions leverages IoT for construction planning, with the Tokyo-based company's Smart Construction Dashboard combining data from multiple sources into one comprehensive picture.
"Drone data allows us to digitize the job site and break it down into pixels," Faulhaber said. "Our intelligent machine controls know what needs to happen at any point on the site while machines are operating. They're collecting as-built data that's automatically uploaded into the Smart Construction Dashboard. Customers can visually identify what work was completed that day so they can see what's happened on the job site in between flights."
As with machine control, it's also possible to take data from a 3D model and integrate it into a heavy piece of equipment that's performing a task like earthmoving or grading, Henderson said, though that isn't as common as merging data for a deliverable that can be used throughout the process.
Raafat recently worked on a project that combined linear LiDAR scanning with drone data through Autodesk software. The team erected the steel for the first two floors of a modular box building and used the data combination to make sure pipes did not hit as-built steel.
"We were able to communicate to the modular factory in real time exactly where the steel on the site was," he said, "so we had zero clashes when the boxes were placed over the steel."
As drones become smarter, sensors become more sophisticated, and AI and machine learning play larger roles, Hariharan expects even more integration. That will change how outputs like 3D models and digital twins are developed.
"We are moving toward seamless integration between different types of data," Bonnafoux said. "Right now, the drone data is in one place and doesn't talk to the schedule or the CAD drawings. We're moving toward a true, near-real-time digital twin that incorporates data from all sources in one central place."
AI'S ROLE
As AI continues to emerge, Autodesk's Cheney sees superintendents looking to 3D data and ortho maps to identify safety concerns.
"AI can recognize somebody not working safely. Maybe they don't have their safety glasses on or they're not wearing their helmet," Cheney said. "Being able to capture a photo, identify an area of risk and automatically determine what action needs to be taken is tremendous."
And the AI engines just keep getting better, Hariharan said. As more images are loaded into the models, they're able to better analyze the data, giving customers an increasingly accurate tool.
Feature extraction is a popular AI use, with Kespry among those that offer it. Esri does as well, with a focus on users training their own deep learning models to suit their needs.
Most construction customers are interested in using AI for quality control and progress tracking, Bonnafoux said. For example, AI can detect solar panels and track how fast they're being installed on a new farm, checking progress against the schedule and alerting project managers when they're behind.
Sweeney said the biggest benefit will come in earthwork.
"I can foresee AI tools that will automatically identify earthen materials, so you not only get quantity reports for your piles but also what kind of material it is, and reports outlining all of this," he said. "I can also see structure counts, whether it be manholes, catch basins or even pipe, and identifying the type of pipe as well."
THE FUTURE
In the next five to six years, Hariharan sees drone use "exploding" across construction.
Drones will become more compact, and have more built-in automation, Henderson said. They'll become even more intelligent, with better obstacle avoidance and the ability to provide information in real time while integrating with other data even more seamlessly.
"I can see a drone grabbing data, processing it and then uploading to a machine in real time," he said. "So, within 20 or 30 minutes of the data being collected, the crew knows more dirt needs to be moved in a certain area."
Eventually, drones will routinely perform jobs that go beyond recording data. They'll fly to areas once only accessible via lift, hovering in place to deliver tools and other materials to workers, Cheney said. He also sees long-distance deliveries becoming an area of interest. Rather than putting large items on a flatbed truck to sit in traffic, drones will transport them.
With cellular-connected drones, enterprises will be able to fly to anywhere from anywhere and get near-real-time insights from drones, Skyward's Lee said. Advanced technologies such as multi-access edge computing (MEC) will make it possible to collect, process and act on data faster.
Drone-in-a-box solutions will become the norm, Bonnafoux said, deploying on regular schedules to collect data without human intervention. Drone RTK and PPK will become more common, allowing for higher-accuracy data while reducing the need for ground control points. As the cost comes down LiDAR will be flown more, and data analysis will continue to improve.
"We're going from the descriptive to the prescriptive," Frost said. "If the data coming in from different sources is rich and valuable enough and organized in the right way, you can start making prescriptions to move this here or change this machine to that machine. Those decision-making processes are going to be possible in the not-so-distant future."