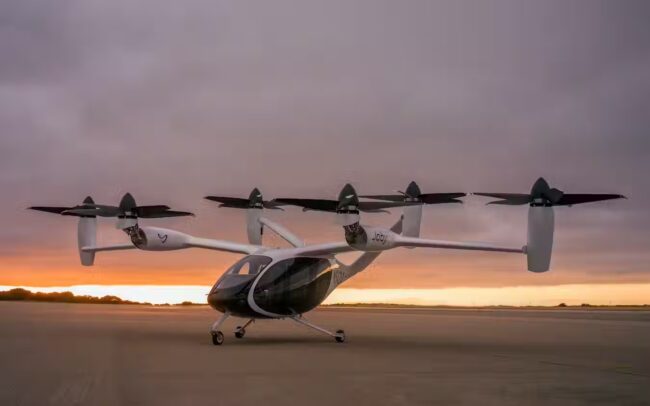 BALTIMORE—Many unmanned systems companies are planning to scale up drone deliveries and create a new, Jetsons-style world of advanced air mobility (AAM), but how will they win the trust and confidence of the public?
That question was considered in several sessions at the second day of the FAA Drone Symposium and the opening sessions of the AAM Summit, which followed on its heels, both cosponsored by the FAA and AUVSI. One answer emerged—the more service can be scaled up, the more consumers will come to like it.
Representatives of two companies making significant inroads with delivery and other services—Zipline and Wing—said scaling up services is key, as it allows the public to see the systems in action.
One way to win trust is "to operate," said Lauren Haertlein, the aviation regulatory counsel for Zipline, which has extensive drone delivery experience overseas, especially in Africa, and which is bringing that stateside in Arkansas and Utah. "To deliver on the promise of the benefits that highly autonomous UAS can bring. To make those benefits real," she said.
Margaret Nagle, head of policy, regulatory and community affairs for Wing, said her company is also winning fans through regular service, even through the toughest days of COVID. She said a resident of Christiansburg, Virginia, where Wing has been making regular drone deliveries, got used to the service and "now she continues to order, because it's just a part of what she's doing," Nagle said.
Zipline also started delivering in the U.S. during COVID, and in Pea Ridge, Arkansas, is delivering 30 to 100 packages a day, Haertlein said.
"It is happening, but…enabling further operations, enabling further scale, will really help folks understand the opportunities and benefits," Haertlein said.
Nagle said the FAA is "leaning in to make operations possible at scale," and said the recent announcement of an unmanned traffic management demonstration site in Dallas, as well as the recommendations of the BVLOS Aviation Rulemaking Committee and pending BVLOS rules, are "a really exciting development."
Questions of noise and privacy concerns have arisen, but again, seeing the systems in action helps allay those fears, Nagle said. "People have a perception of noise, and when they hear our aircraft, it's quieter than other things in their neighborhood," she said.
'It's Going to be Awesome'
The much larger vehicles being planned for AAM uses, sometimes known as flying taxis, also face issues of public trust, especially since the public is expected to get in them to fly.
In a later panel as part of the AAM Summit, representatives from leading companies in the space said scaling up operations is also key in that realm, especially if it is accompanied by a strong safety culture, what speaker Erick Corona, director of CONOPS and airspace ecosystem development at Wisk, called an "airline level of safety."
The cost of flight will likely be steep at first, but will come down and be "extremely economical" and convenient, said Greg Bowles, head of government affairs at Joby Aviation. When that happens, people will want "vertiports" for the vehicles in or near their neighborhoods, which will in turn spur economic development, said Valerie Manning, the chief commercial officer, at Overair.
Nikhil Goel, chief commercial officer at Archer, agreed, and said some communities are already lobbying to have AAM come to their neighborhoods. He said that's a good place to start putting the infrastructure.
"Let's focus on those, and the others will fall into place. …Let's go to the path of least resistance," he said.
The potential AAM boom could rival the excitement of the early days of aviation, Bowles said. "It's going to be a desirable thing. …I would suggest you buy property around airports, because it's going to be awesome."