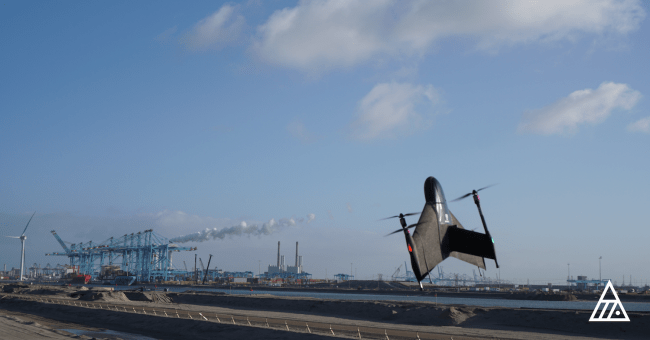 Atmos announces a new wide-ranging technical arrangement with Topcon Positioning Group for the supply of Topcon high-end GNSS boards for the Atmos Marlyn Cobalt drone. As an industry leader in the global construction, geospatial and agriculture markets, Topcon has developed and optimised GNSS boards for highly precise positioning applications.
Drones can drastically reduce the costs of surveying, while at the same time offering great efficiency and safety in the field. Next to surveying and GIS, survey drones are now used in a broad spectrum of applications ranging from construction and mining to agriculture and environmental monitoring. Companies and organizations around the world are increasingly implementing drones, while experiencing high return of investment and great added value, especially compared to traditional surveying methods.
The Atmos Marlyn Cobalt, globally available through a fast-growing distribution network, is the VTOL fixed-wing mapping drone developed by Atmos with the goal of allowing users to effortlessly collect accurate geospatial information and turn it into actionable insights with great effectiveness. "Our mission is to provide professionals with the tool with which they can plan a better future with precision," said Ruud Knoops, Chief Executive Officer at Atmos.
In order to provide precise positioning accuracy in surveying and GIS applications, a GNSS board needs to compensate for inaccuracies caused by satellite constellations, receiver hardware, and atmospheric conditions.
Additionally, with the use of Topnet Live (Topcon's GNSS real-time correction service) a flexible subscription-based solution is available to further meet the unique requirements of users by offering high-accuracy positioning and survey-grade results to professionals through a 24/7 cross-border, consistent, and reliable access. This combination removes the need of base stations, dramatically increasing in this way efficiency leading to higher productivity and decreased costs.
"Keeping the needs of our users in mind, we try to take steps that will make their work easier and more efficient in the field, while delivering more accurate insights," said Ruud Knoops. "We believe this partnership will add great value to our platform and streamline operations for our customers by creating an all-in-one surveying solution," he concluded.
"Drones are an important part of the future of surveying," said Ian Stilgoe, vice president of Global Emerging Business at Topcon Positioning Group. "Topcon is excited to continue supporting the UAV industry, and we believe that Marlyn's performance combined with Topcon's GNSS board and correction services will give users unprecedented results," he added.