Remote cargo delivery serving the "middle mile" attracts startups and legacy companies who see it as a large potential market that may have fewer hurdles than other BVLOS operations.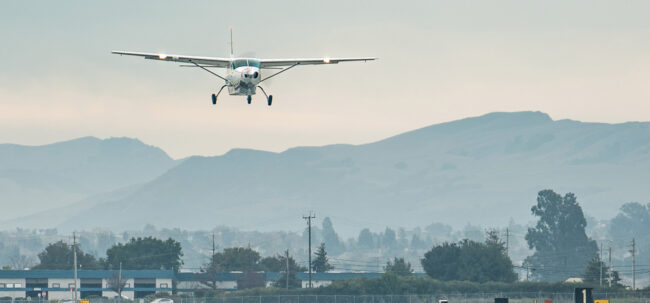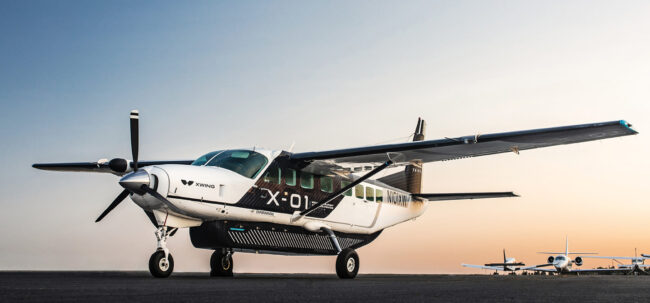 In the race to fly beyond visual line of sight, one market category expected to benefit a wide range of consumers is autonomous air cargo.
Seemingly centered in California, a number of startups and at least one legacy company are at various stages of either developing new aircraft and software with autonomous or unmanned capabilities, or developing systems to provide autonomous capabilities to existing cargo aircraft. Most are aimed at the "middle mile" for delivery.
Meanwhile, they're collecting intermediate FAA certifications, conducting test flights and demonstrations and building partnerships, both for development and as a future customer base. While several have developed autonomous capabilities, the Holy Grail of full FAA certification that would allow commercial operations remains in the future.
There are many reasons this is such a ripe arena.
First, the need is great and growing greater. Supply chain issues, which came to light during COVID, continue. Then, there are many destinations ranging from underserved towns and rural areas, to disaster sites, to warehouses and other commercial facilities in need of localized and more efficient service. Autonomous cargo craft hold the promise of faster service, more remote service, less loading and unloading and fewer trucks on the road.
Second, because some of the players are using existing aircraft, this can fast-track development and provide a degree of potential customer comfort as well as fewer hurdles to overcome with regulators.
Third, the path to certification for cargo is faster and less complicated than certification for people. In addition, the cargo will not need "convincing" to get on an unmanned or autonomous plane.
An additional factor is that, beyond a certain weight, craft are certified as airplanes, thereby falling within the air traffic control system, rather than BVLOS regulations, even when the operation of the vehicle involves a pilot on the ground rather than in the sky.
Here's a look at some of the key players who have emerged so far.
COMPANIES ADDING TO EXISTING PLANES
Reliable Robotics
Mountain View, California-based Reliable Robotics was founded in 2017 "to bring safety enhancing technology and systems into aviation," vice president for UAS integration Brandon Suarez said.
Reliable uses the Cessna Caravan, which has both a large U.S. fleet and mechanical systems that can be automated, Suarez said, adding "The automation of these aircraft and the ability to remotely pilot them enables new uses that are not economically viable today."
Reliable Robotics has demonstrated gate-to-gate fully automated operation of regional cargo aircraft and is now working toward commercialization of technologies for Part 23 cargo as well as Part 25 passenger vehicles.
"Right now, we're working to get a supplemental type certificate for a package that includes new flight computers, new full authority actuators, and eventually detect and avoid," Suarez said. "Last year, FAA accepted our certification basis for what we're calling the continuous autopilot engagement, a very advanced autopilot that would be certified to be on from gate to gate. We believe the end state will be remotely piloted."
Also last year, the company announced a contract with the U.S. Air Force to explore the automation of large, multi-engine jets, which will include a feasibility assessment of features for cargo operations, and they are partnering with NASA on the National Campaign for Advanced Air Mobility and working on several projects.
Xwing
Marc Piette, CEO and founder of San Francisco based Xwing, was taking flying lessons when it became clear "that we could commercialize unmanned flight in a fairly short time." So, he quit his job in 2016 with that vision in sight.
The company already flies piloted commercial cargo operations under a Part 135 certificate. In 2021,Xwing conducted the world's first autonomous gate-to-gate cargo flight with a Cessna 208B Grand Caravan equipped with Xwing's "Superpilot" autonomous flight system and currently has more than 400 hours of flight time.
The company is operating the converted Caravan under an FAA experimental certificate for research and development, which requires a supervising pilot on board, and Piette expects full certification in about two and a half years. He expects there will always be a degree of supervision for the craft.
"We will always have network control centers that monitor a fleet of uncrewed aircraft, but the level of involvement will keep reducing over time," especially as air traffic control digitizes clearance and directions, he said, adding he expects modifications to flight plans would be sent to the aircraft in datalink packets.
Xwing is working with NASA and the University of Alaska to evaluate the integration of unmanned aircraft systems in complex environments such as wildfires or offshore operations. "The main challenge in integrating [unmanned aircraft] is not so much the automation piece, but how do these vehicles integrate seamlessly in commercial airspace?" Piette said. "We need to show that these types of systems can handle these uncommon use cases."
Northrop Grumman
Falls Church, Virginia-based Northrop Grumman, long established in building multiple aircraft, including cargo planes, is working with NASA to develop solutions for integration of large, uncrewed aircraft into the National Airspace. The project will focus on air cargo operations.
COMPANIES BUILDING AIRCRAFT
Natilus
At the founding of San Diego-based Natilus in 2016, co-founders Aleksy Matyushev and Anatoly Star planned to build autonomous cargo seaplanes that flew low enough to avoid FAA regulations. They soon realized potential customers, such as FedEx and UPS, serve landlocked areas, and turned to the design, construction and sale of very large autonomous cargo drones targeting the middle mile, CEO Matyushev said.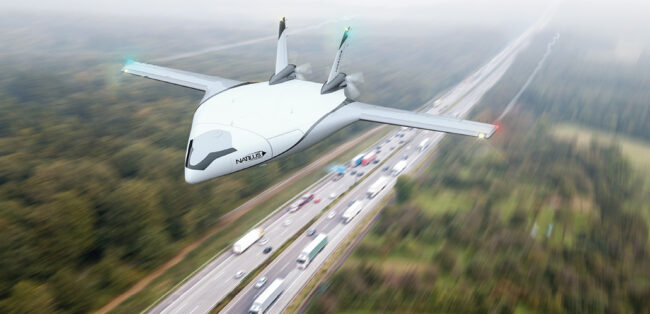 The company already has FAA approval for a testing area at San Diego's Brown Field for manned, unmanned, piloted and BVLOS operations, he said. "If you were to walk into our hangar, we have the vertical tails already built and software in a loop simulator…We expect to see markets about the end of 2026." Due to their size and weight, their aircraft will be considered airplanes, rather than drones subject to BVLOS, he said.

Natilus is currently building its first prototype, the Kona 3.8T. A key feature of Natilus aircraft will be their triangle shaped "Diamond" blended wing body design,which allows for 60% more volume, a large configuration of standardized pallets, 60% lower costs, half the CO2 emissions, and the ability to use existing ground infrastructure, according to the website. Their smallest aircraft will have a range of 900 miles, the largest 5,500 miles, enough to travel the Pacific. Their planes use existing ground structure.
The company already has $6.8 billion order commitments, Matyushev said, and see a potential market of $280 billion.
Dronamics
Based in Sofia, Bulgaria, Dronamics Airlines was founded in 2014 with a vision of a completely autonomous operation. It has developed the Black Swan (the name means something considered impossible until it was done) cargo drone, which can carry the same load as a small cargo van—770 pounds and 125 cubic feet—for up to 2,500 kilometers. The company is developing a cargo drone airline that will enable same-day delivery to remote areas faster, cheaper and with fewer emissions than other methods with a network of drone ports that can be installed anywhere there is a paved or unpaved airstrip more than 400 meters long.
In May 2022, Dronamics was awarded the European Union's Light UAS Operator Certificate, the first such airline to receive it. "The license allows us to self-authorize flight operations of our Black Swan aircraft across the EU, including BVLOS operations," according to a press released issued at the time.
"We are working toward launching our first commercial flights before the end of 2023," Kenneth Chircop, general manager (Malta) for Dronamic Airlines Europe, said in an email. "While several elements of our operation will be automated and optimized, the flights themselves will not be autonomous, but remotely piloted from the ground."
"We have a clear roadmap that outlines a gradual transition from remote piloting to an autonomous operation. However, we will still have a human overseeing the operation and having the ability to intervene when necessary," he said.
VTOL AIRCRAFT
Vertical, helicopter like take-off and landing, when combined with the ability for forward motion, provides a particular advantage to a cargo craft. At least two companies have designed cargo planes with this capability.
Elroy Air
Elroy Air—named after George Jetson's boy Elroy from the 1960s cartoon—is distinguished by both VTOL capability and a unique cargo module that can be separated from the plane and left on the tarmac for loading and unloading.
In 2016, David Merril, CEO and co-founder of Elroy Air saidhe and co-founder Clint Cope saw an opportunity to build a transformative automated logistics system that would be decoupled from airports and enable same-day shipping to every person on the planet.
While they initially were thinking of an air taxi, they quickly realized carrying people meant a longer path to product realization, he said.
Last year, Elroy unveiled the C1 Chaparral, named after the hearty plant that grows along the California coast, with eight vertical fans for VTOL and four propellers for forward flight.
It has a 300-pound capacity and a 300-mile range and does not need airports—it can take-off and land from anywhere, the company said. Aimed at the middle mile mission, from, for example, a regional warehouse to a last-mile warehouse, the Chaparral fits into a standard 40-foot shipping container, which makes it easy to send around the world.
With fully autonomous certification in the future, Elroy is developing Chaparral to be an automated aircraft with a remote pilot supervisor, with that role expanding to supervision of several aircraft over time. The company will use a radio link and voice relay so the supervisor can speak, through the vehicle, to air traffic control.
Today, the company has letters of intent for more than 900 vehicles, representing about $3 billion in future sales revenue.
MightyFly
San Francisco-based MightyFly was founded in 2019 to provide fast, affordable and efficient delivery services to businesses and governments. Fernanda Sausen, senior director of business development, said they have built an aircraft capable of flying autonomously and are working with the FAA to pursue type and operation certification.
They've received the FAA Special Airworthiness Certification for their second-generation aircraft, the Cento, and the Certificate of Authorization for long-range flight to perform flight testing up to 5,000 feet in two large airspaces in California. Currently, they're testing the hover flights, Sausen said, with expectations to test the forward flight next, and after that, long-range flight. The detect and avoid for autonomous function would follow, she said. The company is working with potential partners to start the first pilot programs later this year.
The Cento was designed for high efficiency, Sausen said, and carries the cargo in, not under, the aircraft. Carrying the cargo inside enables a more flexible itinerary as the vehicle can be loaded for multiple stops. The VTOL propellers are alongside the aircraft body and under the wings.
Future plans include end-to-end autonomous delivery, without having to use airports, and the use of autonomous conveyor systems for loading and unloading cargo. Unlike most companies in this arena, they also plan to provide the service, not just build and sell the planes.