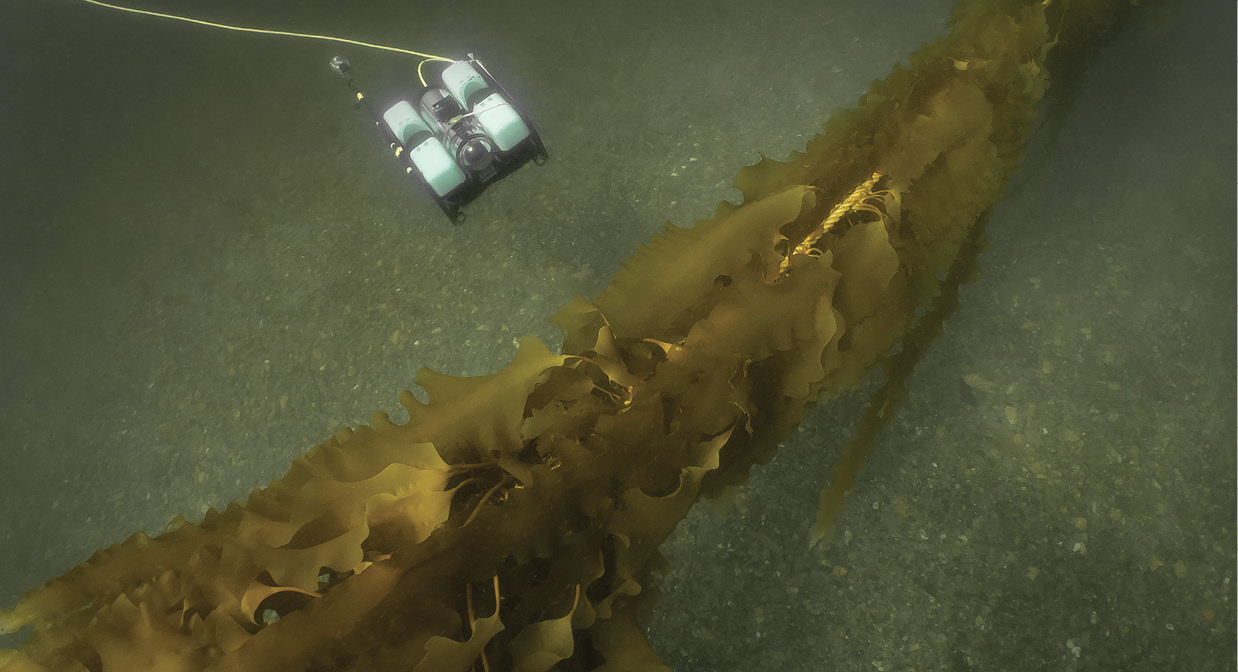 As program director of Advanced Research Projects Agency-Energy (ARPA-E), Marc Von Keitz helps develop, launch and manage programs that push the energy sector into new areas of advancement.
"We're not in the business of incremental improvements, but in transforming what's possible," he said. "What we do is tied to making a difference in our world; in our case, the energy world."
To do that, ARPA-E is funding a MARINER (Macroalgae Research Inspiring Novel Energy Resources) program to enable the U.S. to become a global leader in the production of marine biomass and generate enough fuel and food to bolster energy security and economic competitiveness.
"If we want to feed everyone and expand the availability of biomass and other energy sources, we need to take advantage of this," Von Keitz said. "Bioenergy will be a significant player in any future energy scenarios that drastically reduce CO2 conditions."
Using seaweed as an alternative energy source isn't a new concept. After all, it's fast-growing and doesn't require fertilizer, land or fresh water to grow. But there are age-old challenges: monitoring it in large volumes offshore is labor-intensive, dangerous and expensive.
What is a new concept is MARINER participants turning to autonomy and unmanned systems to grow its potential far beyond that of a salad.
"This is different from other projects because we're not pushing on a certain segment of an established industry," said Von Keitz. "These teams are thinking about new large-energy scale operations as a long-term vision. Is autonomy the way we can get there?"
AERIAL DRONES, UUVS AND AUTONOMOUS BOATS
Three participating MARINER teams—Woods Hole Oceanographic Institution (WHOI), UC Santa Barbara and C.A. Goudey and Associates—believe autonomy is, indeed, the way.
Compared to costly human labor and boat operations, unmanned systems are an attractive option for consistent, daily monitoring by routinely surveying infrastructure health, macroalgae growth rates and nutrient content.
The teams are developing advanced surveillance capabilities by decking out aerial drones, unmanned underwater vehicles (UUVs) and autonomous boats with payloads such as split-beam acoustic echosounders, hyperspectral sensors and panoramic camera systems to make them a viable solution for farmers.
To them, this isn't an academic research project; they're developing prototypes for the future.
"These teams all started out with the best tools available, and are developing the technology to bring down the price for farmers," said Von Keitz. "They're leveraging backbone systems and honing in on data acquisition, interpretation, autonomy and route planning to make it viable."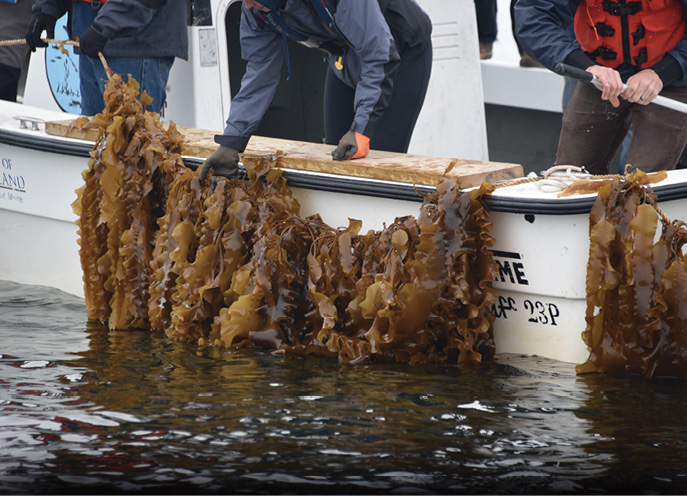 ADVANCED, AFFORDABLE SENSING PAYLOADS
To that end, WHOI's Applied Ocean Physics and Engineering team in Falmouth, Massachusetts, is focused on developing sensing payloads using two off-the-shelf, commercially available REMUS 100s—which they've nicknamed Snoopy and Darter—to survey the longline sugar kelp that grows on the East Coast.
For Snoopy's "KelpBot" payload, the team is exploring the Simrad EK80 scientific split beam echosounder and Blue Robotics Ping360 scanning sonar to monitor the growth on the longline arrays. Darter is a torpedo-shaped optic sensing vehicle equipped with a "Kelpcam," a 360-degree panoramic camera designed for aquaculture monitoring.
According to Erin Fischell, a WHOI assistant scientist on the team, as farms move offshore and get bigger, exploring tools that enable remote and autonomous monitoring—and obtaining actionable data from the visualization perspective—is key.
"We're working on data processing chains and perception-type algorithms that help detect lines of kelp and find anomalies in that data to map out exactly where the infrastructure is and if there are changes over time," she said. "This needs to be a useful tool for farmers, so we're putting our best tools forward to figure out what's possible, and bring them to an affordable solution."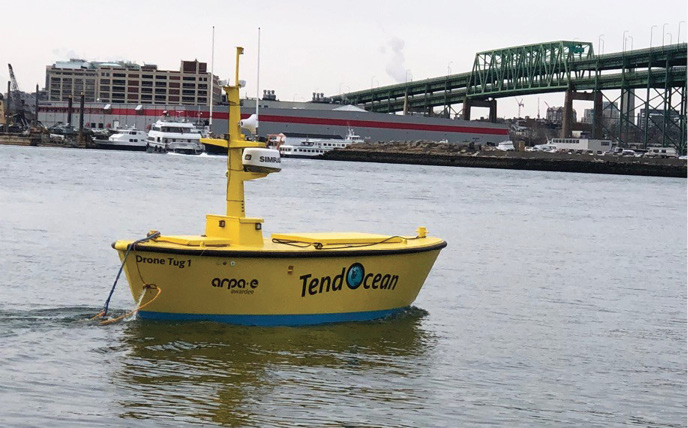 TOWARD REAL-WORLD APPLICATIONS
The Earth Research Institute team at UC Santa Barbara in California (UCSB) is busy developing a Scalable Aquaculture Monitoring System (SAMS) by using autonomous and semi-autonomous aerial and UUV technologies that monitor biomass productivity and physiological status.
Unlike the sugar kelp on the East Coast that WHOI is working with, the giant kelp that grows on the West Coast is floating, so the UCSB team can use aerial drones that capture hyperspectral data on canopy composition to assess the right time to harvest.
To do that, they're turning to aerial drones like DJI's Phantom 4 Pro with a color camera system, a Matrice 200 with a five-band Micasense Multisensor and a Matrice 600 pro with a Headwall Nano-Hyperspec sensor.
"By knowing the environmental condition of the kelp, we can estimate how productive and fast-growing the kelp is, and assess the sugar content," said Tom Bell, project scientist at the Earth Research Institute. "This is important for biofuel purposes, because you need to harvest kelp when the sugar content is at its max."
The team is also working with UUVs by using a REMUS 600 unit, and they're currently working to acquire smaller, more affordable units that are used by the Navy.
If successful, Bell says the integration of canopy and subsurface kelp biomass, productivity and condition information with environmental data will provide farm a suite of products to monitor farm status from outplant to harvest.
"I'm more optimistic now than at any other point," he said. "We're really pushing this toward real-world applications that weren't available even months ago."
THE "TRACTOR OF THE SEA"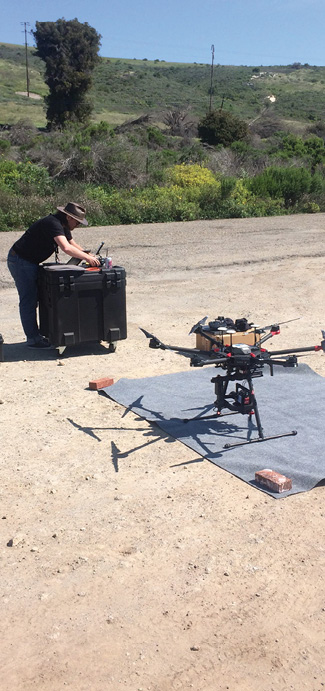 Cliff Goudey and his team at C.A. Goudey and Associates, based in Newburyport, Massachusetts, are developing an autonomous marine tow vessel called the "Tractor of the Sea" to help remove the cost and schedule constraints of manned systems and support macroalgae farming systems in covering larger ocean areas.
The 17-foot vessel relies on a large-diameter, slowly spinning custom thruster system that's optimized for towing large loads. It follows pre-determined routes and navigates at speeds slightly above tidal currents for peak efficiency. When manned activities are essential, Goudey said, farm personnel can simply return to shore while up to 2,000 metric tons of harvested kelp can make the same, yet slower, journey back on the Tractor of the Sea at speeds slightly above tidal currents.
If successful, the towing solution can be integrated into complete macroalgae farming systems to reduce high fuel and labor operating costs. It's been designed for remote operation with autonomy functions that will be advanced over time.
Once operational, Goudey believes these autonomous vessels could be used for a number of farming tasks, such as towing pre-seeded longlines to the farm, transporting harvested seaweed back to collection points or relocating critical marine infrastructure. The team considers autonomy and route planning to be critical paths for the future of this space.
MAKING BIOMASS A REALITY
With three years of advanced research ahead of them, Von Keitz underscores that the MARINER teams' efforts are contingent on an emerging market. But he believes they truly are laying the foundation for a new and growing industry.
"We're confident that these technologies can be prototypes for commercialization, and not just 'one and done' research tools," he said. "We're pushing the teams to think about this in the context of what farmers really need. By end of project, we'll have laid the foundation for an ongoing dialogue for farmers and developers that will outlast this project."