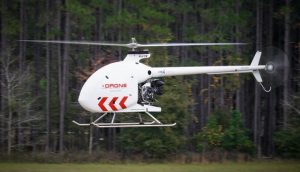 Drone Delivery Canada (DDC) successfully completed a second round of testing on its largest delivery drone, the Condor, in October.
The first tests, held in September, looked at the triple-redundant communications system (satellite, cellular, 900MHz RF); triple-redundant navigational guidance system; triple-redundant autopilot system; monitoring unmanned flights remotely from DDC's Operations Control Centre; general flight stability and performance; and fuel consumption characteristics, according to a news release.
The October tests focused on many of these aspects again as well as others including multiple unique flying patterns; multiple velocity vectors and altitude profiles; sound pressure levels; engine tuning characteristics; maintenance procedures; logging flight data; and extended endurance in different environmental conditions.
DDC expects to complete more testing by the end of the year to prepare the UAS for commercialization. COVID-19 related deliveries and remote area deliveries should begin in 2021. Flight approvals will be requested through Transport Canada.
The Condor is DDC's largest drone, with a range of 124 miles and a payload capacity of 396 pounds. It's integrated with the company's patented FLYTE software.
"We are very pleased with the ongoing successful testing of our Condor delivery drone," DDC President and CEO Michael Zahra said, according to the release. "We continue to make favorable progress with the Robin XL as well. The Sparrow, Robin XL and Condor all have unique use-case applications  based on range and payload capabilities, and we are excited to have the two additional models coming to market."
Link to video of the Condor in flight:   https://youtu.be/z6alNN-Uaxk