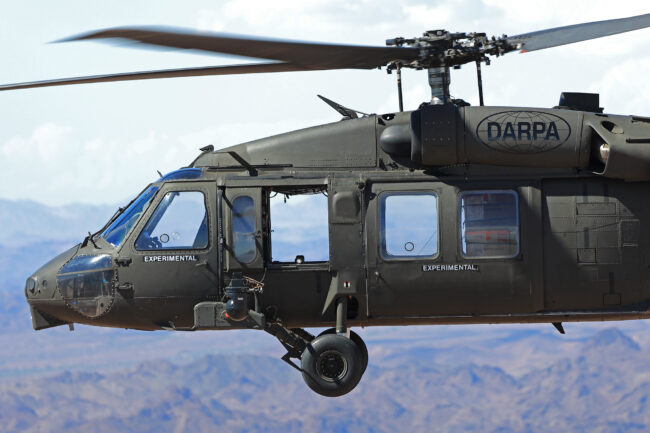 Lockheed Martin's Sikorsky company and the Defense Advanced Research Projects Agency (DARPA) have successfully demonstrated to the U.S. Army how an uncrewed Black Hawk helicopter flying autonomously can perform internal and external cargo resupply missions as well as rescue operations, the company announced Nov. 2.

The demonstrations took place Oct. 12, 14 and 18 as part of the U.S. Army's Project Convergence 2022 at Yuma Proving Ground, Arizona, which demonstrated advanced technology in field operations. Lockheed Martin said the flights showed how existing and future utility helicopters could one day fly complex missions autonomously or with reduced crews.

Sikorsky's MATRIX technology forms the core of DARPA's ALIAS, or Aircrew Labor In-cockpit Automation System project.
"We believe MATRIX technology is ready now for transition to the Army as they look to modernize the enduring helicopter fleet, and acquire future vertical lift aircraft," said Igor Cherepinsky, director of Sikorsky Innovations.
During Project Gateway, pilots flew and landed the Black Hawk aircraft, then activated the MATRIX system, giving full control to the flight computer, which took off to conduct the mock missions. The helicopter then autonomously carried out a long-endurance medical resupply, carrying 400 units of real and simulated blood to a point 40 miles away, as well as a cargo delivery and casualty evacuation combined mission.
In the second mission, the Black Hawk carried a 2,600-pound external load in a sling, flying 30 minutes toward a designated landing zone. The aircraft was redirected during flight as part of a threat scenario, demonstrating that a ground operator with a secure radio and tabled could take control of the Black Hawk, release its sling load and then have it land to return with a mock casualty, a mannequin. During the return flight, a BATDOK health monitoring device integrated with the helicopter's communications system relayed the mock patient's vitals in real-time to a ground-based medical team.
Sikorsky and DARPA plan to continue to work toward the transition of this technology for military operations, such as aircrew support and operations, logistics and medical resupply, casualty evacuation, and commercial applications such as firefighting, cargo and urban air mobility, Lockheed Martin said.
Kargo UAV
The Army isn't the only service interested in cargo carrying via unmanned helicopters.
On Oct. 10, Kaman Air Vehicles, a division of Kaman Corp., was selected to build a logistics drone for the U.S. Marine Corps. The company will build a military version of its Kargo UAV, a purpose-built, autonomous, medium-lift logistics vehicle.
The work is being managed by Naval Air Command's PMA-263 under the Medium Unmanned Logistics Systems-Air program, or MULS-A. Once the prototype is built, the Kargo UAV will complete a field user capability assessment in an operational test environment.