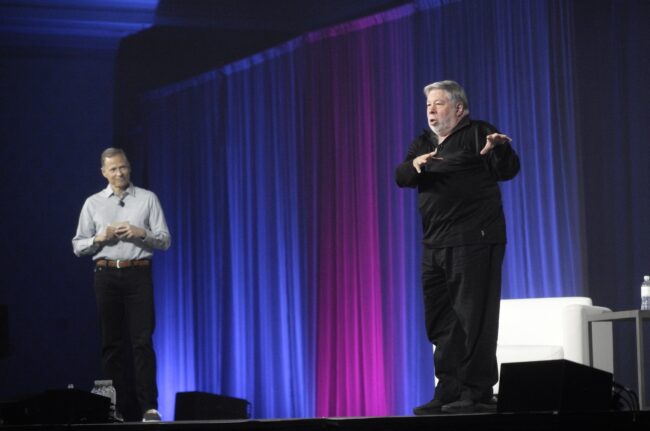 LAS VEGAS—Trimble kicked off its first Dimensions+ conference in four years by rolling out new cloud-based automation and collaboration platforms it said would make construction, agriculture and other work more efficient and easier on the planet.
Rob Painter, Trimble's president and CEO, started by highlighting the construction of Randselva bridge, a 634-meter cantilever concrete bridge in Norway that was done with "no two-dimensional drawings. None. Zero," and which had 250,000 pieces of rebar, 250 long-span steel cables, "and teams in five countries collaborating off the same digital model."
The use of digital planning and teamwork saved 10 percent of total costs, Painter said in the show's Nov. 7 opening keynote. "This is what we do at Trimble."
The company's ambition is to create "the best industry cloud on the planet," Painter said, which includes pairing with Microsoft on the new Trimble Construction Cloud, which it has started rolling out.
"We're combining our deep domain knowledge with Microsoft's cloud know-how," Painter said, introducing a video greeting from Microsoft CEO Satya Nadella, who said companies are increasingly turning to digital workflows, especially in the construction industry.
As the world faces increasing headwinds in the form of economic disruption and cost escalations, "digital technology is the ultimate tail wind," Painter said.
Trimble Construction Cloud marries a common data environment with automated workflows to enable designers and engineers to collaborate while working on different tools; a designer could work in Trimble Quadri software while a civil engineer works on the same project in Trimble Tekla model-based software, and the whole package can be embedded live in Microsoft Teams, "so the owner can get on there," Painter said. "We're ushering in a new era of continuous and connected experience."
What's Different?
Autonomy and connectivity were big themes of the conference.
"Why now, what has changed?" asked Aviad Almagor, Trimble's vice president for technology innovation. In short, the enabling technology has reached the needed maturity level, and computing power grew exponentially in the last decade. Almagor played the sound of an acoustic modem connecting, drawing laughter from the keynote session.
Using that increased power and automation, Almagor said Trimble is reaching out to other partners—including, in some cases, competitors—to create an integrated physical and digital environment he called the "construction metaverse," which combines automation, sensors, robots and humans in an open, interoperable environment.
That effort includes collaboration with companies such as NVIDIA, Exyn Technologies, Piaggio Fast Forward, Microsoft and Boston Dynamics. A Boston Dynamics Spot dog-like robot, paired with a Trimble X7 laser scanner, can patrol a construction project, prepare and deliver a digital update before a crew gets on site in the morning, Almagor said from the keynote stage.
That capability was later briefed in a breakout session on Nov. 8. The robot-sensor combination can link via Trimble's FieldLink software, making the robot just another sensor in the package, although one that can move around autonomously if needed.
The Spot/X7 linkup was first announced two years ago and early adopters are using it in the field, generating case studies, said Trimble's David Burczyk, the construction products lead. One is by the company BAM Utall in the United Kingdom, which is using the dogs in the Shetland Islands in the North Sea on a site so remote it can take more than a day to get to it.
The proof of concepts are "helping us refine the workflow" of the system, which costs $180,000 including the robot, the software and company support.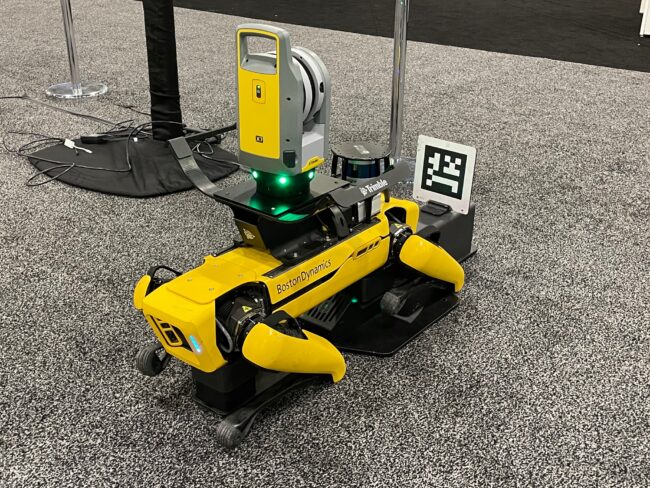 Autonomy
Trimble officials point out that autonomy is not a new word for them, it's something they have been pursuing for decades. It's an iterative process, they say, one that requires them to meet a customer where they are to see what autonomy can do for them, rather than promising a one-size-fits all situation.
There are various types of autonomy, for automation, command and control, the connected worksite, teleoperation, collision avoidance, driver assistance and more, anything with a "sense, think, act loop," Kevin Andrews, a strategy manager in the company's Autonomy Group, said at a press breakfast on Nov. 8.
"Where are we? It really depends on your industry," he said. The question is not just autonomy, but levels of integration as well. Is it just one machine moving around, or several different types, doing different things?
"You can move up levels of integration without autonomy and vice versa, but things get interesting when they combine," he said.
Trimble Construction One, for example, is a high level of integration, which can involve autonomous work groups and different types of machines. "They don't need to all go at the same level," he said. "You can decide where automation is going to make the most value."
Advice from Woz
Apple co-founder Steve Wozniak joined Painter for the keynote session on Nov. 7, sharing reminiscences from the creation of Apple and some advice for technology companies going forward.
Companies should have a "chief disruption officer that doesn't report to the CEO," Wozniak said, adding that it's the second most important post at any company behind the CEO. The CEO keeps the money coming in and the disruption officer keeps the company innovating. The office should report directly to the board of directors and shouldn't be located near the company headquarters, he said.
"Disruption is what you're worrying about, but you want to be the disruptor and not the disrupted," he said.
In all, the Dimensions+ conference indicated that while autonomy is a disruptor, it's also a progression from partial autonomy to full autonomy, with many steps in many industries along the way.