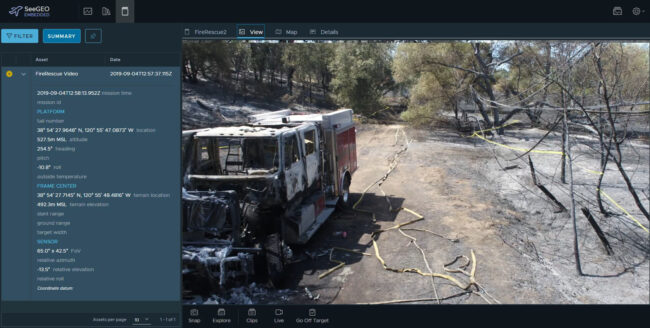 Skyfire, a public safety unmanned aircraft consulting company based in Atlanta, has teamed with Textron Systems to bring its SeeGEO software to police, firefighters, first responders and others to help them make better use of the data they collect using drones.
The nine-year-old company has worked with hundreds of police, fire, emergency management agencies and other public safety organizations and has written thousands of certificates of authorization applications for the agencies to allow their drone flights, said founder and CEO Matt Sloane. He estimates the company has written about 80% of the COAs used by drone first responder programs.
The company has also developed its own drone platform, which he described as "payload agnostic," although Skyfire also works with Skydio, DJI, Parrot drones or any other operated by public safety agencies.
The work the company has begun with Textron Systems is different, Sloane said, in that it's adapting the military practice of change detection—monitoring areas over a period of time—to the video and other data collected by public safety agencies.
"The goal of the software is not so much the flying and data capture part … most agencies and programs fall short on what do you do once you have the video," Sloane said. "Part of that is public safety agencies think in 'right now' terms, they don't have to process the data afterwards. They have this treasure trove of data and they are not using it effectively."
Textron Geospatial has been supporting the intelligence and defense community for over 25 years with its geospatial products, Daryl Madden, vice president of Geospatial Systems at Textron Systems, said in a statement to Inside Unmanned Systems.
"With the emergence of drone programs in the first responder community, customers are excited to see that the capabilities in our FMV exploitation products [SeeGEO and Optice], were needed features to enhance their missions as well. Features such as real-time video exploitation, mensuration, object tracking, report generation, and FMV storage, query and retrieval provide next generation proven features today," Madden said.
Fifty to 60 percent or more of public safety work happens very quickly, Sloane said, but there is a sizable area that doesn't fall into that, such as for arson investigations, hazardous material situations, train derailments, disaster response, search and rescue operations and others.
"That's what we're trying to leverage," he told Inside Unmanned Systems. "We're very good at, 'here's a drone, here's a little bit of training, pop it up for five minutes, get some data.' How do you elevate that data to the command level, where they are making larger decisions?"
The data can be filtered through artificial intelligence and machine learning software to be able to detect changes over time, useful in tracking the progression of a natural disaster, tracking a vehicle of interest or helping find a missing person.
"It's making intelligence products rather than just sharing live video," Sloane said.
Privacy issues come into play when video is involved, but Sloane said the SeeGEO software will operate within the bounds of any local data retention policies.
The partnership is in its early stages, Sloane said; not quite a beta product, but "just past the beta stage," where the companies are working with test agencies to see how the software can be useful and what tools might need to be added.