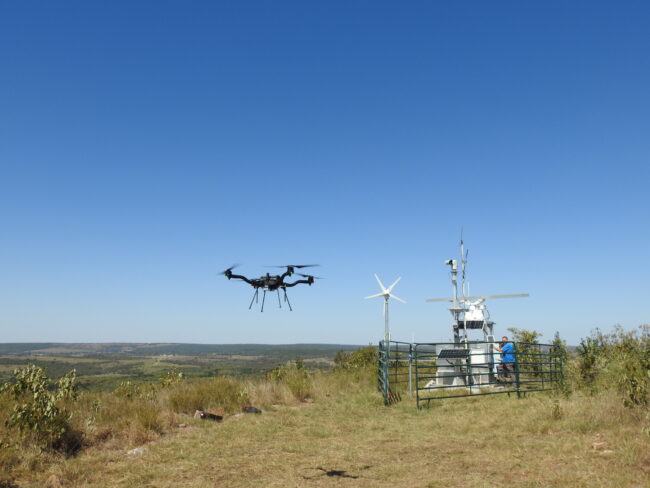 The unmanned systems industry is preparing for federal rulemaking so flights beyond visual line of sight (BVLOS) will become the rule rather than the exception.
But how can industry and government safely achieve that outcome? And what technology is needed to make routine BVLOS flights a reality?
uAvionix, based in Bigfork, Montana and Leesburg, Virginia, is working with the Choctaw Nation of Oklahoma to answer those questions. The company brings its SkyLine command and control software and pingRID drone remote identification system to the Choctaw Nation's expansive test range, which covers more than 44,000 acres in the southeastern part of the state.
Their partnership will be explored in an April 4 webinar, "Entering the Age of BVLOS," which will featured Brit Wanick, the vice president of marketing for uAvionix, and Marc Hartman, aviation operations manager for the Choctaw Nation of Oklahoma. It will be moderated by retired Maj. Gen. James Poss (USAF, retired), the CEO of ISR Ideas, and the founder and former executive director of the Alliance for System Safety of UAS through Research Excellence (ASSURE). You can register here.
"The current regulatory environment keeps drones below a specific elevation and has a lengthy waiver process for flying them beyond the line of sight of a ground-based observer," Wanick said, which is "not necessarily a scalable process." The industry wants to carry standards of performance forward but not manage UAS separately from other aircraft.
That's where uAvionix's pingRID remote ID and SkyLink come into play. PingRID, launched at the end of February, is an attach-and-fly system that allows drone operators to be compliant with the FAA's Part 89 remote ID standards, effectively a license plate for drones.
SkyLink is aimed at ensuring steady, reliable communications for unmanned aircraft, a critical component of BVLOS capability. It allows a drone to maintain constant contact using whatever network is available, whether it is C Band, LTE, ISM or satellite networks, which the company has named "path diversity."
The system is much faster than a human being and capable of seamlessly switching its communications path, automating the handoffs between the networks. It also has to do this at scale, as "there are thousands [of drones] that will be in the sky at one time," each vying for the same signals. It also has to accommodate the various spectrum used by the networks, which it calls "frequency diversity."
Poss said the FAA has for years been working to set up demonstration programs for BVLOS-enabling technologies, including the Integration Pilot Program, which gave way to the current Beyond series of demonstrations.
The Choctaw Nation is a partner in that, and uAvionix has set up its SkyLink systems at the nation's test site.
Hartman said the site boasts a ground-based S-Band radar, capable of detecting aircraft out to 18 nautical miles, as well as a series of ground-based ADS-B receivers. The nation, is the only tribal government to be part of the IPP program and the Beyond program. The Choctaw Nation of Oklahoma's waiver allows BVLOS flights using the uAvionix SkyLine system, ADS-B data and data from its radar.
The entire area of operations is controlled by the tribal government and can be a virtual "splashdown zone" if there are any issues. "That's one of the huge benefits of our range, is that we can control access and fly," Hartman said.
Learn more by registering for this free webinar to take place on Tuesday, April 4, 2023 at 1:00 PM EDT – 2:30 PM EDT. REGISTER NOW.