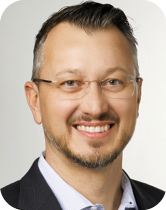 Gordon Heidinger has spent 25 years in the automotive and transportation industry in a combination of roles as an electrical engineer, program manager and product manager. Gordon now continues his passion for state-of-the-art technology at Hexagon Autonomy and Positioning as the segment manager for Automotive and Safety Critical Systems.
Q: Hexagon's software position engine and TerraStar-X PPP GNSS correction services are integrated into ZF Group's mass-production advanced driver assistance systems (ADAS). What is the value of having demonstrations at CES 2023?
A: The value of our vehicle at CES is to demonstrate to our customers the production-representative solution. When ZF supplies the Proconnect telematics modules to one of the OEMs vehicle platforms…they should see the same performance that we're seeing here in our demo vehicle. That's basically the performance expected on production representative hardware.
Q: How long has Hexagon been working with ZF?
A: We have had conversations with the majority of the tier 1 suppliers for several years, including ZF. There are approximately 13 major OEMs around the world, and we are actively talking to most of them on a regular basis. When they [ZF] introduced us to their super computing telematics platform that they were planning to unveil at CES 2023, they naturally said, "we want your positioning solution on it." So, we said, "great, we'd love to co-market with you live at CES."
Q: What other companies are you working with?
A: We're also working with Murata for CES. Murata supplies approximately 70% of the automotive market for IMUs. They're a strong player in the automotive market so we sought them out and built the relationship. ZF, by no coincidence, is using their IMU on the Proconnect platform design as well.
Q: The system supports ADAS autonomy levels of 2 and higher?
A: Level 2-plus is where the market is today. Ideally, any level can be achieved with the system we are demonstrating here. When you consider the offroad market segments, you start seeing full level 4 and level 5 systems being implemented. So, for market segments like mining, agriculture, that sort of controlled environment allows for adaptation of autonomous tech.
In addition to autonomous driving, there are solutions being developed with vehicle-to-network communications. A lot of companies, big automotive OEMs, like what Ford demonstrated at ITS in 2022, are working on vehicle-to-network (V2X) solutions that prevent drivers from hitting safety workers or pedestrians. Maybe in the near future, a driver can be warned of a person carrying a mobile phone while walking around a corner or along a building in a way that the driver can't see them.
Q: Automakers are increasingly updating their electric vehicles with over-the-air software updates that can change a vehicle's performance. How does this affect the ADAS systems of which you are a part?
A: That's one of the main benefits of what we're releasing, a software positioning engine that will work with any hardware and any OS. In theory, our receiver can be updated and flashed into the car over-the-air. So, if there's an update to our receiver needed post-production or after the car has left the dealer, let's say for some functionality changes or improvements that are needed, they can update that without any visit to a dealer or any inconvenience to the vehicle user. It's a seamless part of the modern-day software-defined car.