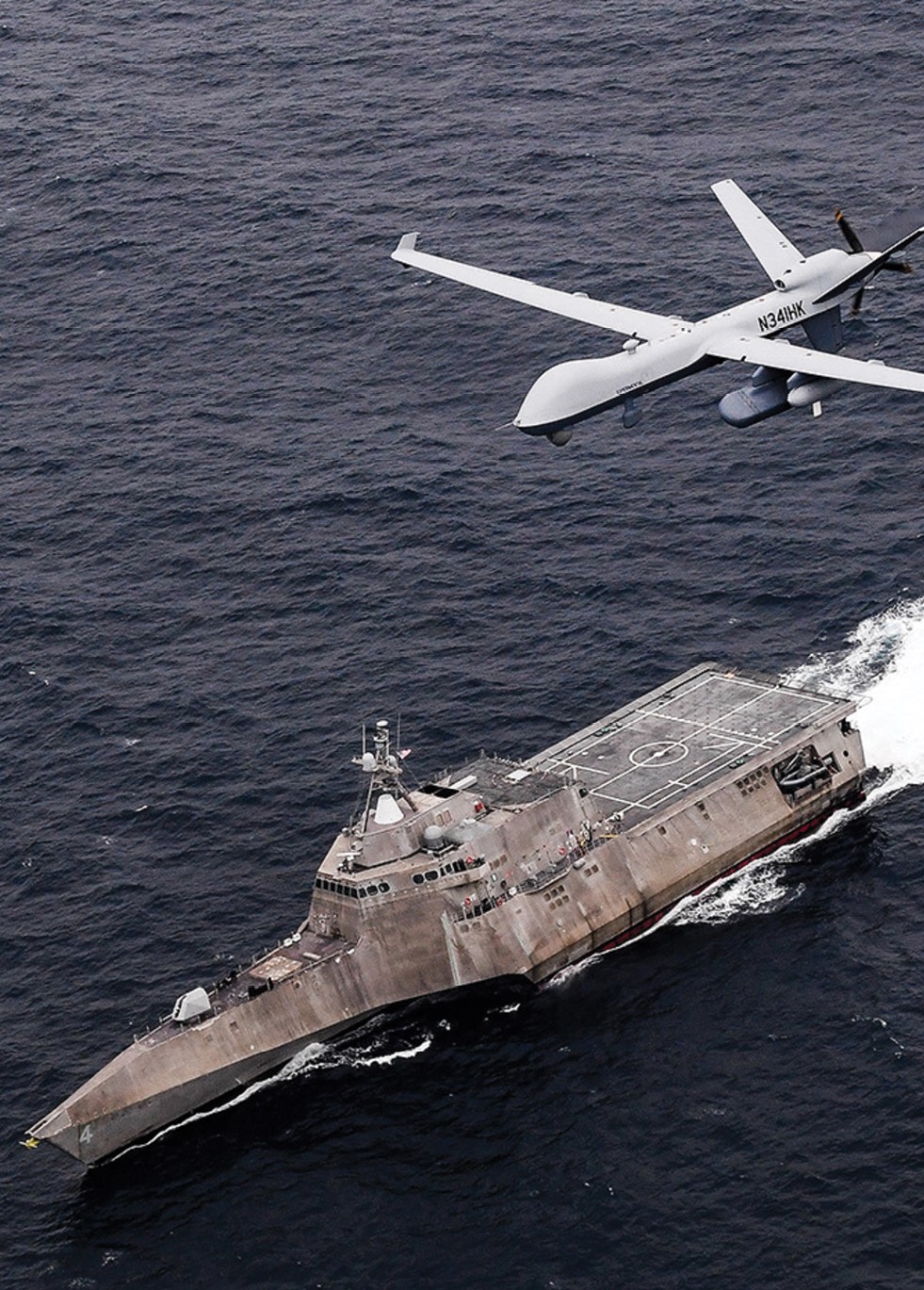 The power of manned and unmanned teaming (MUM-T), is being unleashed across the military, civil and commercial sectors. Innovation and opportunities are increasing.
As is often the case with leading-edge technologies, the military was the first to exploit the manned-unmanned teaming, or MUM-T, approach. In a 2013 MUM-T Strategy Brief, the United States Army Aviation Center of Excellence defined MUM-T as, "The synchronized employment of soldier, manned and unmanned air and ground vehicles, robotics and sensors to achieve enhanced situational understanding, greater lethality and improved survivability."
"We view MUM-T as more of an operational concept than a specific technology," said C. Mark Brinkley, director of strategic communications and marketing for General Atomics Aeronautical Systems (GA-ASI). "It is a mature concept, with supporting technology, that is employed daily across the globe."
In an October 2020 test carried out at Dugway West Desert Test Center, GA-ASI's MQ-1C Gray Eagle Extended Range UAS (see "Gear" box) worked together with an Apache AH-64E helicopter and a Shadow RQ-7BV2 Block III tactical unmanned aircraft system to successfully execute a live missile fire. It was the first accomplishment of this kind for the U.S. Army with this trio of aircraft. "The U.S. Army has been testing MUM-T between our MQ-1C Gray Eagle and AH-64 Apache helicopters for many years," Brinkley said. "AH-64 pilots have the ability to send a long-endurance, unmanned aircraft ahead of the Apache to perform intelligence preparation of the battlefield. Additionally, the sensing and lasing capability on the MQ-1C allows for autonomous or remote employment of precision munitions such as the AGM-114 Hellfire."
The data link between the Apache and the Gray Eagle tested at Dugway can operate at significant distances, allowing over-the-horizon reconnaissance, which means ground forces and aircrews can remain outside the enemy's "kill zone."
EXPANDING APPLICATIONS
This April, another GA-ASI unmanned aircraft, the MQ-9A Block 5, demonstrated connectivity with U.S. Navy surface ships and aircraft during the U.S. Pacific Fleet's (PACFLT) Unmanned Integrated Battle Problem '21 exercise. The goal, according to a General Atomics news release, was to "further incorporate unmanned capabilities in day-to-day fleet operations and battle plans." The drone carried out cooperative anti-submarine warfare operations, including the first successful high-altitude sonobuoy drop from a UAS. This helps set the stage for a revolutionary change in how the U.S. Navy and its foreign partners carry out warfighting operations.
"This kind of teaming provides both lethality and risk avoidance for manned platforms," Brinkley said. "Army units already employ the MQ-1C Gray Eagle in operations ranging from reconnaissance to attack missions. The endurance of the MQ-1C allows commanders to understand the battlefield before employing ground and air assets into unknown threat areas."
Among the technical challenges faced by MUM-T operations developers is the wide diversity of radios/waveforms used across the military enterprise. "Gray Eagle demonstration aircraft are currently carrying multiple radios in diverse wave forms to meet the expanding scope of communications," Brinkley said. "The U.S. Army's Modular Open System Architecture [MOSA] approach represents an attempt to address the problem. "MOSA allows a diverse compliment of apps to be loaded onto the aircraft to quickly integrate new and evolving technology."
Going a step further, Brinkley outlined another collaboration. "GA-ASI sees the future of unmanned warfare as unmanned-to-unmanned teaming, known as 'advanced teaming.' This concept is linked to a distributed network of forces that can control aircraft, sensors and weapons systems. The ability to control unmanned assets with machine-to-machine interfaces, aided by artificial intelligence, means we can expand mission scope while reducing the workload on UAS operators."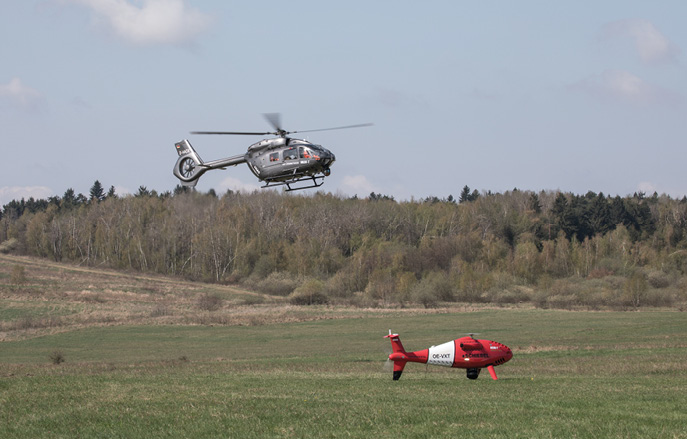 COMBINING AIR AND GROUND OPERATIONS
Another company supplying MUM-T military systems is Robotic Research (RR). "The company was started in 2002," Senior Vice President Jim Frelk said. "At that time, it was less concerned with robotic vehicles and more with working on the software, the sensors, the capabilities, for systems where robot vehicles would be able to operate autonomously, initially individually and then in teams."
Around 2010, the company first saw its autonomy software and hardware deployed in-theater, in an operational role. "We deployed early on in support of the OEMs that are built into military vehicles, whether it's General Dynamics or Lockheed, Qinetiq North America, whoever was building the robot or vehicle. We were supporting from a software, or 'kitting' [preassembling] perspective."
Today, a good portion of RR's business involves larger vehicles in autonomous convoy operations, including those with capabilities for off-road autonomy. "As the prime contractor for the U.S. Army's Expedient Leader-Follower program, we work with Oshkosh convoy vehicles, which are vulnerable to IEDs. The intention is to be able to operate convoys with people just in a lead vehicle." RR is also working to provide MUM-T capabilities for the General Dynamics SMET vehicle, a remote-controlled robotic "mule" capable of carrying up to 1,000 pounds of ammunition, water and other combat necessities.
RR has developed Pegasus, a unique air-ground vehicle. "It's a transformer, a hybrid," Frelk said, "a drone with tank tracks that flies and drives. The tracks actually swing up to protect the props when it's flying. People like it because they don't have to carry a UAS and a UGV, but that's not even half the story. It's the sequential use of flying and driving that provides a unique set of capabilities, addressing different customer and mission needs. It can fly for, let's say, 30 minutes, then drive maybe 10 miles, which is less power-consuming, so you're saving battery capacity and only flying when you really need to fly."
Critically, all of RR's autonomous systems have a common AI-based navigation solution that allows them to do collaborative teaming. "Each element can know where the other elements are, relative to itself," Frelk said. "That becomes important obviously in coordinated missions." The company has also developed a dismount localization system called WarLoc. "It's a foot-mounted device that has already been deployed to a number of U.S. Army Brigade Combat Teams. It allows dismounted warfighters to know where they are relative to their colleagues, and they can work collaboratively with unmanned systems. They can send off their robotic teammates to gather information or perform other functions where there might be risk to human beings." (For more on Robotic Reasearch, see the companion MUM-T piece.)"
The emphasis on software, processing power and data linkages is important when it comes to complex MUM-T operations. Lockheed Martin has recently put forward a high-power processor for multiple sensors and self-defense systems operating on ground, air and maritime platforms. The company's Open Architecture Processor (OAP) supports multiple applications that can cope with degraded visual environments, pilotage, situational awareness, active protection, reconnaissance, fire control, targeting and hostile fire. According to Lockheed Martin, OAP consolidates multiple proprietary processors into a single box, reducing space, weight and power, potentially transforming the way warfighters fight, fly and maneuver on the battlefield.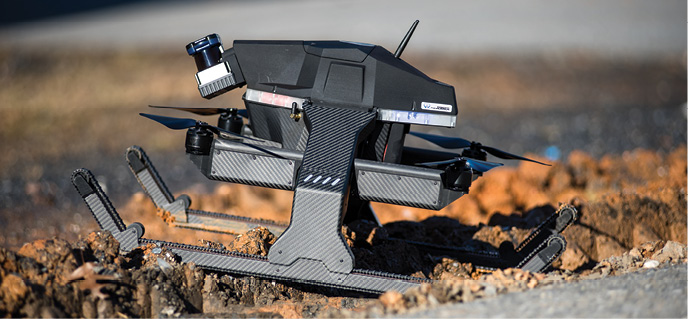 INTERNATIONAL PLAYERS
Military operators around the world are already sold on the new and valuable capabilities represented by MUM-T, but an array of non-military applications are also clearly indicated. In Europe, Mark Robert Henning, senior program manager at Airbus Helicopters, said, "There is a 'parapublic' market segment for our H145 helicopter equipped for MUM-T operations. This includes working in emergency medical services, disaster management, search and rescue and law enforcement. In case of a shipwreck, we could imagine using one or multiple coordinated UAVs to search for victims, with installed automation like target recognition, flight autonomy and intelligent flight path execution, all controlled from a moving helicopter with operators ready to react to any sighting. This capability could lead to higher mission success, meaning saving lives more reliably and quickly."
Airbus has been making waves with its non-military MUM-T testing activities. The 2018 demonstration in which an operator onboard an Airbus H145 helicopter successfully controlled and piloted an unmanned, Austrian-built Schiebel CAMCOPTER S-100 has been well-reported. "Both Airbus Helicopters and Schiebel wanted to move on from theoretical discussions to real-world, live testing," Henning said. "We have confronted a number of technical challenges. First there is the need to reduce and improve crew workload. Specific issues here are overload, handling, tasking and situational awareness. Related to this is our work to upgrade the human-machine interface. We are also developing data links, seeking to develop robustness and improved performance in terms of data rates and range. Finally, we have the task of developing new UAV guidance software."
Airbus' MUM-T test activities are ongoing, with a flight campaign now underway. "A full bandwidth of tasks is foreseen, teaming with unmanned assets, in different set-ups, to ensure and enhance our manned operations," Henning said.
CIVIL APPLICATIONS
"Defense support to civil authorities is a critical mission for the military," said General Atomics' Brinkley. "A great example is when MUM-T is used during firefighting operations. The California Fire Department has used the persistence and highly capable sensor suite of the MQ-9 to find fire hotspots. That information is then relayed to firefighters on the ground and to water tankers."
Other applications, Brinkley said, include survey of flood zones, search and rescue and observation of toxic, industrial chemicals and materials incidents. "These missions follow the same example as the military application, where the unmanned system conducts an operation to inform an active incident commander," he said.
"We have been commercializing a lot of our capabilities," Robotics Research's Frelk said, "particularly in the area of autonomous buses and shuttle vehicles." The company also sees a number of potentially valuable use cases for its hybrid Pegasus, including MUM-T operations. "Let's say you're in an area where there's been an earthquake," he said. "You have half a building that has come down and your first responders want to find out what's on the fifth floor. Are there people still inside that might need help? Is there a gas leak up there that could affect your guys going in? Being able to fly a UAV upstairs, enter an open area, then land and drive around to extend the mission, that's something that would have been unheard of in the past. If you get to a stairwell, instead of having a robot that is big enough to climb stairs, you simply fly up the stairs to the next landing and continue performing your mission."
The RR WarLoc foot-mounted device is also well adapted for use by firefighters and first responders. With multiple ground-based human elements and autonomous systems, positioning becomes more accurate, even in GPS-denied environments. "We have inertial measurement units onboard, along with other ranging radio capabilities," Frelk said, "so the more of these linked devices and personnel you have near you, just like having more GPS satellites, the more positioning accuracy you have.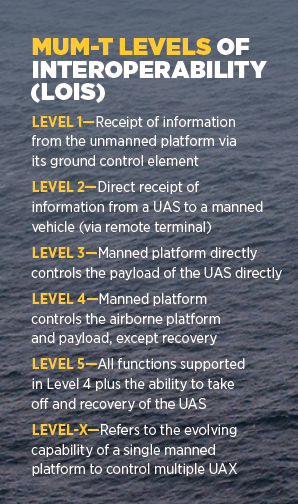 MORE CHALLENGES
However, MUM-T deployment can come with a range of issues to be overcome.
AEROMEDICAL: For everyone involved in MUM-T development, human factors remain a concern. Lieutenant Colonel Livio Rossetti of the Joint Air Power Competence Centre (JAPCC), an international group of NATO advisors, said task saturation and excessive workload can become a serious problem for pilots of manned platforms when teamed with unmanned systems. A 2015 study by U.S. Army Aeromedical Research Laboratory highlighted some of the problems pilots might face when operating in MUM-T mode; among them are visual overload, task saturation, distraction, decreased situational awareness and motion sickness.
REGULATORY: Airbus Helicopters' Henning said, "There is currently a very clear lack of regulations, a lack of agreed and standardized certification rules for UAVs and thus for MUM-T. Many operators see the advantages of MUM-T, and many competent individuals, including our customers, are seeing the slow progress on the regulatory side as a problem."
In the U.S., the FAA is just beginning to evolve commercial regulations for where and how MUM-T can fly. "The more transparency we can get over time, the easier it's going to be to commercialize these capabilities," RR's Frelk said, "because it creates the rules of the road for everybody. Unfortunately, it's pretty hard to put together a use case or a business plan without there being a legal regulatory structure that is fairly well understood."
INTEROPERABILITY: The number and types of unmanned systems being used in different domains will continue to increase in the future. But unmanned drones are designed and procured nationally, and are usually built using unique and specific systems, which does not ensure common interfaces.
But there may be a path forward for interoperability. In 2004, NATO ratified the first edition of Standardization Agreement 4586 (STANAG 4586), concerning interfaces for unmanned aircraft control systems. The agreement has no force in the commercial realm, but it could stand as a model for future standardization efforts.

MARKET OUTLOOK
New applications mean new profits, and the UAS industry should take notice now. "The DOD is prioritizing modernization initiatives ahead of investment in legacy warfighting systems," Brinkley said. "The market will only expand as the diverse suite of UAS demonstrate their utility."
Collaborative applications are in demand, even in areas where UASs are currently operating singly with success, Frelk said. In surveying, for example, drones increasingly will collaborate with other autonomous vehicles and human elements.
"MUM-T is going to be intrinsic to all commercial and government autonomous operations," Frelk said. "You don't get economies of scale unless you have systems being able to collaborate with each other."
To that end, Frelk cited the self-driving truck startup, TuSimple. "They just went through an initial public offering in the United States with an eight billion dollar evaluation. They don't actually have many trucks operating yet but they are talking about collaborative systems. So it's not going to be tens of billions of dollars, but more like hundreds of billions in the future for the manned-unmanned collaboration marketplace."