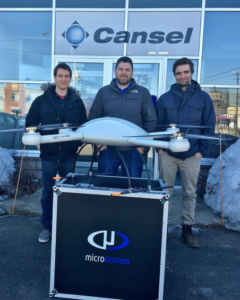 Cansel, a leading geospatial solutions provider, has signed an agreement to distribute Microdrones integrated systems to help customers adopt drone technology for geospatial applications.
"We were looking for a reliable and accurate UAV solution to expand our offering," said Martin Trudelle, Vice President of Geospatial Business for Cansel.
Cansel has supported organizations in the engineering, surveying, construction, mining and other industries for more than 50 years. Trduell expects the Microdrone lineup to "provide a huge benefit and cost savings."
For more related reading, check out "A Geo-Odyssey of UAS LiDAR Mapping".
By Ang Gao, Inside Unmanned Systems Correspondent