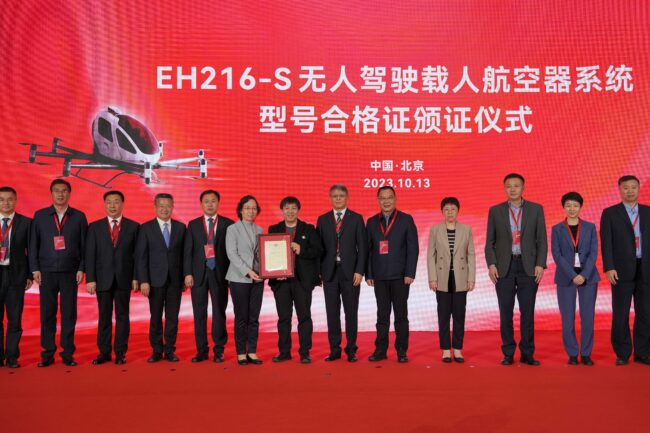 GUANGZHOU, China—EHang Holdings Ltd., a Chinese urban air mobility provider, announced its EH216-S passenger-carrying unmanned aircraft has obtained a type certificate issued by the Civil Aviation Administration of China, clearing the way for passenger flights there.
This demonstrates that the EH216-S's model design fully complies with CAAC's safety standards and airworthiness requirements, and that the EH216-S is qualified for conducting passenger-carrying UAV commercial operations, the company said.
EHang said this is the world's first type certificate for unmanned electric vertical take-off and landing aircraft, which not only sets a benchmark for the airworthiness certification of innovative eVTOLs in China and overseas, but also serves as a milestone for commercial urban air mobility operations.
The EH216-S TC awarding ceremony was held at the CAMIC International Convention Center in Beijing on Oct. 13, during which CAAC issued the EH216-S type certificate to EHang.
"Our self-developed EH216-S passenger-carrying UAV system has finally met high expectation to secure the first TC in the global eVTOL industry, marking a significant chapter in civil aviation history," said Huazhi Hu, founder, chairman and CEO of EHang. "Embracing the TC as our springboard, we will launch commercial operations of the EH216-S unmanned eVTOLs, prioritizing safety above all. This will enable us to steadily progress towards our strategic goal to be a UAM platform operator, and commit to our mission to enable safe, autonomous, and eco-friendly air mobility accessible to everyone."
EHang formally applied for type certification in January 2021. During the validation process, the EH216-S underwent extensive laboratory, ground, and flight tests at professional aviation laboratories and test sites across multiple locations in China, the company said. Tests included main material performance, structural strength, flame resistance, crashworthiness, gas toxicity, environmental conditions of equipment and systems, software simulation, data links, ground control stations, overall system functionality, electromagnetic compatibility, flight performance and flight stability characteristics, among others, EHang said.