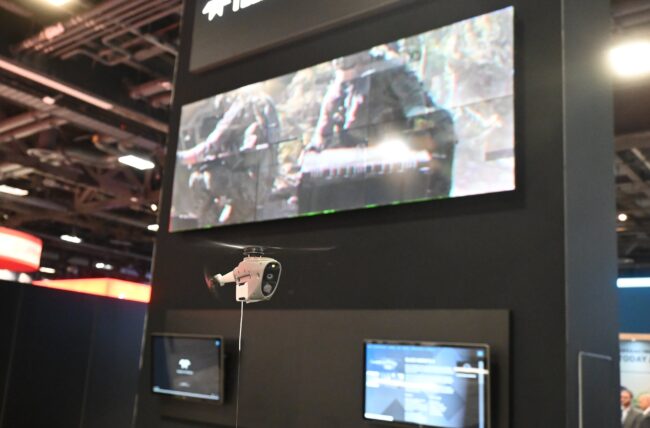 WASHINGTON—Numerous unmanned aircraft were on display at the Association of the U.S. Army's October meeting here, ranging from systems that could land in the palm of your hand to ones intended to carry heavy cargo or even people.
All were aimed at specific Army requirements, as the service aims to ramp up its buy of UAS in the near future.
The smallest of the offerings, by far, was the new Black Hornet 4 from Teledyne FLIR, dubbed a personal reconnaissance system, or PRS, and what the company calls a "substantial advancement" over its predecessor, the Black Hornet 3.
The new model includes a 12-megapixel daytime camera, a new, high-resolution thermal imager, an advanced battery and new obstacle avoidance capabilities. Its flight time is more than 30 minutes—10 minutes above the 3—and it can fly in winds up to 25 knots.
The system's main benefit is that it's tiny and quiet. Its total length is only 10 inches and it weighs 2.5 grams, a little bit more than a tennis ball. The system flying over Teledyne FLIR's booth at AUSA could not be heard or sensed until it was directly overhead at close range, when observers could feel a slight breeze.
"The whole design purpose of this is see without being seen," said Ole Jorgen Seeland, Teledyne's product director for PRS. "That's why we build. So, audio and visual signature is something we care a lot about."
FLIR Defense has delivered more than 20,000 Black Hornet PRS systems to military and security forces in over 40 countries, including Ukraine through donations made by the British and Norwegian governments.
Seeland said there are nearly 1,300 of the 3 version in Ukraine right now. The environment highlights the need for operating in GPS-denied environments and putting out a lot RF signature to avoid detection. The environment also favors sturdy systems, and Seeland said the diminutive Black Hornet can fly "way more missions than, for example, a [DJI] Mavic there. A Mavic, according to the U.K. MOD [Ministry of Defence], it's about three missions before it's gone. Ours are significantly more than that."
The new version comes with a total of five cameras and has a Qualcomm processor that's 200 times more powerful than the 3 model, Seeland said, enabling it to fly using its visual systems in GPS-denied environments. If it loses communications, it can also use a "backtrack" feature to retrace its steps to where it launched.
The U.S. Army began acquiring Black Hornets five years ago as part of its Soldier Borne Sensor program and since then has placed orders totaling more than $125 million. In July, the Army awarded Teledyne FLIR a five-year contract worth up to $94 million for additional Black Hornet systems. The company is entering the new 4 model for tranche 2 of the Soldier Borne Sensor program, with a decision expected soon.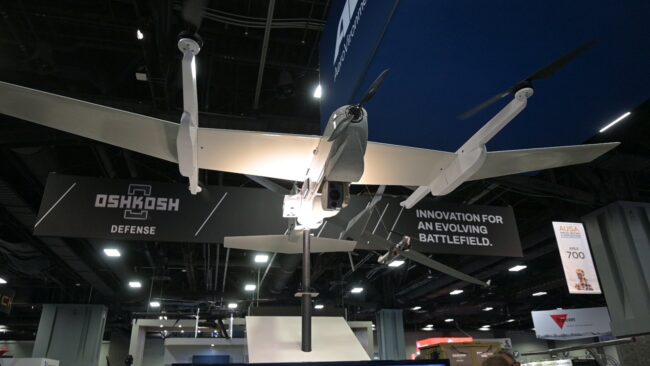 AV Puma
Like the previous Black Hornet models, AeroVironment's Puma has racked up a lot of hours in combat. The company is adding new features to the venerable model to enhance its flexibility. One such feature is the Visual Navigation System, which allows the Puma AE to fly in GPS-contested environments.
The 1.2-pound kit uses on-board sensors, including electro-optical and infrared, along with a laser rangefinder aimed at the ground, to conduct "map matching" to calculate the vehicle's position.
"There's probably around 1 percent of drift, total, so we've seen really good accuracy with it and we just starting shipping those to customers last month," said Trace Stevenson, senior vice president and general manager of unmanned systems for AV.
It's available as an option for new Puma AE purchases or as a retrofit kit for Puma 2 AE or Puma 3 AE aircraft. The upgrade kits can be installed in the field, Stevenson said. The system does require GPS for takeoff and landing, although the company is working on a capability to eliminate that requirement.
"We're trying to give the warfighter a new capability that they can add on as an accessory anytime they want in the field, if they're operating in a contested environment," Stevenson said.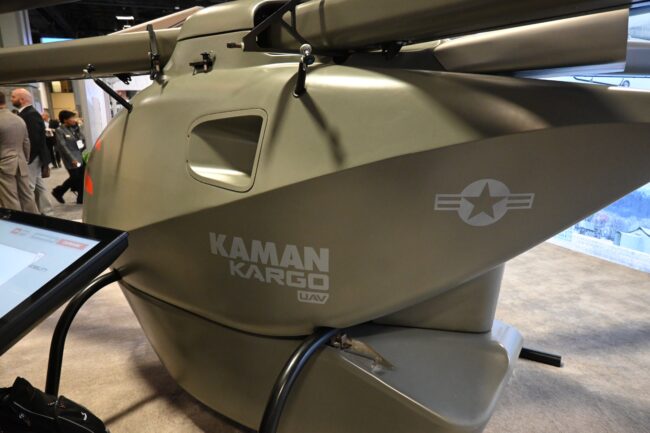 Cargo Lift
Going even further up the size scale were two potential entrants for the U.S. Army-Marine Corps JTAARS concept, which stands for Joint Tactical Autonomous Aerial Resupply System. It's intended to be a family of vehicles capable of carrying supplies to Soldiers and Marines when other methods aren't available.
It's expected to carry up to 800 pounds of cargo in a 110-mile radius. Procurement is expected for the second quarter of fiscal 2024, followed by a series of demonstrations and user assessments wrapping up toward the end of 2027.
Moog is aiming at this program with its HE350 Recluse, a hybrid-electric air vehicle. Although it can be transported in a standard Army shipping container or Air Force 463L pallet, it's beefy enough to carry up to 500 pounds of payload—or even injured Soldiers, if needed—up to 236 kilometers. The HE350 is a further development of the Surefly S250, which Moog bought from originator Workhorse group in 2019.
Justin Jantzen, Moog's project engineer for growth and innovation, said the hybrid-electric system could use diesel or heavy fuel, which gives it more range over a purely electric system, and also allows it to provide "tactical power at the ground" level for other equipment. HE350 will be conducting flight tests next year, so just in time for the JTAARS program.
Another potential cargo competitor on the floor was Kaman's Kargo UAV, which can lug up to 800 pounds of cargo up to 500 nautical miles. It's powered by a Rolls-Royce turbine engine and can also be carried in a standard shipping container, and it has so far caught the eye of both the U.S. Marine Corps and the Army.
The system builds on Kaman's extensive experience with using K-Max helicopters to resupply U.S. Marines in Afghanistan, and even incorporates some K-Max parts and parts from the Seasprite helicopter to accelerate the vehicle's technology readiness level.
In 2022, the Marine Corps selected the Kargo UAV for its Medium Unmanned Logistics Systems – Air (MULS-A) program managed by Naval Air Systems Command (NAVAIR) PMA-263, which is being developed in partnership with the Army as the JTAARS program.
"The partners will demonstrate the Kargo UAV's capabilities at Project Convergence 2024, displaying applications ranging from cargo resupply to reconnaissance," Kaman said in a press release.