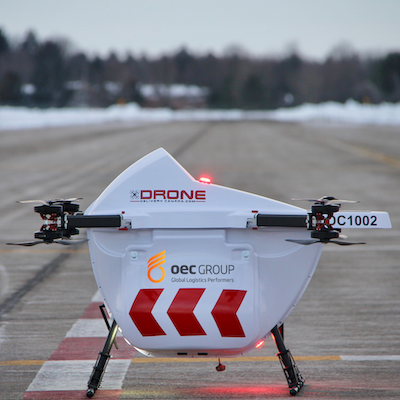 Beginning in July, through a partnership with humanitarian agency GlobalMedic, Drone Delivery Canada (DDC) will transport COVID-19 related cargo to the Beausoleil First Nation (BFN) Community in Ontario.
DDC's Sparrow, a multirotor drone that can carry about 10 pounds of payload, will fly from DroneSpot takeoff and landing zones in a defined two-way delivery route of about three miles, DDC President and CEO Michael Zahra said. The DroneSpots, which are being set up this month, will be placed on the community's mainland and island. Such deliveries, which will include items like COVID-19 test swabs, personal protective equipment (PPE) and hygiene kits, normally would be made via the island ferry.
Indigenous communities like BFN are more at risk during a pandemic because of poor underlying health care infrastructure and situations, Zahra said. There are typically higher incidents of conditions such as diabetes, high blood pressure and obesity, so many of these communities are opting to self-isolate. For BFN, that means limiting the use of the ferry service to reduce person-to-person contact—a new drone use case that has emerged during the pandemic.
"We've had a lot of outreach as a result of the pandemic. The pandemic is a terrible thing and we wish it didn't happen, but it has certainly raised the profile of the company and the industry," Zahra said, noting he's heard from other First Nation communities as well as hospitals, medical labs and pharmaceutical companies all interested in limiting person-to-person contact through drone delivery. "What's interesting about this is it's the first in Canada for a COVID-19-related drone logistics project."
The DroneSpots provide the necessary infrastructure for the flights, which will be conducted completely over water, Zahra said. The safe, secure DroneSpots are small buildings that are similar to a shed you might see in a backyard, but more sophisticated. These buildings, which take about four weeks to construct, have an open roof, access panels, weather stations, security cameras and equipment to charge batteries.
DDC has extensive experience with these types of missions and sells its solutions as a managed service, Zahra said. While the Sparrow flies automatically from DroneSpot to DroneSpot, DDC monitors flights from a control center and can manually take over to deconflict if necessary.
"What's interesting about this is it's the first in Canada for a COVID-19 related drone logistics project," Zahra said.
The Sparrow carries the cargo inside the drone, Zahra said, making it particularly well suited for these types of deliveries.
"If it's pharmaceutical supplies or if it's vaccines down the road, hopefully, we can do temperature control so it's a very safe, disciplined environment given the nature of what we're going to be moving," he said. "We're not moving coffee and muffins where nobody cares. This is sensitive equipment. It could be biologicals, it could be blood, or it could be swabs that need a safe environment."
With this project, BFN's delivery schedule will be up to the community, Zahra said, but flights could be planned for every hour or on demand. The Sparrow can fly day or night, and in rain or snow. And while this is primarily a COVID-19 project, other items can be delivered via the drone as well.
A variety of donors have helped fund the project, including the OEC Group, a logistics provider that serves a variety of industries, Zahra said. The term of the agreement is six months.
"GlobalMedic is proud to be part of this program using drones to deliver desperately needed aid to an isolated First Nations Community," GlobalMedic Executive Director Rahul Singh said, according to a press release announcing the partnership. "Through consultation with the Community we understand that supply chain issues exist and have been exacerbated by COVID-19. We are excited to use drones as part of the solution to overcome these challenges."