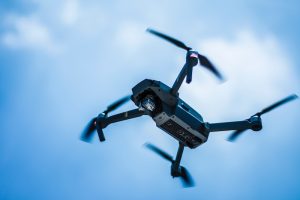 On December 18, 2020, the Bureau of Industry and Security (BIS) of the U.S. Department of Commerce published a rule that added seventy-seven new entities to the Entity List, commonly known as the "economic blacklist." Of those, sixty were from China, including DJI.
Here's what the rule is not. It's not a ban on Chinese drone purchases or use. It has nothing to do with previously trumpeted cybersecurity vulnerabilities, which, when combined with a cluster of Chinese national security laws, could provide the Chinese government access to national security information.
Nevertheless it appears that the U.S. government has directly "served" the U.S.' most popular commercial drone company. So what is this about? In our version of FAQs, Inside Unmanned Systems looks at the relevant laws, regulations, federal agency actions and processes to fully explain what this latest move in the U.S.-China tech war does—and does not—mean for the commercial drone industry.
What is the "Economic Blacklist"?
The economic blacklist is a term used for the Entity List, found at 15 Code of Federal Regulations (CFR) Appendix Supplement No. 4 to Part 744. It is part of the Export Administration Regulations (EAR), which implement the amended Export Administration Act of 1979 (50 U.S.C. app. 2401-2420). The List is a mechanism to control the flow of U.S. items (think: components or parts), tech and source code to individuals, organizations and companies on it. It is not a ban of the use of or importation of that company's products. Rather, being on the List generally means that additional licensure is required to export, reexport, or transfer (in-country) such items, tech or source code when a listed entity (here DJI) is a party to the transaction.
What does it Mean to Export, Reexport or Transfer?
All these terms have legal meaning. As explained below, the requirement to obtain a license for U.S. products going to DJI is relatively comprehensive and global in scale.
Exporting, under the CFR, means to ship or send an item, tech or source code out of the U.S., or even to just give it to a foreign person in the U.S. in any manner. (15 CFR § 734.13) The regulation broadly defines technology as, "Information necessary for the 'development,' 'production,' 'use,' operation, installation, maintenance, repair, overhaul or refurbishing of an item…in any tangible or intangible form, such as written or oral communications, blueprints, drawings, photographs, etc." (15 CFR § 722.1) What this means is that U.S. businesses cannot ship out of the country those items/tech/code for use by DJI or give them to foreign persons in the U.S. without a license. Hypothetically, this would preclude U.S. companies from engaging in design discussions related to DJI with a Chinese national at their own offices in the U.S. without such a license.
Reexport essentially means the item, tech or source code flows through one foreign country to another. In other words, a U.S. company can't circumvent the licensure rules by simply sending to or taking from the item/tech/code to another country en route to China, or to a Chinese national in that third party country. (15 CFR § 734.14)
Transfer means a shipment, transmission, or release (visual or other inspection, or written exchanges) of items subject to the EAR either within the U.S. or outside the U.S.  (15 CFR § 722.1 Transfer and § 734.15 Release) This essentially precludes point-to-point end user exchanges—again, without a license (15 CFR § 734.16). In other words, deals involving U.S. products for DJI consumption cannot be done within the U.S. or elsewhere (did I say without a license?)
How are Items Placed on the List?
The BIS has an End-User Review Committee (ERC), composed of representatives of the Departments of Commerce (Chair), State, Defense (DOD), Energy and, where appropriate, the Treasury, which makes all decisions regarding additions to, removals from or other modifications to the Entity List. A majority vote is required to add an entity to the list, whereas removing or modifying an existing list entry requires a unanimous vote. 15 CFR Appendix Supplement No. 9 to Part 748 – End-User Review Committee Procedures outlines the process.
What Standard is Used to Place an Item on the List?
The ERC identifies entities for which there is "reasonable cause to believe, based on specific and articulable facts, that the entities have been involved, are involved, or pose a significant risk of being or becoming involved in activities contrary to the national security or foreign policy interests of the United States." (15 CFR § 744.11(b)) Paragraphs (b)(1) through (5) of § 744.11 provide an illustrative and non-exhaustive list of activities that could fall within that standard, including support to terrorism and weapons-trafficking.
Why was DJI Put on the List?
None of the reasons actually listed in Part 744.11 were cited in DJI's case. Rather, according to the published rule, the ERC determined to add DJI and three other Chinese entities for "enabling wide-scale human rights abuses within China through abusive genetic collection and analysis or high-technology surveillance, and/or facilitating the export of items by China that aid repressive regimes around the world – activities contrary to U.S. foreign policy interests." The rule provides no further details, but a March 2020 Bloomberg Business Week report indicated that DJI reportedly supplied drones to the Chinese government so that it could monitor detention camps throughout Xinjiang province.
On this point, Brendan Groves, Head of Regulatory and Policy Affairs at one of the Blue sUAS listers, Skydio, stated, "…DJI has profited for years by supporting the suppression of the Uighurs in Xinjiang province–the world's most egregious example of human rights abuses." Inside Unmanned Systems reached out to DJI's equivalent for comment, who did not respond.
How Do Companies Providing Items Apply for the Required License?
The license review policy for each listed entity is identified in the "license review policy" column on the Entity List. For DJI, consistent with U.S. policy for most companies on this list, there is a "presumption of denial." This means the application will generally be denied. There are always exceptions to any rule, though, and each license will be reviewed on a case-by-case basis.
Exporters who want to overcome this presumption must file a license application in accordance with the requirements of parts 748 and 750 of the EAR. BIS reviews such applications and supporting documentation, and conducts a complete analysis. The DOD, Energy, State and the Arms Control and Disarmament Agency have the authority to review any license application (15 CFR § 750.3(b)(2)). These agencies generally assert their right of review for applications involving items controlled for national security and where the items are destined for countries and/or end uses of concern, among other reasons. Presumably, given all the hoopla involving China lately, it seems these agencies would likely invoke this right of review of DJI-related license applications. This would add to review timelines.
Huawei was similarly placed on the Entity List in 2019. A few days later, BIS established a 90-day temporary general license, which extended twice, for a narrow scope of exports to Huawei and its overseas affiliates also on the Entity List. It took six months, however, to start clearing applications for the "authorized transactions" (continued operation of existing networks and equipment, support to handsets acquired before Huawei's placement on the Entity List, cybersecurity research and vulnerability disclosure, and "engagement as necessary for development of 5G standards by a duly recognized standards body"). Commerce is prohibited by law from reporting out names of parties that receive export licenses and so the number and type of approvals actually granted in the Huawei case remains unclear.
What are the Implications to DJI—Short and Long Term?
The impacts remain to be seen. In the short term, if the End-User Review Committee does not grant licenses, DJI may need to look elsewhere to fulfil its supply chain needs. In a December 19th report by Financial Times, correspondents Kiran Stacey and Patrick McGee reported that DJI's Zenmuse XT thermal camera accessory uses a camera built by Oregon-headquartered FLIR and that DJI's Spark mini drone uses an Intel processor. In this same report, Spencer Gore, founder of Impossible Aerospace, a U.S. start-up, said: "This move most likely makes many DJI products impossible to build today without a major redesign.
A new administration will be taking over, however, and with that means turnover for all the seats on the ERC. All principals for those members require Senate confirmation and once in place, their vision will trickle down to the bureaucrats who sit on this committee. Thus, even if the Biden team ultimately wants to overturn this rule, it may take a while for them to be in a position to do so. Either way, the ERC appears to move at the speed of government. If Huawei's case is any indicator of timelines, assume a minimum of a six-month horizon to clear out license application logjams.
Will U.S. Customers of DJI Products Get to Buy and Use DJI Products Normally?
Commercial use of DJI products will not be affected by DJI's addition to the Entry List. Commercial acquisitions may eventually feel the squeeze downstream if the supply chain dries up and causes delays in DJI's manufacturing processes.
Federal use will also not be affected by this rule. However, other laws and federal policy bans on the use and acquisition of DJI drones that were based on alleged cybersecurity concerns still remain in place. As alluded to earlier, those issues revolved around alleged tech vulnerabilities that, when combined with a cluster of Chinese National Security laws, could provide the Chinese government access to national security information. As a result, several federal agencies outright banned the use and acquisition of Chinese drones, or the use of federal grant money to acquire them.
In August 2019, Congress passed the Fiscal Year 2020 National Defense Authorization Act, which codified the DOD policy ban into law. As a result of this law, the DOD's Defense Innovation Unit finalized a Blue small UAS (SUAS) grouping consisting of five companies—Altavian, Parrot, Skydio, Teal and Vantage Robotics—that are cleared for federal use.
In March 2020, the American Security Drone Act (ADSA, SB 2502) flew through the Senate Homeland Security & Governmental Affairs Committee with unanimous bipartisan support. It would have banned federal agencies from acquiring Chinese drones and drones made with Chinese components, and prohibited the use of federal grant money to buy Chinese drones or drone components. While the ASDA was included in the House version of the FY21 NDAA, it stalled in the final Conference version of the bill. However, on the policy side, federal policy bans and grant prohibitions relating to Chinese drones persist.
Where's the Beef?
The bottom lines are these:
The average commercial and recreational drone user can keep flying DJI drones.
For now, these same folks can keep buying DJI drones normally. There may be downstream supply chain impact to later availability.
Companies that supply items, tech or source code to DJI will have to adjust fire for the time being.
The feds won't be impacted by this rule; however, other laws and policies banning DJI drone use, acquisition and grant funding remain in place.
DJI has been sandwiched between federal policy and, on the commercial side, with this new rule. So, is this a Whopper®, a nothing burger or something entirely different? Is it a Whopper Jr.®? Or is it just small fries? Only time will tell. In the meantime, order up!
*The views and opinions in this article are those of the author and do not reflect those the DOD, do not constitute endorsement of any organization mentioned herein and are not intended to influence the action of federal agencies or their employees.
Dawn M.K. Zoldi (Colonel, USAF, Retired) is a licensed attorney and a 25-year Air Force veteran. She is an internationally recognized expert on unmanned aircraft system law and policy, a recipient of the Woman to Watch in UAS (Leadership) Award 2019, and the CEO of P3 Tech Consulting LLC.
Photo courtesy of Wikimedia Commons.