Draganfly is working to develop a vertical take-off and landing (VTOL) cargo delivery drone with variable center of gravity.
The company was recently awarded a patent for the system, which will be used for beyond visual line of sight (BVLOS) flights, transporting goods to areas that are difficult to reach and flights over people at night, according to a news release. This comes after Coldchain Technology Services selected Draganfly to develop and provide flight services for a payload to deliver COVID-19 vaccines in critical regions.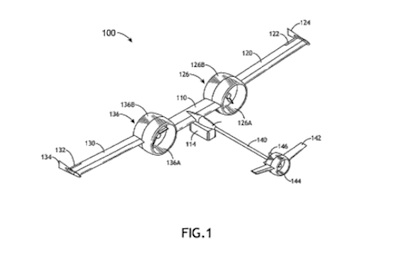 The unmanned aircraft system (UAS) will be configured for both VTOL and fixed-wing flight operations.  It will have forward and aft wing assemblies mounted to the fuselage. Each wing assembly will include port and starboard nacelles terminating in motor-driven rotors powered by an onboard control system that can adjust rotor speeds.
The drone will have the ability to transition between a powered-lift VTOL configuration to a winged-flight configuration by shifting its center of gravity forward. This will pivot the wing assemblies from a powered-lift position perpendicular to the fuselage to a winged-flight position parallel to the fuselage.
The forward rotor blades can be folded back so the aft rotors provide primary thrust for winged flight. Onboard attitude sensors will detect rotor or control failures. When they do, the control system will respond by triggering a conversion to the winged-flight configuration for recovery operations.
"With the signing of a signature customer and now this key industry patent we are confident in our role as an important global player in drone delivery space." Draganfly CEO Cameron Chell said, according to the release. "This showcases Draganfly's continued focus on IP and highlights the strength and innovation of our engineering team."