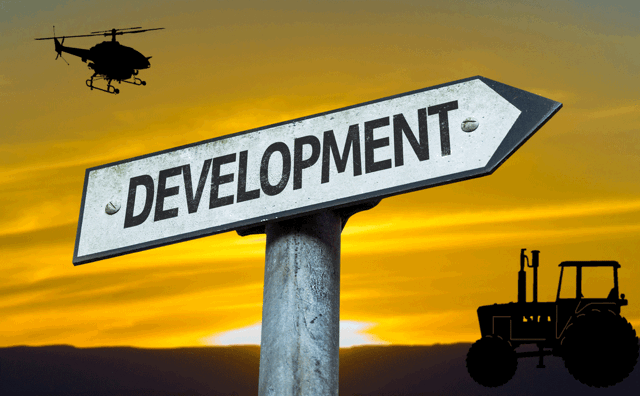 A new fund aims to invest $2.2 billion in private equity in key technologies and infrastructure projects with the goal of energizing the unmanned aircraft industry in the United States.
The UAS American Fund, headquartered in Washington DC, is a public-private partnership that plans to use federal loan guarantees to attract private investors for long-term infrastructure projects supporting the operation of unmanned aerial systems (UAS).
Matthew Bieschke, the fund's managing partner, said they were not approaching the unmanned industry as traditional venture capitalists who invest with the intent to exit in two to three years. The fund is looking at infrastructure projects with much longer timeframes, he said, that build on the firm's experience and expertise with the Federal Aviation Administration, air traffic control and related technologies.
"We're looking 10 years down the road, maybe more, when there will be tens of thousands of drones flying around," he told Inside Unmanned Systems.
The fund is anchored by NEXA Capital Partners, LLC, a small boutique investment bank that focuses on transportation and specializes in the aviation, aerospace and defense sectors. NEXA used a similar public-private partnership model to launch the NextGen Equipage Fund in 2012. That fund helps airlines finance the new equipment necessary to take advantage of the NextGen air traffic control system being developed by the FAA.
"NEXA tends to focus mostly on transformational projects and companies that have technologies or applications that are truly going to be game changing," said Bieschke, who is also a NEXA partner. The firm, he said, has financed projects ranging from a small avionics company to satellite launches.
The UAS American Fund intends invest primarily in the United States. Bieschke declined to give details on the fund's backers but said they have gotten tremendous interest from a range of sources including traditional private capital and major aerospace companies.
He also said that work would begin in earnest this year to secure the necessary loan guarantees.
"We're working with Congress to provide a federal guarantee that will allow us to be able to finance UAS infrastructure over a very long period of time," he told Inside Unmanned Systems.
Government funds have been used before as credit enhancements and subsidies for a range of transportation projects," he said. "We know that providing UAS infrastructure is not an easy or inexpensive endeavor — we know that funding will need to come from the private sector. We think that Congress and the U.S. government can help spur development by providing loan guarantees; so we are actively pursuing that."
Bieschke would not say where the fund was planning to make its initial investments though he told Inside Unmanned Systems that they were "evaluating a lot of different opportunities."
They are hoping that consortiums comprising state and local governments, private companies and users will come together to organize and seek money for projects, he said. For example, a government could come to the fund to finance a statewide project supporting half a dozen different applications.
The fund is also working to support interoperability standards for equipment and infrastructure and improvements in the regulatory environment. In December it filed a petition with the FAA for simplified regulation of micro unmanned aircraft — that is UAS weighing 3 pounds or less.
"We are absolutely convinced that there is $1 billion a year in economic development that can happen with a 3-pound aircraft," said Bieschke. "There is tremendous opportunity today."